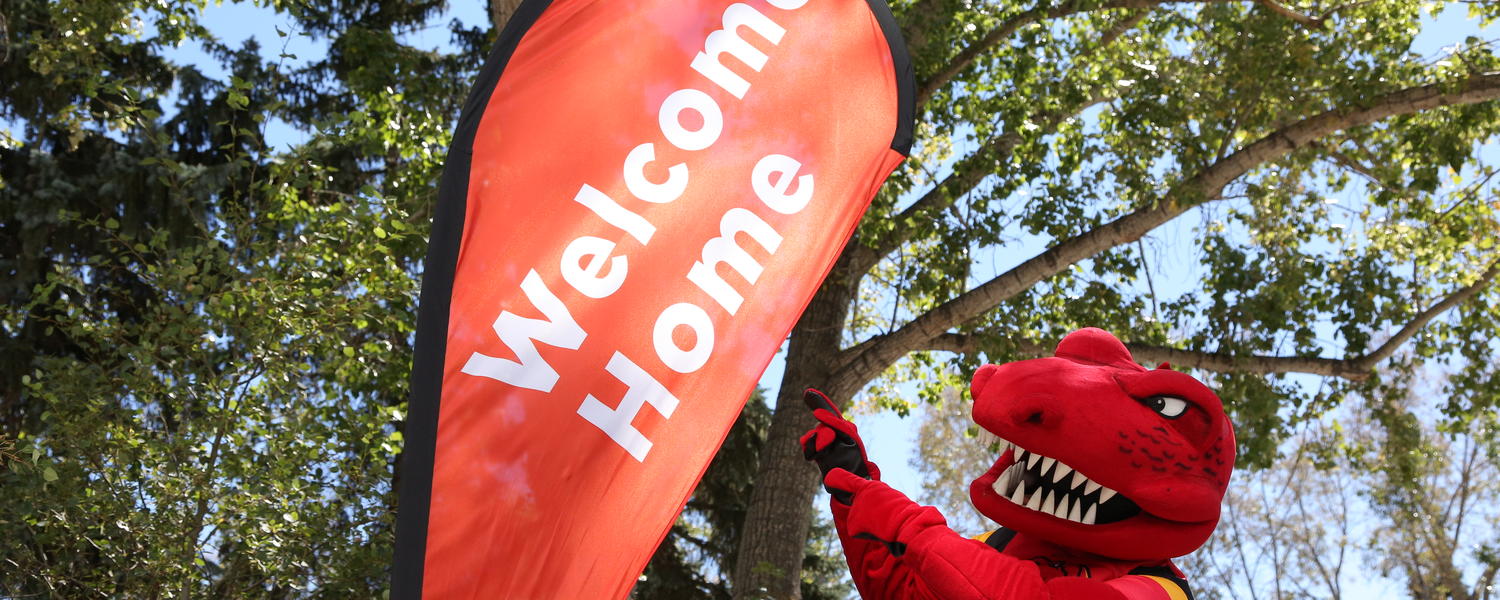 Move-in 2023
We are excited to be welcoming you to Residence at the University of Calgary.
Fall move-in | August 27
Residence move-in is one of the largest events at the University of Calgary each year. This year we will welcome over 1,400 students Sunday, August 27. Volunteers make students' move-in day welcoming and an event to remember.
If you would like to help or know anyone that would like to volunteer with residence move-in, please visit our website for more information.
We are looking for residents to help Welcome Home residents to their new home here at the University of Calgary from August 25 to September 4.
This is a paid position that will require staff to help show residents to their new home, carry luggage, and answer any questions about residence and campus that they may have. If you are interest to learn more about this and how to apply, please click here.
Residence Councils and Associations
If you are interested in getting involved in our Residence Athletic Association (RAA), Residence Rainbow Council (RRC), or the Residence Association Involving Sexual Education (RAISE), keep an eye out on our Residence Buzz, social media, and recruitment posters in September! More information about getting involved can be found here.
The Residence Life team can't wait to welcome all residents to our buildings this fall. We have been hard at work ensuring that your residence experience is fun and engaging, starting in the very first week! 
Get excited for Residence Welcome Week 2023 by checking out a couple of the events being offered in the first week.
Monday, Aug. 28  
Residence Night at the Bookstore @ 5 p.m. – 7 p.m. at UCalgary Bookstore
Check out the amazing deals and discounts available, one day only—just for residents. Beat the lines and purchase your textbooks and course materials before anyone else on campus. Get 20% off school supplies, general books (no course materials), all branded clothing, gifts and more. Show your UCalgary pride all semester long with UCalgary Branded spirit gear.
Residence Bonfire @ 7:30 p.m. - 9:30 p.m. in Aurora Quad 
Tuesday, Aug. 29 
Building Pep Rally @ 2:30 p.m. – 4 p.m. in Aurora Quad 
Residence Dodgeball Tournament @ 6 p.m. – 9 p.m. in Red/Gold Gyms 
Wednesday, Aug. 30 
Quad & Chill/Residence Resource Fair @ 1 p.m. – 3 p.m. in Aurora Quad
The Free Store @ 5 p.m. – 7 p.m. in the Aurora Multi-Purpose Room
Thursday, Aug. 31
(University Orientation Day) 
Welcome BBQ & Movie @ 5 p.m. – 10 p.m. in the Aurora Quad
The week is packed with events, check out our move-in website for all of Residence Orientation Week events. 
Your Unicard provides you access to The Landing, library and printing services.
Avoid the line - submit your photo online.
Submit your Unicard photo online before classes begin and avoid the wait in September. With just one click, your Unicard will be ready for you on your first day on campus. Submit by August 20 to have your Unicard in your move-in package. 
Just - Smile. Click. Submit. Don't delay, upload today!
What to bring/not to bring
Not sure what to bring to your new home at Residence at the University of Calgary. Make sure to check out our website for help with your packing list.
LED lights are not permitted to be attached to walls or furniture in residence. If LED lights are found attached to walls or furniture, residents will be charged for full repair costs.
If you don't want to worry about packing your bedding, pillows or towels, make sure to check out our website on how to order these items and have them here for your arrival. Orders must be in by August 14. 
Everything you need in a Bookstore
The Bookstore is open for in person and online purchases—get everything you need, books, load up on back-to-school supplies or purchase Dinos swag.
Order at shop.ucalgary.ca