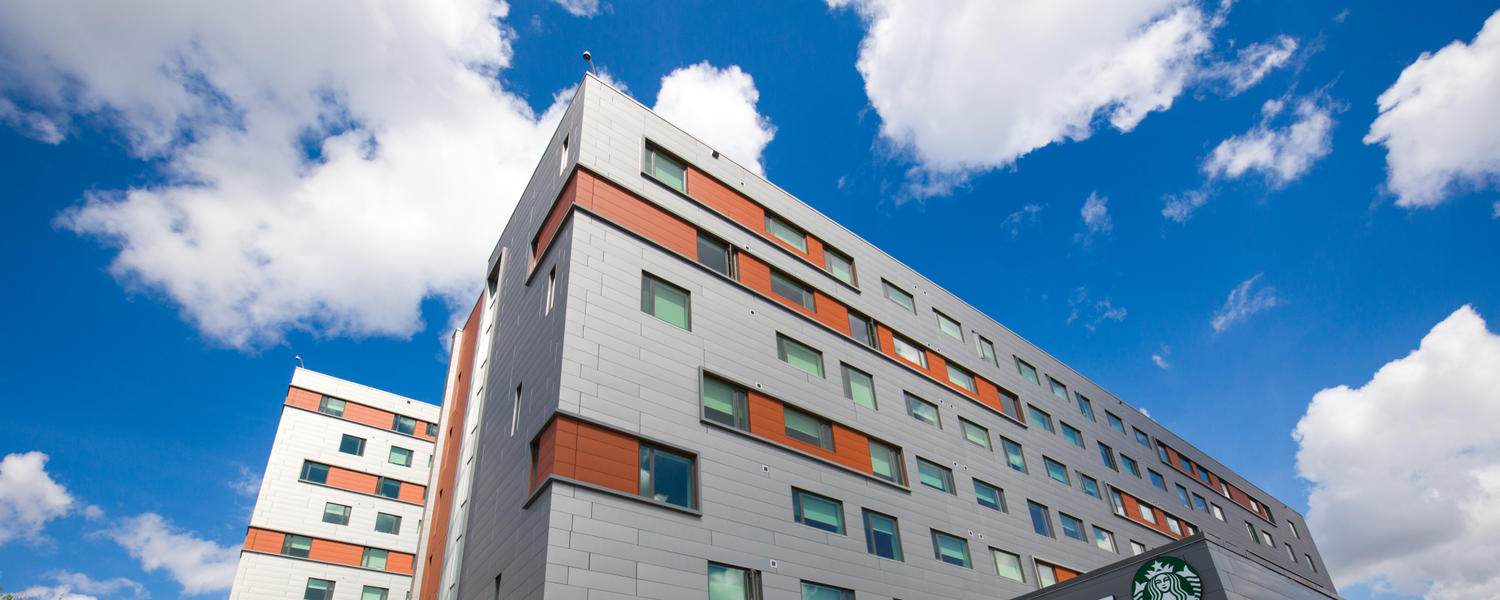 Crowsnest Hall is available for upper year undergraduate, graduate students, mature students (27+ years old), students that have already completed an undergrad, and those that are UCalgary affiliated.
Upper year undergraduate students will be able to live in two bedroom apartments and graduate/UCalgary affiliates will be able to live in studio, one, and two bedroom apartments. All apartments come with private bathrooms and full kitchens that include refrigerator, microwave, stove, oven, kitchen table and chairs. Features of the building include a community lounge overlooking an open green space, additional community kitchen, study rooms and academic project room on the main floor.
The complex is made up of two towers, with a one-story link connection at the main floor. There are seven floors in the south tower and 11 floors in the north tower. There is a cafe located in the building that includes indoor seating with a small patio off the south-side. Dedicated parking, immediately adjacent to the building, will be available on request through Parking and Transportation Services.
Crowsnest Hall is a Leadership in Energy and Environmental Design (LEED) Silver certified building. It was designed and constructed to meet a greenhouse gas emissions budget of no more than 100 kg of CO2 emissions per square meter each year. A composting program launched in Crowsnest Hall during the 2016/17 academic year. Living on campus with easy access to on-site secure bike storage and transit routes provides a great opportunity to reduce transportation emissions. The use of low-emitting materials and a dedicated outdoor air system provide excellent air quality and enhance the health and comfort of the living spaces within Crowsnest. Crowsnest Hall also features a low-maintenance, edible landscape with apple trees, blueberry bushes and Saskatoon berry bushes.
*room layout and furniture may be not as shown
Laundry, personal storage lockers, sports equipment lockers and bike storage facilities available
Bedrooms are fully furnished with a bed, double xl mattress, desk, desk chair, armoire, and dresser
Internet included (Wi-Fi and LAN)
Water, power, and heat included
Study rooms
Secure buildings 24/7
Social activities
Leadership and volunteer opportunities
Room Selection Floor Plan
It's that time of the year again, where you get to browse the buildings and pick and choose where you want to call home over the next school year. As you are browsing, please keep in mind that the pdf provided is a generic plan of all the floors in Crowsnest, meaning that the first number of the rooms will change depending on which floor you choose to live on.
South Tower: rooms numbered 01-19

South view rooms (face Olympic Oval): even numbered
North view rooms (face court yard): odd numbered

North Tower: rooms numbered: 31-48

South view rooms (face court yard): odd numbered
North view rooms (face 32 Ave NW): even numbered