Construction Schedule
Information will be updated as received
Will include:
Pre-demolition information, demolition information, traffic changes, noise, site safety etc.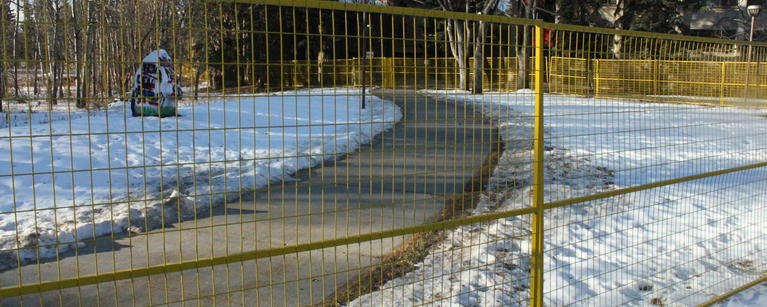 Updated: Aug. 4, 2022
Please be advised  that asbestos abatement for Phase I started Aug. 2, 2022. Sealtech – a UCalgary approved abatement contractor, will perform the asbestos abatement removal. The approximate time of completion is 45 days.
During this time:
- You will see fencing installed for the safety of residents and other community members from the phase I area. This is an active construction zone, so we would like to remind you and your family members to keep a safe distance from the area.
- Air quality monitoring will be performed by Environmental Health & Safety (EHS) during the removal activity.
- Removed drywall will be secured in exterior construction waste bins.
- Construction traffic and noise is expected during permitted City of Calgary construction hours (7 a.m. to 10 p.m. Monday to Saturday and 9 a.m. to 10 p.m. on Sunday and holidays). Construction activity is expected to run between 7 a.m. – 5 p.m. on most days.
- No dust or smells from the abatement activities are anticipated at this time.
For responses to questions and concerns about safety and construction in University District 24 hours a day, please call the Construction Hotline at 1-855-400-5556.
Residence Services
____________________________________________________________________________________
Update: August 3, 2022
As you may be aware, internal decommissioning of Varsity Courts 1100 (1115-1130), 1200 and 900 (Phase I) has been taking place over the last few weeks.
During that time, asbestos sampling was conducted on building materials. Samples were submitted for analysis, and laboratory results confirmed drywall joint compound in units and cement board located above two garbage areas to be asbestos-containing.
The health and safety of our students, faculty and staff is paramount to the university. As Health Canada states, "if the asbestos fibres are enclosed or tightly bound in a compound, there is no significant health risk." These materials are tightly bound in the Varsity Courts units and therefore, the units are safe for occupancy.
The health risk is considered minimal for asbestos-containing materials (ACM) that are in good condition and/or in an inaccessible location and/or protected from damage. As asbestos must be inhaled to cause disease, which means that intact and undisturbed ACM present no direct health hazard.
It is important to note that the ACM is not the drywall, but the mudding that is used to seal joints between drywall panels to make the surface smooth for painting. The exposure is considered low if the material remains undisturbed. The cement board is located outdoors in garbage bin areas. Potential exposure to asbestos fibres released from this product is also considered to be low.

A qualified asbestos abatement contractor has been hired to safely remove the identified asbestos-containing materials (ACM), prior to decommissioning the units, in accordance with standards outlined by Provincial Occupational Health and Safety, the Alberta Asbestos Abatement Manual and the National Institute for Occupational Safety and Health.
Work will be taking place over the next few months. You may see safeguarding placed over and around units, workers using special tools and wearing special clothing and equipment. These precautions are in place to keep everyone safe during abatement. You will see notifications and/or caution tape to advise anyone of the work being conducted and to prevent anyone from entering an area where asbestos removal is being conducted. For your safety and the safety of others, please respect these signs.
For more information, please visit our Varsity Courts FAQ's site or contact the Campus Service Centre.
Thank you for your time,
Residence Services
Phase I decommissioning (June 1, 2022):
Impacted courts - 1200, 900 and half of 1100 courts

1115 - 1130 will be decommissioned
900 and 1200 laundry rooms will be decommissioned
1219 Children's Library will be relocated

Move-out of the affected courts will need to be completed by May 31, 2022
Internal decommissioning of vacant units will begin prior to June 2022
Resource fair to be held in early 2022
Phase II
Planning for 2024:
Impacted courts - 800, 1000, remaining 1100 courts
Phase III
Planning for 2025/2026:
Impacted courts - 100 through 700 courts