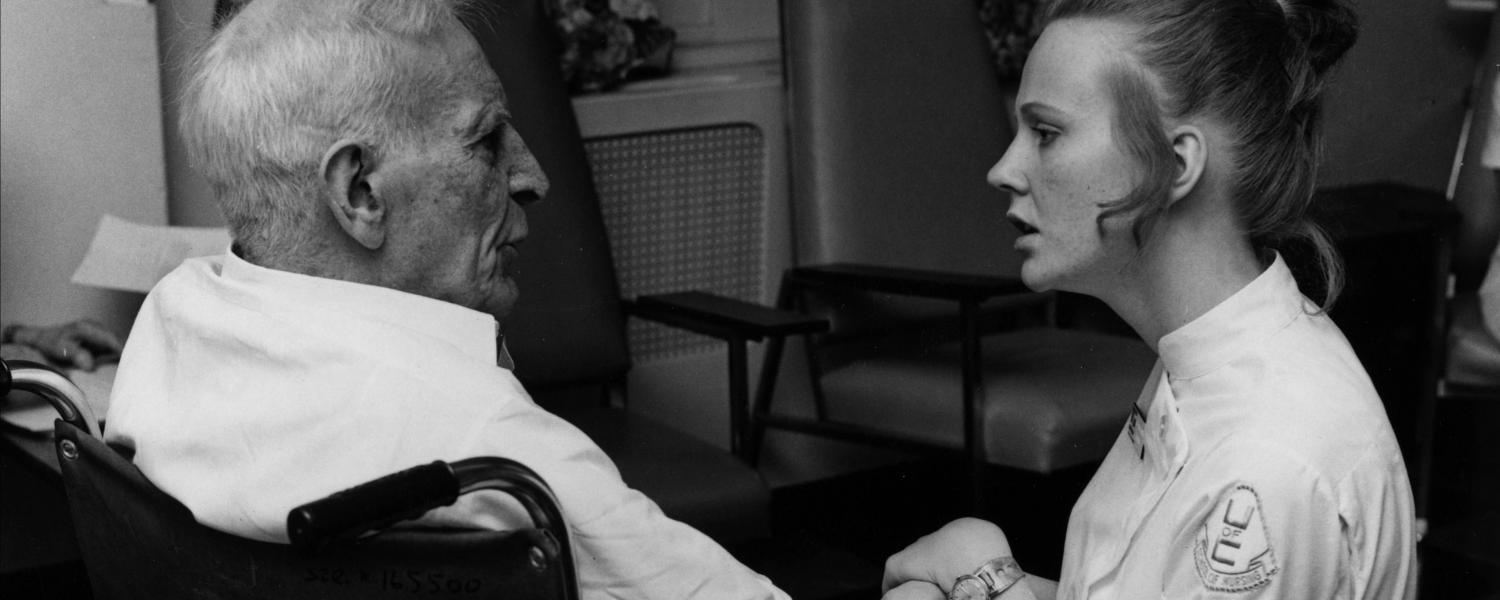 Explore 50 years of Innovation
Creating the Future of Health
It may sound lofty, but UCalgary's Cumming School of Medicine exists to better the human condition through improved health care. Today's Calgarians (and the world) can attest to the impact of its leading-edge research in brain and mental health, inflammation and chronic diseases and cardiovascular health.
A Co-operative Approach
Scientific inquiry meets real-world needs. Our Faculty of Veterinary Medicine was created to meet Alberta's need for highly-skilled veterinary graduates supporting rural areas, the production animal and equine industries, animal and human health research and public health.

ANIMAL RESEARCH HAS POSSIBLE HUMAN BENEFITS
Calgary Herald writes about researcher Dr. William F. Allen, a Calgary branch chemist and his work on preventing anemia in cattle and sheep. Dr. Allen's work has possible implications for multiple sclerosis research.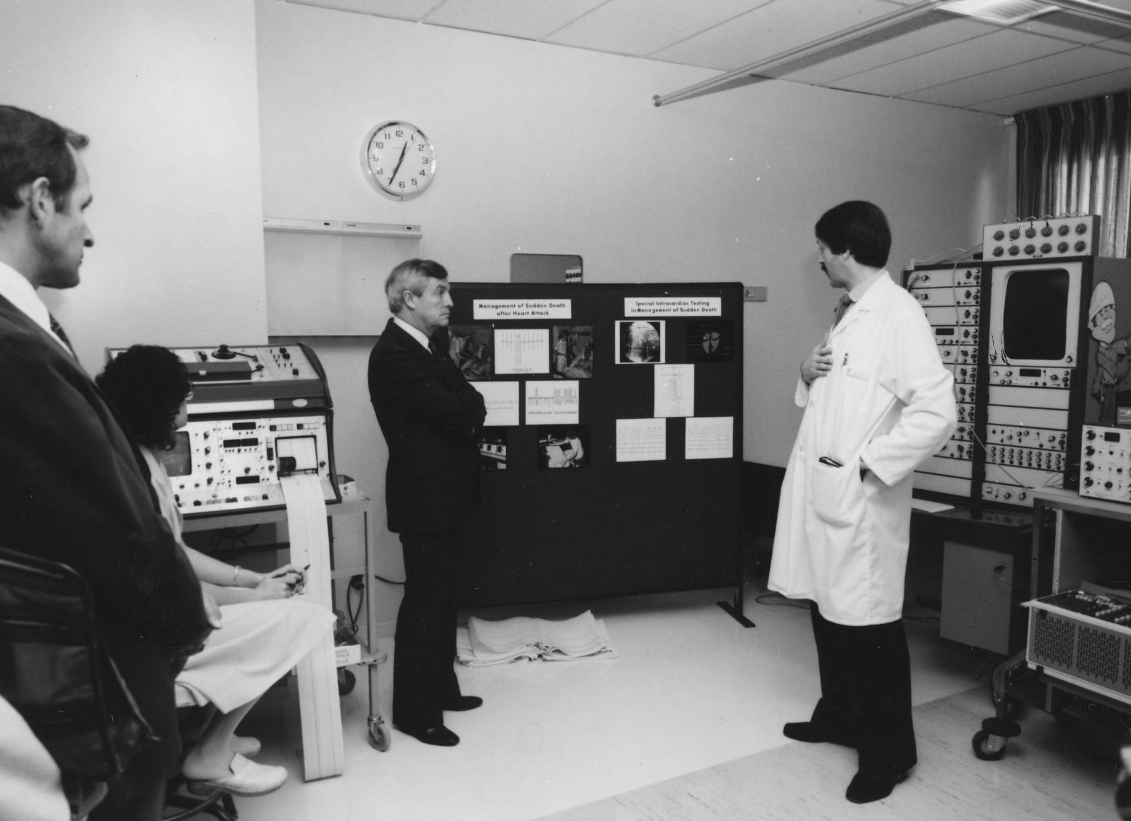 FIRST-YEAR NURSING COURSES BEGIN
The program is available at both University of Alberta campuses in Edmonton and Calgary. The clinical portion of the degree can be completed at University of Alberta Hospital in Edmonton or at the Calgary General Hospital. At the Calgary General's request, the agreement ends in 1959.
HANDS-ON MEDICAL TRAINING PROPOSED
Calgary University Committee recommends medical and nursing schools in coordination with proposed new hospital. The hospital is the Foothills General Hospital, and it eventually opens in 1966.
STUDENT HEALTH SERVICE ESTABLISHED
Situated in two small rooms in the Arts and Education building, the service had a director and one nurse, who provided first aid and health advice to the students.
ALBERTA ASSOCIATION OF REGISTERED NURSES NEGOTIATES DEGREE PROGRAM
These negotiations occur at the same time as the Foothills School of Nursing negotiations with the GFC and result in the recommendation of a nursing degree program in 1968.
MEDICAL SCHOOL CREATED
Created in 1967, the Faculty of Medicine is the youngest medical school in Canada. Primarily conceived as a higher learning institution to train family physicians, at a time when there was a perceived shortage.
SCHOOL OF NURSING ESTABLISHED
The first class of students enter the Bachelor of Nursing program in the School of Nursing.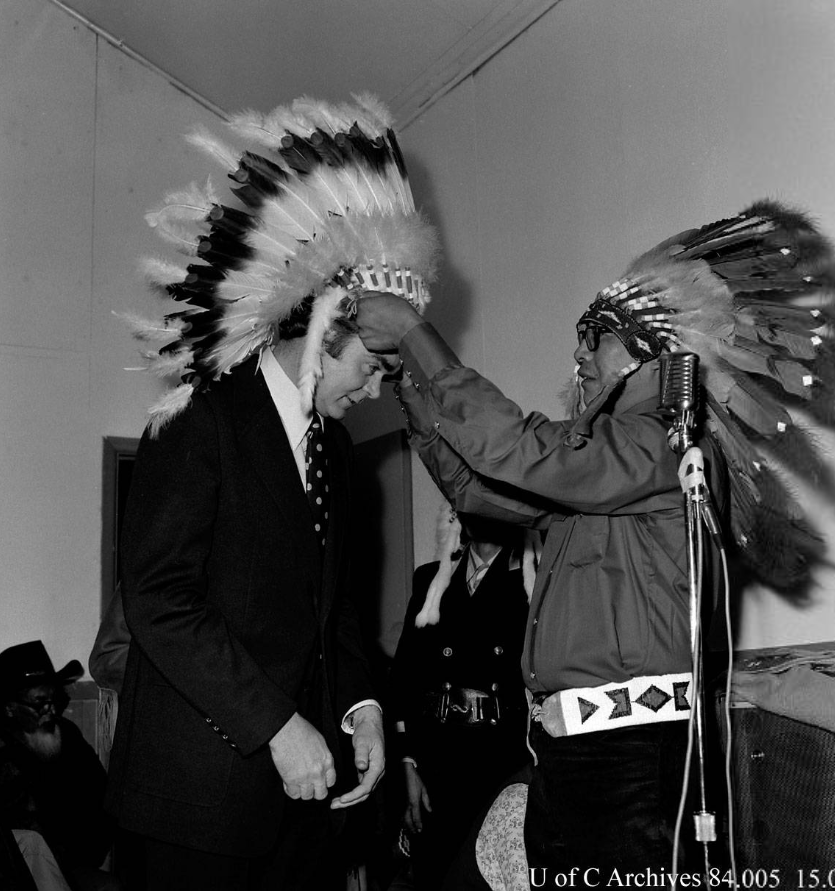 DEAN OF MEDICINE RECEIVES CEREMONIAL HEADDRESS
Dr. W.A. Cochrane receives a headdress, as honorary medicine chief of the Stoney Nakoda First Nations, from Chief Ray Baptiste.
FIRST UCALGARY MDS GRADUATE
Health Sciences facility opens simultaneously. Dean Cochrane calls it "a very proud day for us all."
HEALTH SCIENCES BUILDING OPENS
Medical students in the class of 1975 were the first to start their program in the newly constructed Health Sciences Building, built adjacent to the Foothills Hospital.
PROF STAYS UP LATE IN FIGHT AGAINST SLEEP APNEA
Breathing and sleep specialist John Remmers invents the Continuous Positive Airway Pressure (CPAP) machine to help sleep apnea sufferers.
HERITAGE MEDICAL RESEARCH BUILDING IS CONSTRUCTED
In the early '80s the medical faculty aggressively recruited more than 100 well-trained biomedical and health care researchers. In order to house these researchers, the Heritage Medical Research Building was built in November of 1987 with funding made available by the Alberta Heritage Foundation for Medical Research.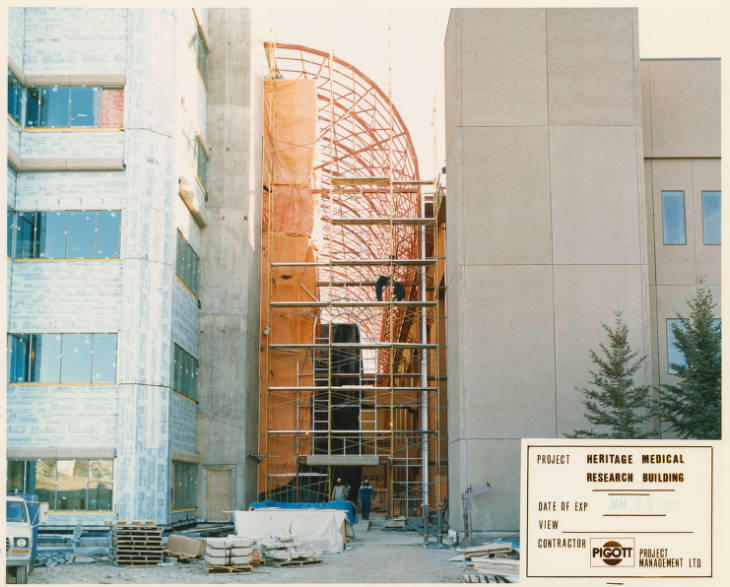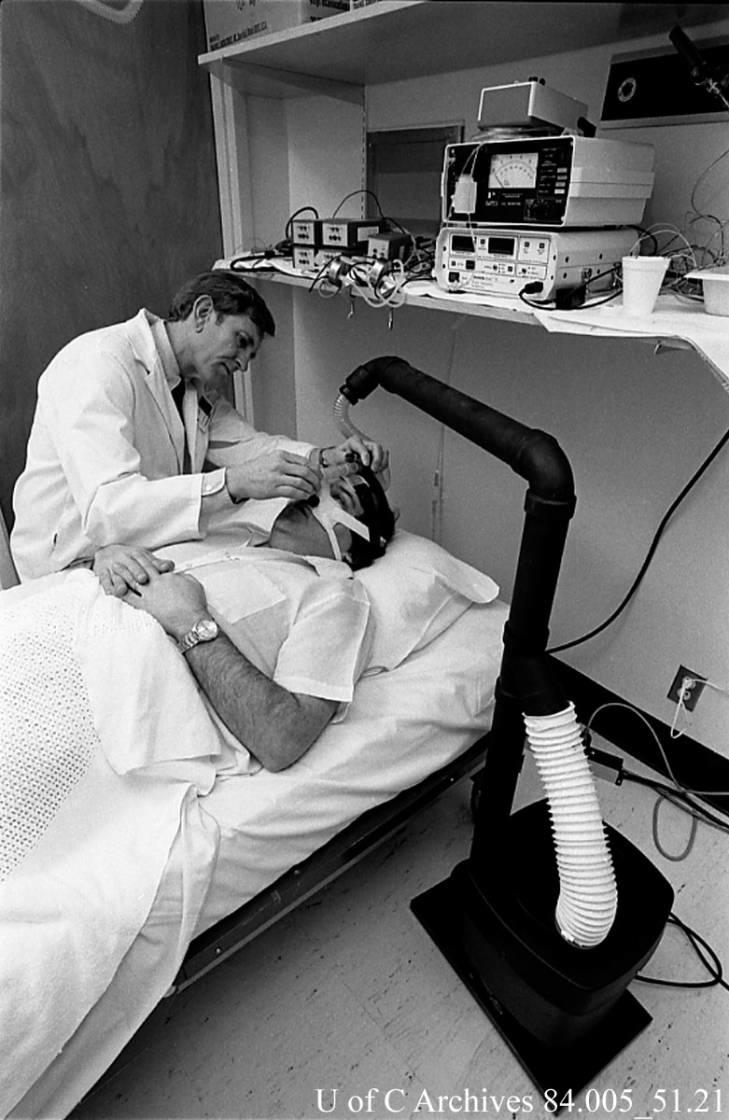 GROUNDBREAKING DISCOVER IN NEURAL STEM CELLS
Samuel Weiss, PhD, discovers neural stem cells in the brains of adult mammals. The groundbreaking discovery has led to new approaches for brain cell replacement and repair.
MCCAIG CENTRE FOR JOINT INJURY AND ARTHRITIS RESEARCH OPENS
Research at the McCaig Institute (name changed in 2007) focuses on understanding the basis for loss of bone and joint health and how these chronic diseases and conditions develop, in partnership with several related Alberta Health Services programs.
ALL-ENCOMPASSING CARDIAC DATA REGISTRIES ESTABLISHED
Dr. Merril Knudtson spearheads the Alberta Provincial Project for Outcome Assessment in Coronary Heart Disease (APPROACH) database — now one of the world's most all-encompassing cardiac data registries — giving health care providers and patients a clearer picture of how effective certain cardiac procedures or treatments are over time.
PHARMACEUTICALS PRODUCED FROM CANOLA
Biological Sciences professor Maurice Moloney establishes SemBioSys Genetics Inc. (with the help of University Technologies International Inc.) to produce pharmaceuticals from canola.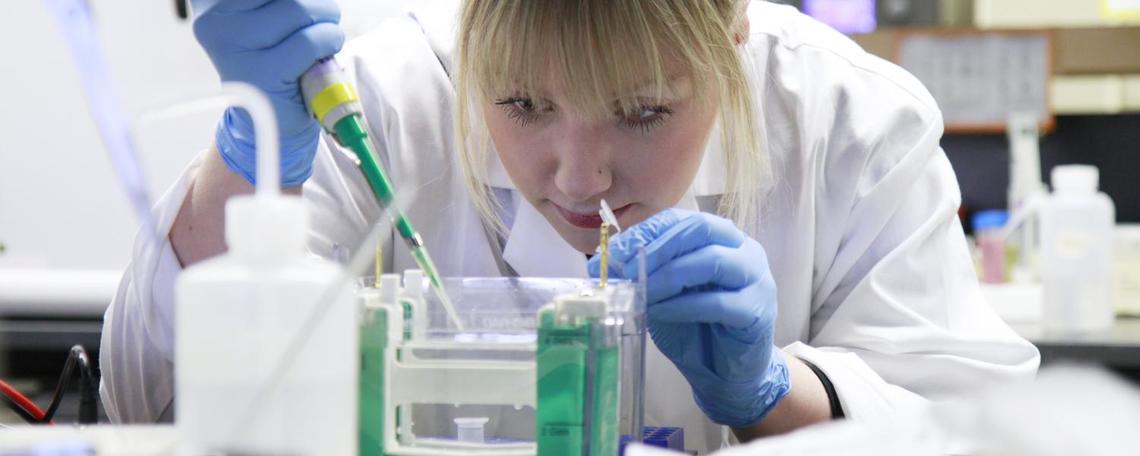 CANCER FIND TOUTED WORLDWIDE
Cancer researchers at the UCalgary's Faculty of Medicine have discovered a naturally occurring human virus that kills cancer cells, a discovery that may one day provide new therapies for cancer patients.
Announced at a jammed press conference Nov. 12 at Heritage Medical Research Building, the news quickly made national and international headlines.
The virus — called reovirus (reo is an acronym for respiratory enteric orphan) — is a naturally occurring virus believed to cause mild infections of the upper respiratory and gastrointestinal tract of humans. The UCalgary researchers found that reovirus is a potent killer of cancer cells whose growth signal has gone awry.
A major biochemical pathway that controls cell growth is the Ras signalling pathway. In cancer cells, this pathway is highly activated, resulting in unrestricted cell growth. Activation of this pathway could be due to mutations in the Ras gene itself, or mutations in the elements upstream or downstream of Ras in the pathway.
The UCalgary team — virologist and cancer biologist Patrick Lee, graduate student Matthew Coffey, and Lee's colleagues James Strong and Peter Forsyth — recently discovered that reovirus selectively kills cells with an activated Ras pathway. Infection of a single cancer cell by a single reovirus particle can generate a thousand progeny reovirus particles, which in turn infect neighbouring cancer cells. This cycle continues until all cancer cells are eliminated. Normal cells are spared.
In a report published in the Nov. 13 issue of Science, one of the top two scientific journals in the world, Lee and his team used reovirus to treat both mouse tumours and human brain tumours (glioblastomas) implanted in mice.
In tumours implanted in mice lacking an immune system, a single injection of reovirus directly into the tumour was sufficient to shrink the tumour. In mice with a competent immune system, multiple injections were required. Reovirus treatment was effective even in mice that had previous exposure to reovirus, and thus had circulating antireovirus antibodies in their bodies. Tumours that completely regressed have not reoccured during the four months after the cessation of the treatment.
As a benign virus with the ability to destroy cancer cells, reovirus is expected to be an important anticancer therapeutic.
Lee and his colleagues have submitted an application to Canada's Health Protection Branch for Phase I clinical trial using reovirus.
The study leading to this discovery was funded by the Medical Research Council of Canada, the Alberta Cancer Board, and the Alberta Heritage Foundation for Medical Research. The infrastructure was provided by TransCanada Pipelines Ltd. through its donation to the Partners in Health Campaign.
Lee and his coworkers are part of UCalgary's Cancer Biology Research Group in the Faculty of Medicine. His team also recently discovered a link between DNA damage and cancer development.
STUDY OF PREGNANCY HORMONE AND NEW BRAIN CELLS PRODUCTION
Samuel Weiss, PhD, shows how the pregnancy hormone prolactin increases production of new brain cells and that new stem cell-generated brain cells can be redirected to a damaged part of a brain. This has led to experimental therapeutic research in stroke and Multiple Sclerosis.
THE POTENTIAL OF ACNE MEDICINE IN MS PATIENTS
V. Wee Yong, PhD, and Dr. Luanne Metz lead a clinical study into a common acne medication that has the potential to delay the progress of Multiple Sclerosis. They continue to create new medicines for repairing damage and recovering function in people with progressive MS.
CALGARY HAS LOWEST DEATH RATE FROM HEART ATTACKS
Calgary has the lowest death rate in Canada from heart attacks thanks to the ST Elevation Myocardial Infarction program. It provides the communications link between EMS and the hospital; saving time, streamlining resources and improving patient outcomes.

NEUROARM PROCEDURE A WORLD FIRST
History made with successful robotic operation on a Calgary mom
A surgical team at the Foothills Medical Centre has successfully performed groundbreaking neurosurgery on May 12 with a robot developed by a team at the University of Calgary Faculty of Medicine.
Paige Nickason, 21, is recovering after having a tumour removed from her brain with the assistance of neuroArm, a surgical robotic system developed by a team led by Dr. Garnette Sutherland, a Calgary Health Region neurosurgeon and professor of neurosurgery in the University of Calgary Faculty of Medicine.
"I had to have the tumour removed anyway so I was happy to help by being a part of this historical surgery," says Nickason.
neuroArm is the world's first MRI-compatible surgical robot capable of both microsurgery and image guided biopsy.  The surgical robotic system is controlled by a surgeon from a computer workstation, working in conjunction with intraoperative MR (magnetic resonance) imaging. Dr. Sutherland developed the intraoperative MRI machine with Winnipeg-based IMRIS Inc.  The technology allows a high field MRI scanner to move in to the operating room on demand, providing imaging during the surgical procedure without compromising patient safety.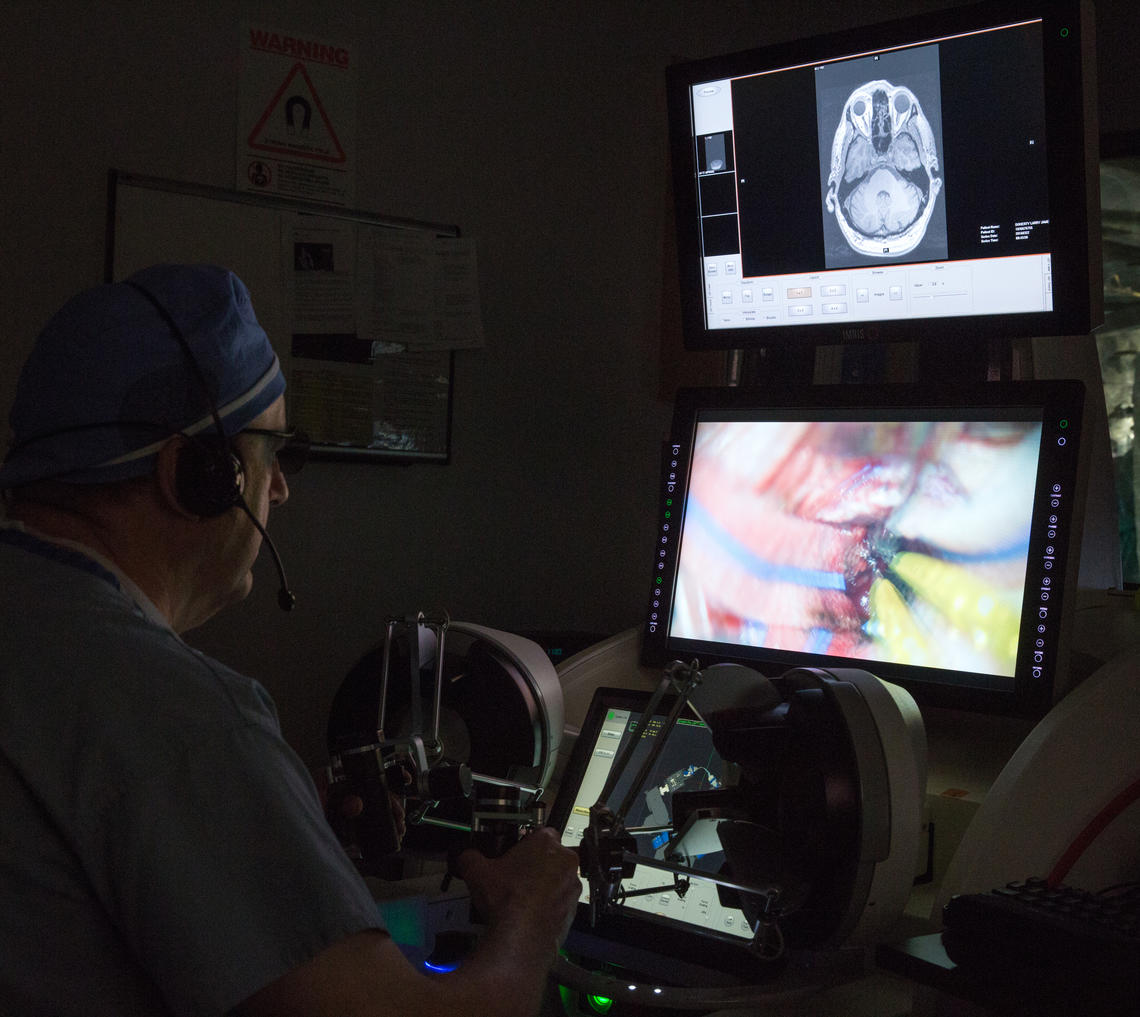 Using neuroArm in the operating room has significant advantages for both surgeons and patients.
neuroArm also aims to revolutionize neurosurgery and other branches of operative medicine by liberating doctors from the constraints of the human hand.
"neuroArm allows us to harness the capabilities and advantages of both human and machine. We enhance the surgeon's manual skills with tremor filtering. By providing updated imaging and navigation, the surgeon has the tools to better plan and execute complex neurosurgical procedures." says Alex Greer, the project's robotics engineer.
"The neuroArm will change the way patients undergo neurosurgery," says Dr. Chris Eagle, president and CEO of the Calgary Health Region. "We are thrilled to be part of a project that is more precise and improves the quality of life for patients with neurological disease."
The research, and now the reality of a human surgery using neuroArm, has garnered attention from neuroscientists and specialists across the globe.
neuroArm is one of the most advanced robotic systems ever developed. It was designed and built in collaboration with MacDonald, Dettwiler and Associates Ltd. (MDA), known for creating Canadarm and Canadarm2. Bringing neuroArm to life required a unique partnership between medicine, engineering, physics, and education; some of Calgary's most visionary philanthropists; the high-tech sector, and research funding organizations.
"We believe in the translation of research into practical processes and tools that improve health care. This is a wonderful example of just that. This advance will lead the way in modern neurosurgery," says Dr. Tom Feasby, dean, University of Calgary Faculty of Medicine.
Calgary philanthropists and brothers Doc, B.J. and Don Seaman provided $2 million to begin planning neuroArm seven years ago.  
"This project demonstrates what is possible when dedicated, innovative and highly skilled individuals come together in pursuit of excellence for the purpose of improving and extending the lives of others," says Doc Seaman.
The Seaman family's donation, combined with funding from Western Economic Diversification Canada, allowed for detailed planning and design of the project. That set the stage for substantial support from the Canada Foundation for Innovation (CFI), the National Research Council of Canada, Alberta Advanced Education and Technology,
Reach!, Alberta Heritage Foundation for Medical Research and additional philanthropists. The result is a one-of-a-kind machine and a comprehensive medical robotics program.
The president and CEO of the CFI is proud of the role his organization played to make this achievement possible. Dr. Eliot Phillipson says, "This is a shining example of Canadian-led science resulting in major breakthroughs that will benefit people here and around the world. The CFI is proud to have played a role in the remarkable partnership that has made this exciting achievement possible."
''The Government of Canada is proud to be part of the tremendous partnership effort that has helped usher in this new era for the field of medical robotics,'' said Rona Ambrose, Minister of Western Economic Diversification. ''I am proud of this landmark achievement and the positive impact the neuroArm will have on neurosurgery and medical research for communities in Alberta and across Canada.''   
"Our government places great emphasis on the important contributions of science and technology to our quality of life and to our economy, "said Doug Horner, Minister of Advanced Education and Technology.
FIRST VET MED CLASS GETS 100%
The first class of the Faculty of Veterinary Medicine (UCVM) received a 100 per cent pass rate on their first attempt at the North American Veterinary Licensing Examination (NAVLE).
CLOT-BUSTING HELP FOR STROKE PATIENTS DISCOVERED
A team of Canadian scientists and physicians led by Dr. Michael Hill conduct a landmark clinical trial showing that a drug can protect the brain from stroke damage. The team pioneers the introduction of clot-busting, transforming clinical care for stroke patients.
DANCING/PARKINSON'S: THE CALGARY PROJECT
The multi-disciplinary dance study, in partnership with Decidedly Jazz Danceworks and Parkinson Alberta, examines both the quantitative and qualitative effects of dancing, integrating a series of tasks usually applied in clinical and research settings.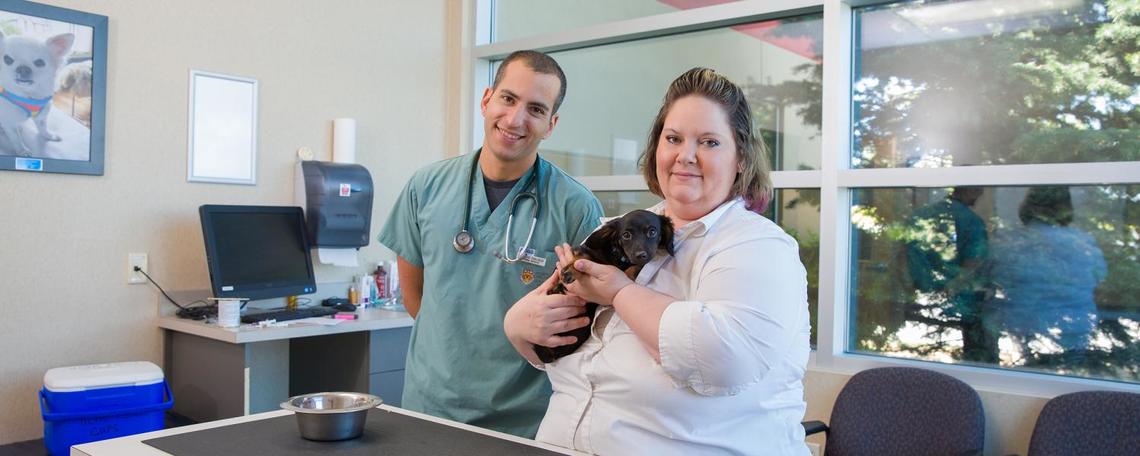 FREE PET CARE OFFERED TO LOW-INCOME CALGARIANS
Veterinary Medicine's successful pilot project with CUPS will now become regular part of curriculum
Jody Graves considers Izzy, her young Chihuahua dachshund cross, a part of the family. As a single mother on a fixed income, Graves was grateful to be able to take part in a pilot program where Izzy received veterinary care at no cost.
"It was great, you could ask them all kinds of questions," says Graves. "They teach you how to feed your pet and how to take care of them so they have long healthy lives. Not a lot of us can afford to take our animals to the vet, so to have them come in and look at all our animals and give them their shots, it was really wonderful."
The University of Calgary Faculty of Veterinary Medicine (UCVM) partnered this spring with the Calgary Urban Project Society (CUPS) to host six free veterinary clinics for pets of people living below the poverty line. The new service learning program gave third-year students the opportunity to take what they learned in the classroom out into the real world. Students interacted directly with clients and their companions while under the close supervision of UCVM and community veterinarians.
Benefits for both students and clients
"It's been a great initiative for the students," says Dr. Serge Chalhoub, who, along with fellow UCVM faculty member Dr. Jack Wilson, championed the project. "They have been practising their professional and communication skills and gaining experience with clients. There's a veterinarian coaching them, and the students do preventive medicine, deworming, vaccines, nutrition education and wellness education. Our first six sessions were highly successful."
The participants in the pilot program were CUPS clients. Thirty-two cats and dogs and their owners, who were once homeless or at high risk of becoming homeless, took part. In fact, the pilot project was so successful that starting this fall it will be a regular part of the third-year Doctor of Veterinary Medicine curriculum. The program provides benefits for both the student and the client, creating a win-win situation.
Love of a pet can help counter social isolation of poverty, homelessness
"For those who have experienced poverty, homelessness and the social isolation that often accompanies it, the role of a pet becomes all the more critical," says Amanda St. Laurent, with CUPS. "Caring for a pet can provide a sense of normalcy, responsibility, stability, unconditional love and a reason to face a new day."
Chalhoub says in addition to the services offered at the clinics, 11 pets were spayed or neutered as part of third-year surgery labs at UCVM.  "The students ended up operating on the pets they'd seen at the clinics, which is really neat."
Amy Larkin and Jen Wheeler were among the third-year students involved in the program.
Both students found it a fantastic opportunity to hone their professional skills and at the same time serve the community.
"It's not only great for them, it's also great for us," says Larkin. "It's a nice stepping stone from the classroom into the real world. And it's really rewarding to know that what we're learning is making a difference."
UCVM is grateful for the support from industry and the local veterinary community — including Associated Veterinary Clinics, Boehringer Ingelheim, the C.A.R.E Centre Animal Hospital, Calgary Academy of Veterinary Medicine, Horizon Veterinary Group, Purina and Vétoquinol —  support that helped make this program possible.