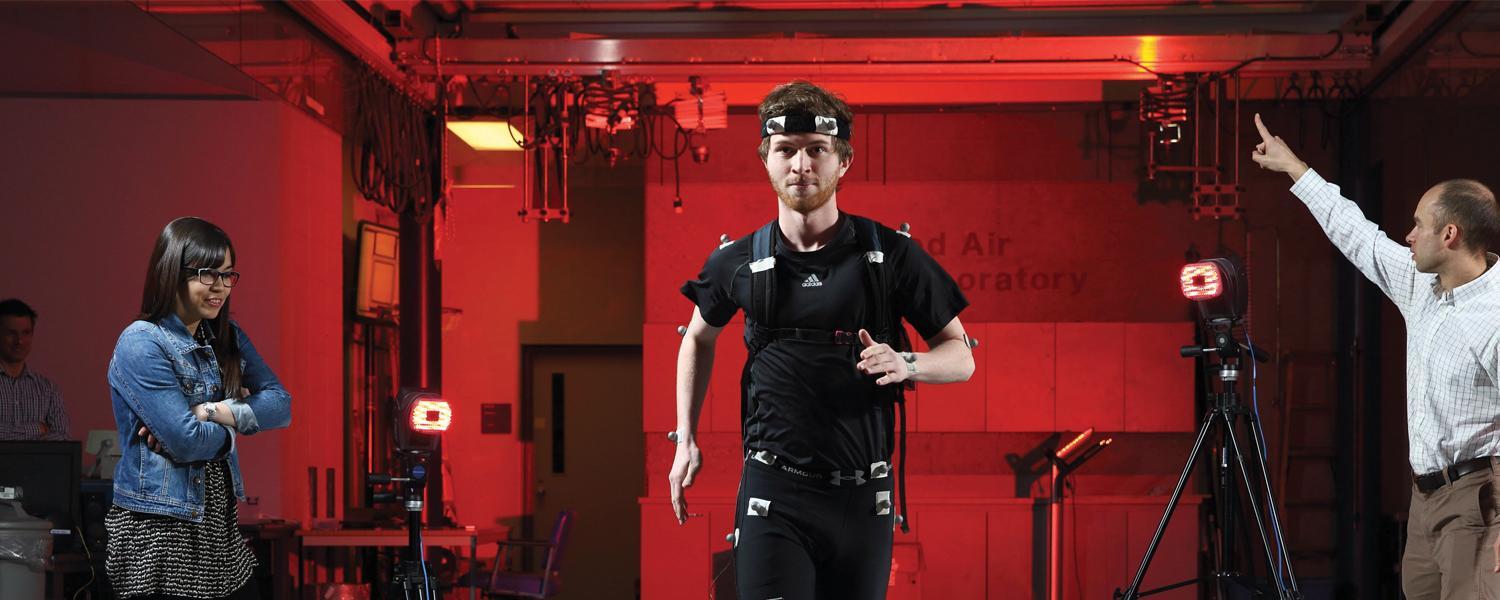 High-performance Athletics
Explore 50 years of Excellence
Golden Dreams
From the establishment of McMahon Stadium in the '60s to the Oval in '88, UCalgary has long been the incubator of elite sport in Calgary. Champions like Karl Tilleman, Catriona Le May Doan, Mark Tewskbury and Hayley Wickenheiser have all honed their competitive edge here.
Everyday Greatness
Through the years, one city shines for having the most active citizenry in Canada. Calgary's energy and spirit of adventure can be seen among our city's legendary bike paths, community soccer fields and rec centres. And when UCalgary's Olympic-calibre facilities, coaches and trainers open their doors to the public, the will to achieve rolls like a red wave across every community in the city.

FIRST YEAR COURSES OFFERED TOWARD BACHELOR OF PHYSICAL EDUCATION DEGREE
Thus begins a long tradition of athletic excellence at UCalgary.
CALGARY OLYMPIC DEVELOPMENT ASSOCIATION (CODA) FORMED
In 1959, CODA bids unsuccessfully for the 1964 Winter Olympic Games. Now known as WinSport Canada, the organization was instrumental in bringing the 1988 Games to Calgary.

A LANDMARK TAKES SHAPE
This Calgary landmark is more than home field for the University of Calgary Dinos.
It's also home for the Calgary Stampeders of the Canadian Football League, the Calgary Colts of the Canadian Junior Football League, and the Calgary Gators and Calgary Wolfpack of the Alberta Football League. The 1975, 1993, 2000 and 2009 Grey Cup games were played on its turf.
In addition to professional and amateur football, a wide range of other sports and cultural events are held here. Most notably, it served as Olympic Stadium during the 1988 Winter Games, hosting the opening and closing ceremonies. In 2011, the stadium was transformed into an outdoor NHL rink for the Heritage Classic, which saw the Calgary Flames defeat the Montreal Canadiens 4–0.

World-class concert acts ranging from the Beach Boys to Sarah McLachlan to Ozzy Osbourne have taken the stage at McMahon Stadium, and in 1990, it played host to a visit from Queen Elizabeth II. 2013 saw the stadium used as a staging ground for flood relief, serving as a venue for an aid concert featuring a lineup of Canadian stars, and as a muster point for volunteers helping with cleanup.
Originally financed by donations and backing from brothers George and Frank McMahon, Calgary businessmen for whom the stadium was named, the facility and lands passed into UCalgary ownership in 1985. From its construction to its numerous expansions to its ever-shifting roles in the community, McMahon Stadium is a cornerstone that binds Calgary and its university together.
PHYSICAL EDUCATION BUILDING COMPLETED ON NEW CAMPUS
New facility contains a swimming pool, diving tower and gymnasium.
LIEUTENANT-GOVERNOR J. PERCY PAGE OPENS PHYSICAL EDUCATION BUILDING
Arthur Arnold, deputy minister of public works, presents the building, noting "all the materials in the building were manufactured in the province."
TUITION FEES
$300 per session for Education and Physical Education.
U.S. SENATOR ROBERT F. KENNEDY ATTENDS CFL EXHIBITION GAME
Calgary vs. Edmonton at McMahon Stadium. Eskimos win 18-3.
UCALGARY'S WOMEN'S BASKETBALL TEAM WINS CANADIAN COLLEGIATE CHAMPIONSHIP
Badminton teams won the WCIAA championship for the second year in a row.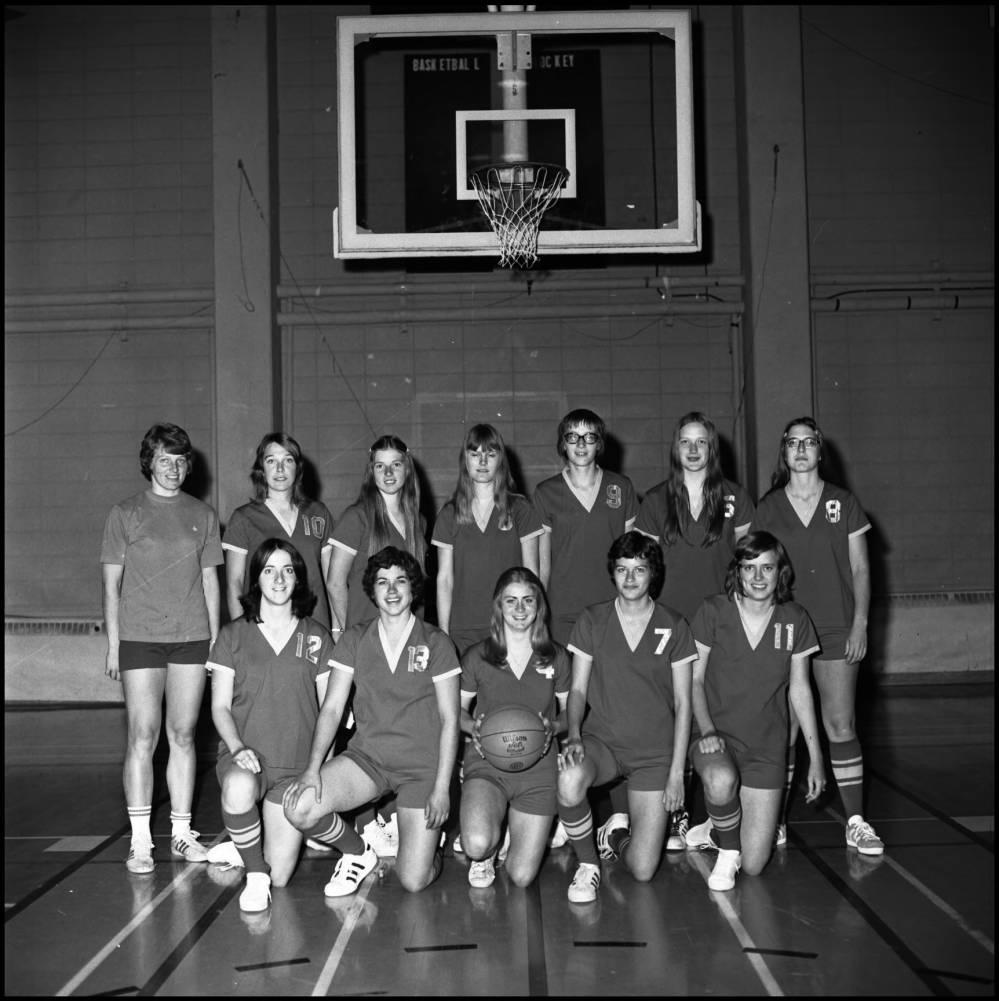 UCALGARY SENDS THREE ATHLETES TO MONTREAL OLYMPICS
Basketball player Rommel Raffin and volleyball players Elias Romanchych and Al Taylor are the first Dinos to compete at the Olympics.
ROGER JACKSON APPOINTED DEAN OF PHYSICAL EDUCATION FACULTY
A gold-medal-winning Olympian, Dr. Jackson is instrumental in shaping UCalgary's athletics programs and in bringing the 1988 Winter Games to Calgary.
CALGARY SELECTED AS CANADIAN CITY TO BID FOR 1988 WINTER OLYMPICS
Canadian Olympic Association chooses Calgary over Vancouver. Bid is eventually successful.

CALGARY WINS BID TO HOST 1988 OLYMPICS
After unsuccessful attempts in 1964, 1968 and 1972, Calgary is named host of the Winter Games. The city and university are completely transformed by the Olympics, which leaves lasting marks on the landscape and culture.
DINOS FOOTBALL TEAM WINS VANIER CUP
Hall of Fame team wins first of three CIS football championships for UCalgary, defeating Queen's 33-23.
EIGHT DINOS COMPETE IN SUMMER GAMES
UCalgary students participate in Olympic games in Los Angeles, in basketball, diving, field hockey, swimming and volleyball. Swimmer Tom Ponting wins silver in 4x100 medley relay.
UCALGARY ASSUMES OWNERSHIP OF MCMAHON STADIUM
Following the retirement of debentures used to fund construction, and a land agreement with the City of Calgary, both the stadium and the land become property of the university.
JACK SIMPSON GYMNASIUM OPENS
Featuring three gymnasiums, three basketball courts, five volleyball courts and an indoor football/soccer field, the facility is used to help host the Olympics and is home to the Dinos basketball and volleyball teams.
OLYMPIC OVAL OPENS
Nicknamed "the fastest ice on Earth," North America's first covered speed skating dome features state-of-the-art climate control capabilities that produce the highest-quality ice possible. Many world records are set at the facility in the ensuing years.
UCALGARY SHOWS SEOUL
Numerous staff and students, including 14 members of various Dinos teams, compete at the 1988 Summer Games. Events include basketball, field hockey, swimming and track and field.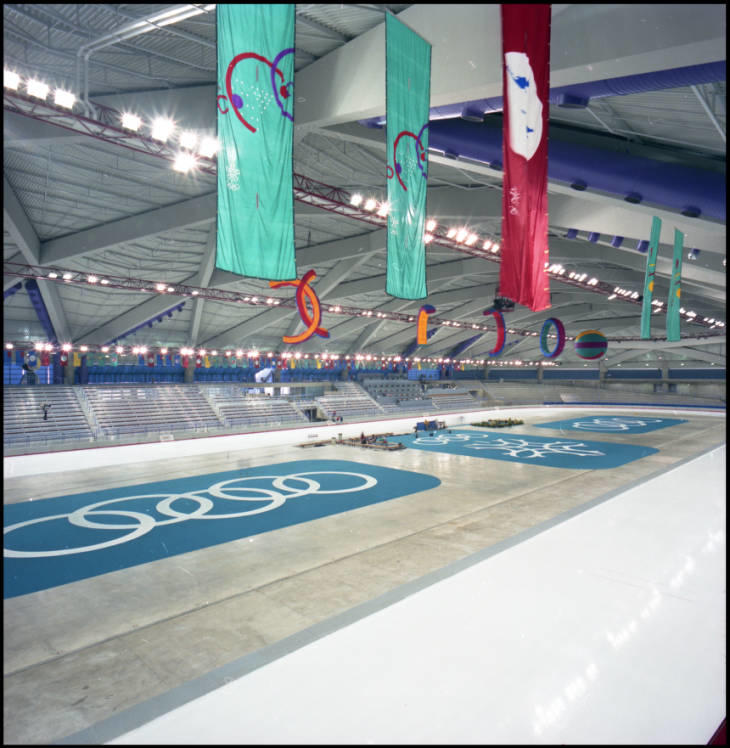 UCALGARY TAKES IN OLYMPIC ATHLETES
Classes suspended for two weeks during the Winter Games. Students move out of residence to make room for Athlete's Village. Local families provide temporary homes for displaced students.
SPORT MEDICINE CLINIC CREATED
The Sport Medicine Centre has been treating Canada's Olympians, UCalgary Dinos, professional and elite athletes since the 1988 Winter Olympics.
A GRAND SUCCESS: THE 1988 WINTER OLYMPICS GAVE CALGARIANS A LIFETIME OF MEMORIES AND A LEGACY OF ELITE TRAINING FACILITIES
The Olympic Oval has become a special place in Calgary for amateur sports and recreation
As soon as the last firework faded after the closing ceremonies of the 1988 Winter Olympics, the legacy of the Calgary Olympic Oval began—welcoming more than 4000 athletes annually to make use of the facility's indoor running track, sprint pad, weight room, hockey rinks and world's fastest speed skating ice for more than two decades.
"Our facility has been successful in helping athletes thrive and achieve in their sport because we have always been part of the high performance sport community," says two-time Olympic gold medalist Catriona Le May Doan, now associate director for the Olympic Oval. "This has separated us from simply becoming a venue. We are not just an ice rink or an indoor track.
That shared ambition has helped more than 65 athletes, who have been part of the Olympic Oval's high performance programs, to qualify and compete in Winter Olympics and 29 of those to win Olympic medals in women's hockey and short track and long track speed skating, including Canada's most decorated Olympian, Cindy Klassen.
Outside of the Olympic Oval's high performance sport programs, the facility's weight room, sprint pad and running track are used by all national team athletes who train in Calgary including bobsledders, lugers, ski jumpers, nordic & alpine skiers, track and field athletes and even some NHL players.
"The Olympic Oval is more than ice. When you come here to train you feel like you are part of a tradition, but also part of a group of people who really understand what you are doing and why you are doing it," says Denny Morrison, a speed skating Olympic silver medalist at the 2006 Torino Olympics. "We have all the things we need under one roof, which is something that doesn't exist anywhere else that I know."
Over the past two decades, the Canadian Sport Centre Calgary, the Roger Jackson Centre for Health and Wellness Research at the University of Calgary Sport Medicine Centre and the University of Calgary's Human Performance Lab have come to reside alongside the Olympic Oval, within the Faculty of Kinesiology, giving high performance, varsity and every day athletes access to everything an athlete needs, including a university education.
Roger Jackson, one of the founders of the Olympic Oval project, now CEO of the Own the Podium 2010 credits the Olympic Oval's legacy to a rare synchronization. "It is almost unique in the world because of the harmony of shared high performance, public and University of Calgary use. There are so many practical things about this building that make it so useful," enthuses Jackson.
As well as giving high performance and varsity athletes a great experience, the Olympic Oval has also provided the general public with a world-class activity centre for public skating and running, as well as special events. Annually the facility hosts Papa John's Family Fun Day, drawing up to 6,000 people to enjoy public skating and a variety of family friendly games and activities.
Hopefully the Olympic Oval will continue to draw Canadians to its high performance programs, summer camps, indoor running, public skating, World Cup competitions, special events and more—continuing the legacy that began with the 1988 Olympics.
OLYMPICS SPARK RESEARCH PROJECTS
Sociology professor Harry Hiller studies the effects of mega-events, such as the Olympics, on host cities.
RODEO CATASTROPHIC INJURY REGISTRY OPENS
Its mission is to collect and analyze injury incidents to rodeo and bull-riding participants world-wide.
SWIMMINGLY PERFECT
Dinos' men's swim team wins ninth national championship in 10 years.
DISNEY ON CAMPUS
Scenes from the movie "Cool Runnings," loosely based on the Jamaican bobsled team that competed in the 1988 Winter Games, are shot at the Olympic Oval and the Physical Education link.
DINOS HALL OF FAME ESTABLISHED
Initial inductees include: Greg Vavra (Football 1979–1983); Dr. Lou Goodwin (Builder 1959–1979); Dr. Dennis Kadatz (Builder 1964–1985); Theresa (Sekura) Maxwell (Women's Basketball & Volleyball 1962–1966); Janis Paskevich (Women's Basketball 1977–1982).
INTERNATIONAL OLYMPIC COMMITTEE HONOURS ROGER JACKSON
Roger Jackson, director of the Sport Medicine Centre, is awarded the Olympic Order by the International Olympic Committee, recognizing his contribution to world sport. It is the IOC's highest honour.

RESEARCHER DR. GERALD COLE AND COLLEAGUES IN THE FACULTY OF KINSESIOLOGY'S HUMAN PERFORMANCE LAB HELP DESIGN DAVID BECKHAM'S NEW SOCCER SHOE 
UCalgary biomechanics researcher Dr. Gerald Cole and his colleagues in the Faculty of Kinesiology's Human Performance Lab helped design Beckham's new soccer shoe, the Predator Pulse by Adidas. The English soccer hero and paparazzi magnet, who plays midfield for Real Madrid of Spain, has been wearing the high-tech shoes since May 1st.
UCalgary's Human Performance Laboratory and its co-director Benno Nigg are renowned internationally for their knowledge of sport shoes, a billion-dollar product for companies such as Adidas and Nike.
Cole was approached by Adidas to design a new soccer show for Beckham, possibly the world's best-known soccer star. Cole's award-winning research led to shifting 40 grams of weight toward the front of the boot, which reportedly increases ball speed by up to three per cent.
Given the elite level of soccer Beckham plays, that increase could lead to more goals.
Cole and his research team (Nigg, Darren Stefanyshyn and Karin Gerritsen) relied on 3-D modelling of the human leg to create the shoe. Adidas built prototypes of the shoes and further tested them with athletes – a task Cole describes as "tricky". 
OLYMPIC OVAL CELEBRATES 25 YEARS
For 25 years speed skaters have set world records on the Fastest Ice in the World™.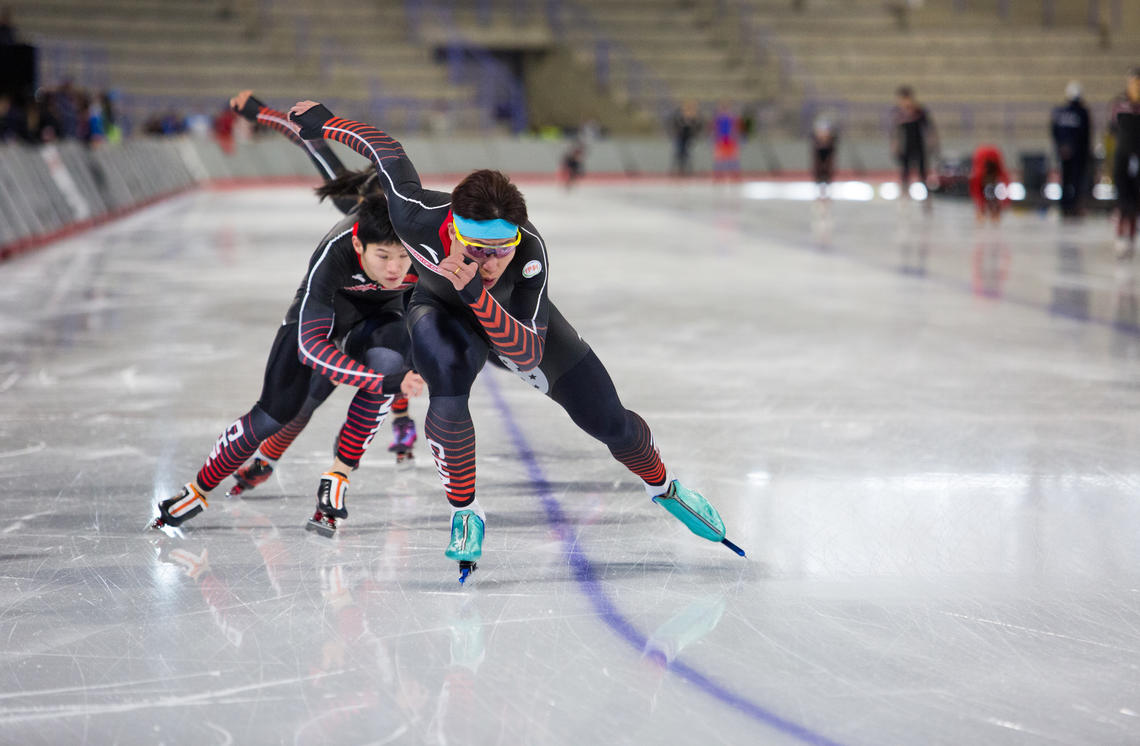 CALGARY'S FIRST ACUTE SPORTS CONCUSSION CLINIC OPENS
The Sport Medicine Centre is home to Calgary's first sport concussion clinic. Open to the public, the Acute Sports Concussion Clinic provides care to anyone who may have suffered a concussion while participating in an athletic activity. A doctor's referral is not required and the goal of the clinic is to see patients within one week from time of injury.