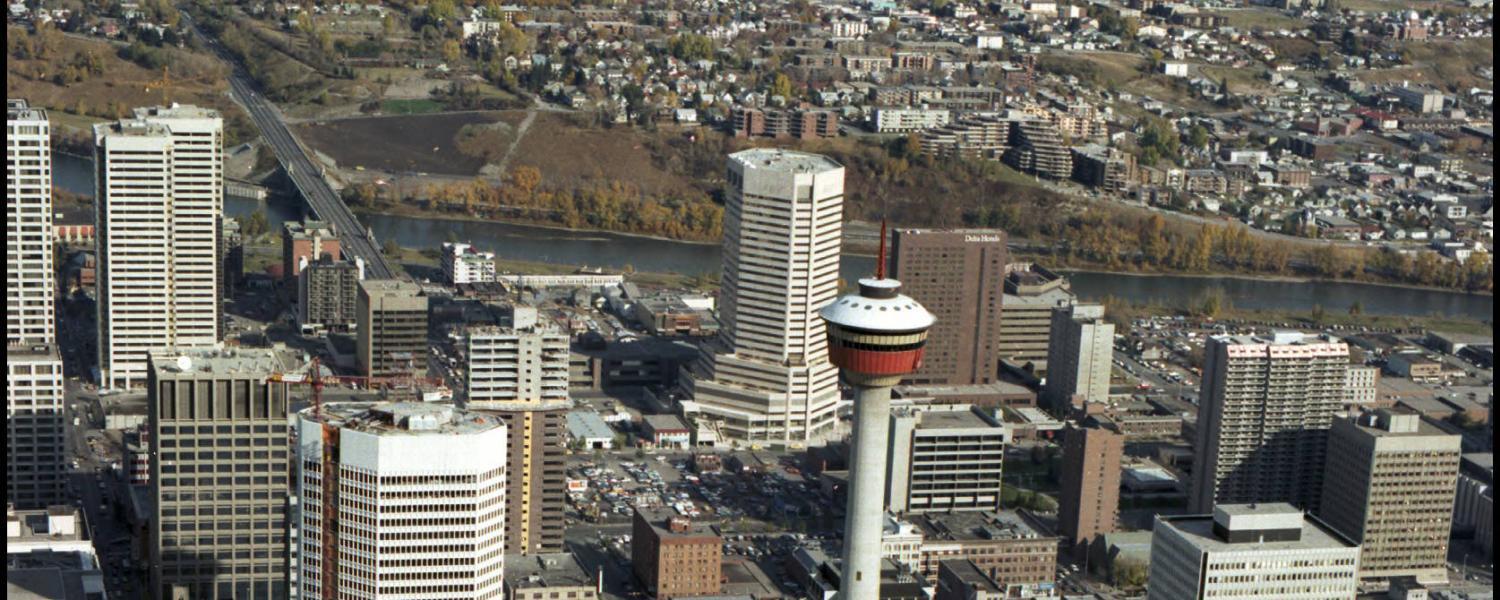 Calgary's urban evolution
Explore 50 years of change
Fuel, grit, energy
Being Calgarian is about more than location. It's a feeling that in this place, you can build and do anything. Calgary has always been a place to "git 'er done," and together, we've been getting it done for more than 50 years.
Transforming together
As the city of Calgary has experienced exponential growth and ever-increasing diversity, so too has the university's size and makeup grown dramatically. You can see this growth and evolution everywhere you look – in the people, the landscape, the architecture and the culture. And it's all linked by a shared sense of entrepreneurialism and innovation.

JUBILEE AUDITORIA ANNOUNCED FOR CALGARY AND EDMONTON
The auditoria are built on or adjacent to the campuses of University of Alberta and UAC. Jack Simpson, future namesake of the Jack Simpson Gymnasium, is involved in the construction of both auditoria. Convocation takes place at the Jubilee Auditorium until 1982.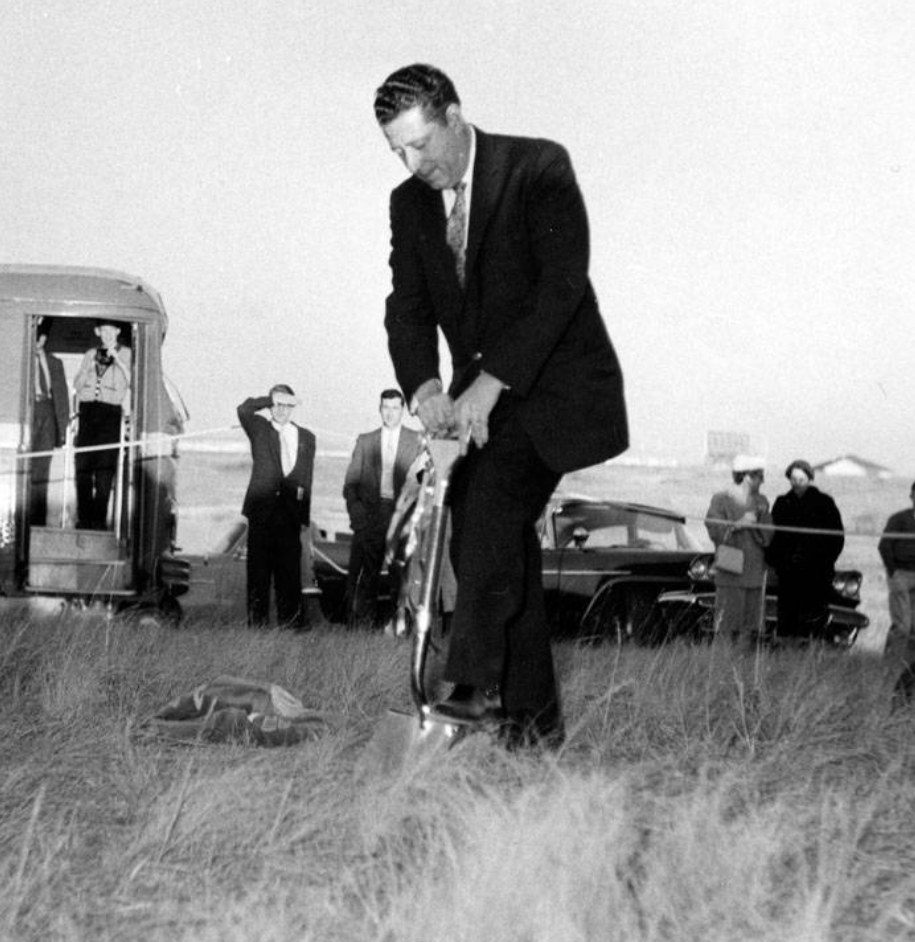 CAMPUS SITE APPROVED
City council resolution passes 99-year lease on a 348-acre site with an option to purchase. A deal is reached with the city the following year for a 30-year lease at one dollar per month.
PROVINCIAL GOVERMENT PROMISES CALGARY UNIVERSITY
The university's name is changed to University of Alberta in Calgary (UAC).
RESEARCH PARK DESIGNATED
80 acres north of campus set aside for future use.
LAND TRANSFER APPROVED
City approves transferring 15 acres north of campus for Geological Survey of Canada. Ottawa notifies Mayor MacEwan that plans for Geological Survey building will be drawn up after April 1, 1964. MacEwan regards this as an advancement in "consolidat[ing] Calgary as the oil capital of Canada."
FOOTHILLS HOSPITAL OPENS
Originally named Foothills Provincial General Hospital, the main building of the hospital is opened in June.
CAMPUS ARCHITECTURE UNPOPULAR
General Faculties Council resolves "That it be recorded that this Council is disquieted about the poor design of some of the Buildings on the campus, and also...the planning of the campus as a whole..."
JUST THE BEGINNING
Public Works Minister Fred Colborne predicts that after six years and $70 million invested in university construction to date, a further $250 million will be required to "round off the campus." Officials predict the student population to increase to 18,000 students by 1985.
GLENBOW MUSEUM OPENS
Eric Harvie donates an immense historical collection to the people of Alberta and the Glenbow Museum is born.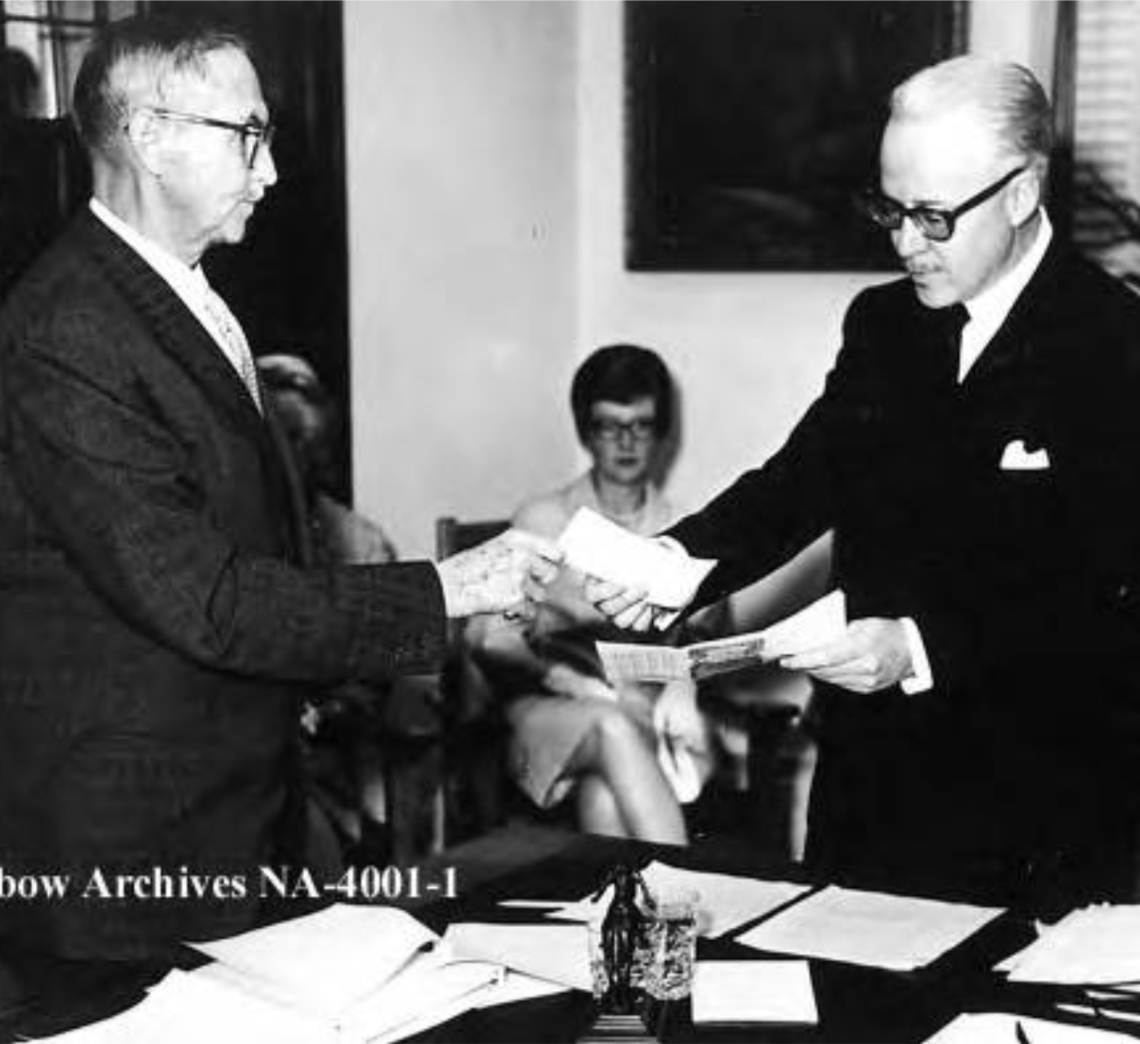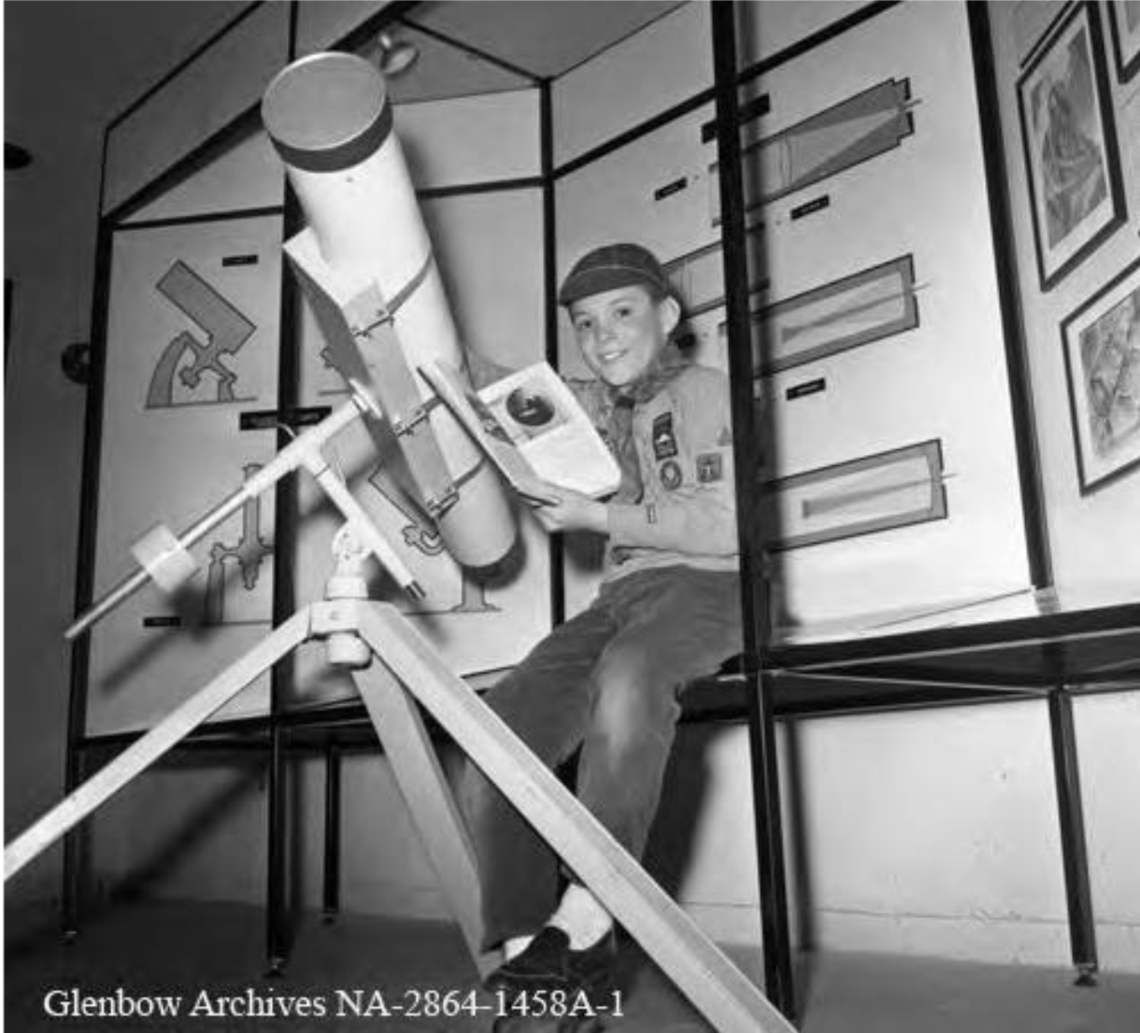 CROWCHILD TRAIL OFFICIALLY OPENS
Cuts commuting time from south Calgary to the university by half.
PLANETARIUM OPENS
Officially named the Calgary Centennial Planetarium, the building eventually houses the Telus World of Science.
CAMPUS MASTER PLAN UNVEILED
Department of Public Works design plan calls for "controlled variety rather than uniformity" in its architecture, campus residences with a "more intimate and domestic atmosphere," glass-enclosed "pedestrian streets," and exterior finishes made of "flamingo quartzite" or modeled or textured concrete.
EID CELEBRATED ON CAMPUS
Pakistan Canada Association observes conclusion of Ramadan with celebration at UCalgary, making Islam the first faith outside Christianity to be represented on campus.
NICKLE ARTS MUSEUM CREATED
Samuel Clarence Nickle donates $1 million and a collection of numismatics (coins, paper, currency and medals) to build a museum devoted to numismatics, archaeology, art and artifacts.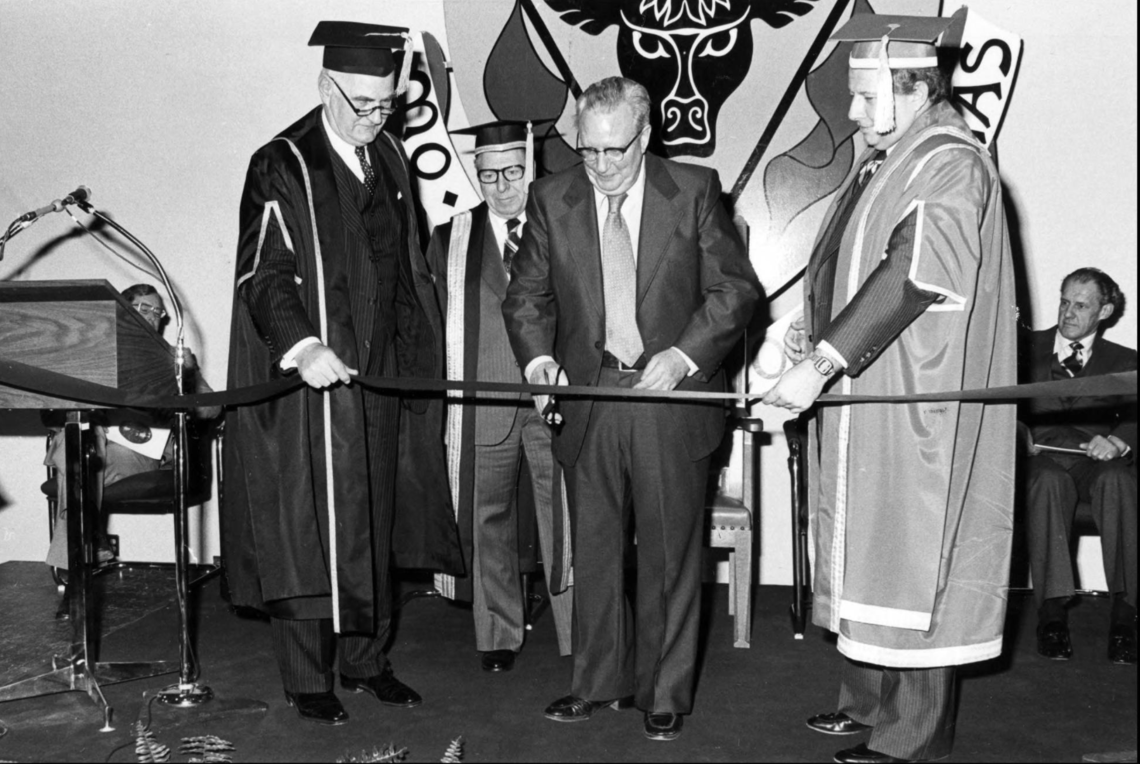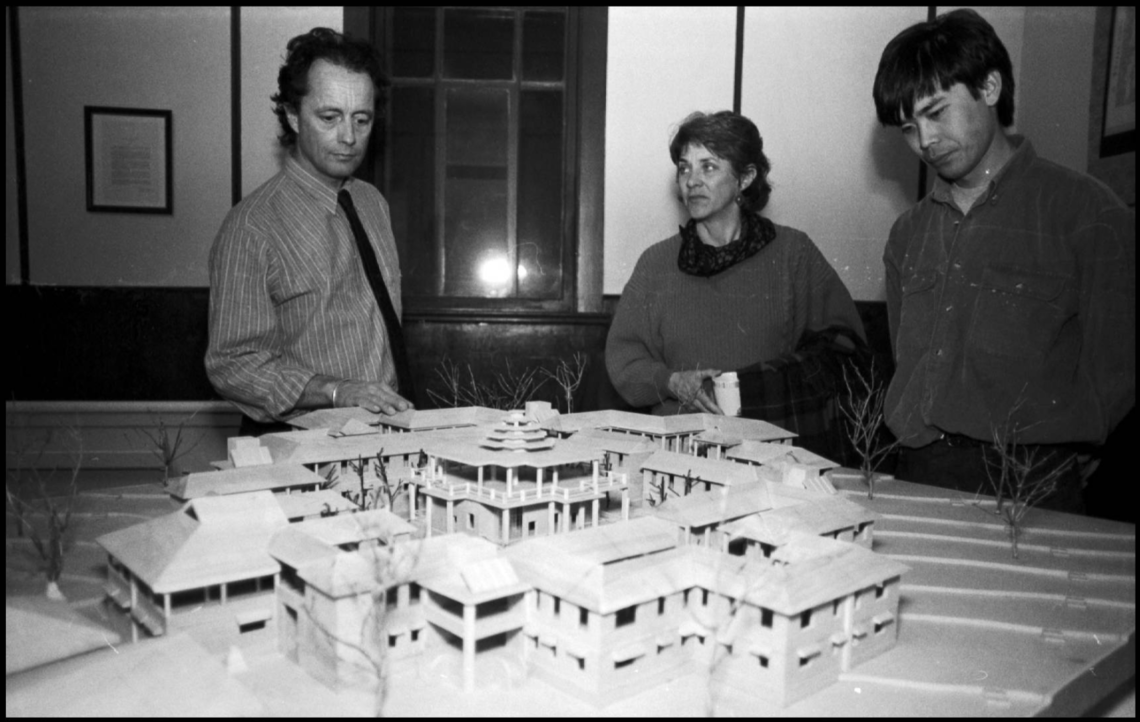 FACULTY OF ENVIRONMENTAL DESIGN ESTABLISHED
The Faculty of Environmental Design (EVDS) was established at the University of Calgary in 1971 in response to a campaign to establish a professional architecture program in Alberta to help meet the demands of a rapidly growing province.  
The concept of "environmental design" emerged in the 1950s as a way of uniting the various design disciplines together across a broad range of scales, from product design, through building, city, and landscape design. By focusing on understanding the contexts (including the built, urban, social, cultural, etc.) that inform the complex challenges facing today's designers, the faculty's founding principles draw from a commitment to interdisciplinarity, bringing together a wide range of experts in a non-departmental faculty to develop comprehensive design solutions.
Environmental design is a distinct way of tackling problems, as it relies on creativity and analysis, art and science, brain-storming and technology in a form-based, studio-centred methodology. For 45 years, EVDS has been broadly engaged in the relationships between humans and the environments they inhabit and create. 
Conceived as a graduate-level design unit, the Master of Environmental Design (MEDes) degree was offered in three fields of study (architecture, planning and environmental science under founding Dean William T. Perks, who served from 1971 to 1981. 
ASTROPHYSICAL OBSERVATORY OPENS
Originally called the University of Calgary Astrophysical Observatory, the facility is later renamed the Rothney Astrophysical Observatory after Alexander Rothney (Sandy) Cross, who donated the land for the observatory. His father was A.E. Cross, one of the Big Four ranchers who backed the 1912 Calgary Stampede.
CAPITAL CONSTRUCTION STABILIZES
After a boom of new construction, capital grants for new construction stop for nearly a decade.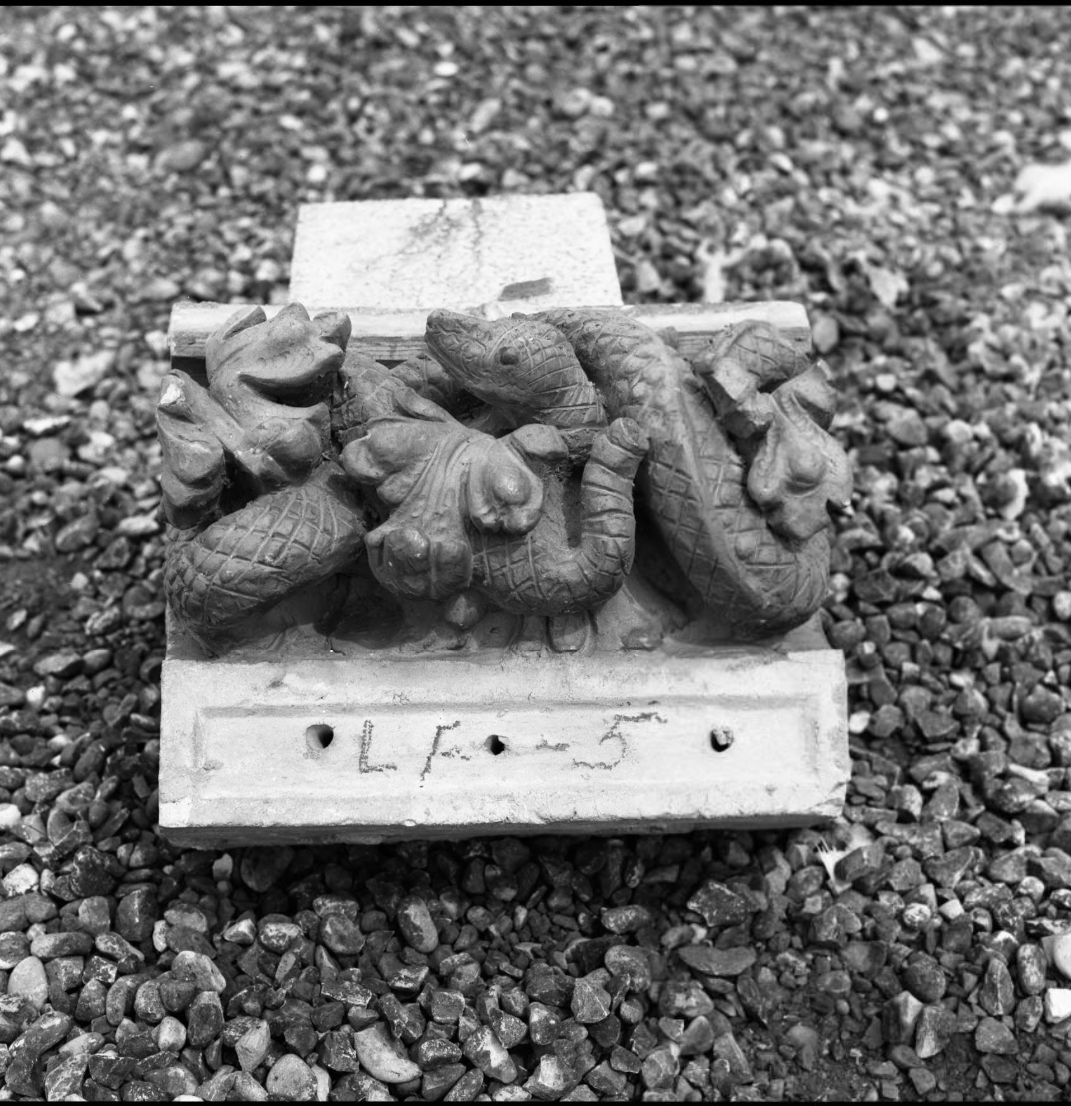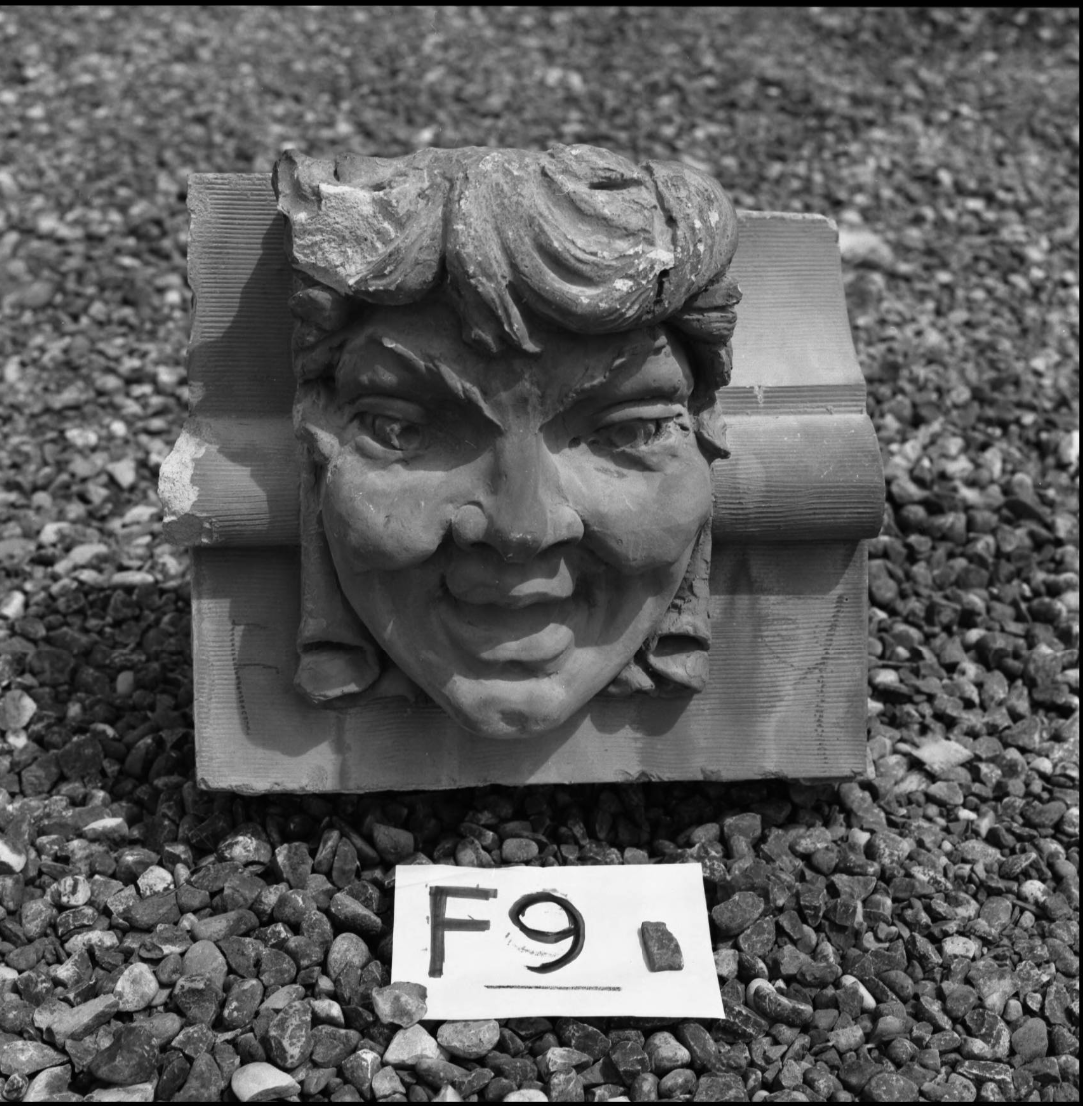 UNIVERSITY BUYS GARGOYLES FROM AGT
Alberta Government Telephones sells eight of the Royal Doulton-made gargoyles from the demolished Southam building (home to Calgary Herald) to the university for $1,200.
CANADIAN ARCHITECTURAL ARCHIVES ESTABLISHED
Established as a joint venture between the University of Calgary Library and the Faculty of Environmental Design, with a mandate to collect the works of twentieth century Canadian architects, the Archives has emphasized the documentation of the total output of architectural firms in an attempt to provide an accurate historical profile.
HEALTH SCIENCES BUILDING OPENED, FOOTHILLS HOSPITAL
Students start their program in the Health Sciences Building, the new home of the Faculty of Medicine, built adjacent to the Foothills Hospital.
FORT CALGARY CENTENNIAL
The Century Calgary committee, a citizen's group, co- ordinates the city-wide, year-long celebration. The Department of Geology participates with its Centennial Lectures series.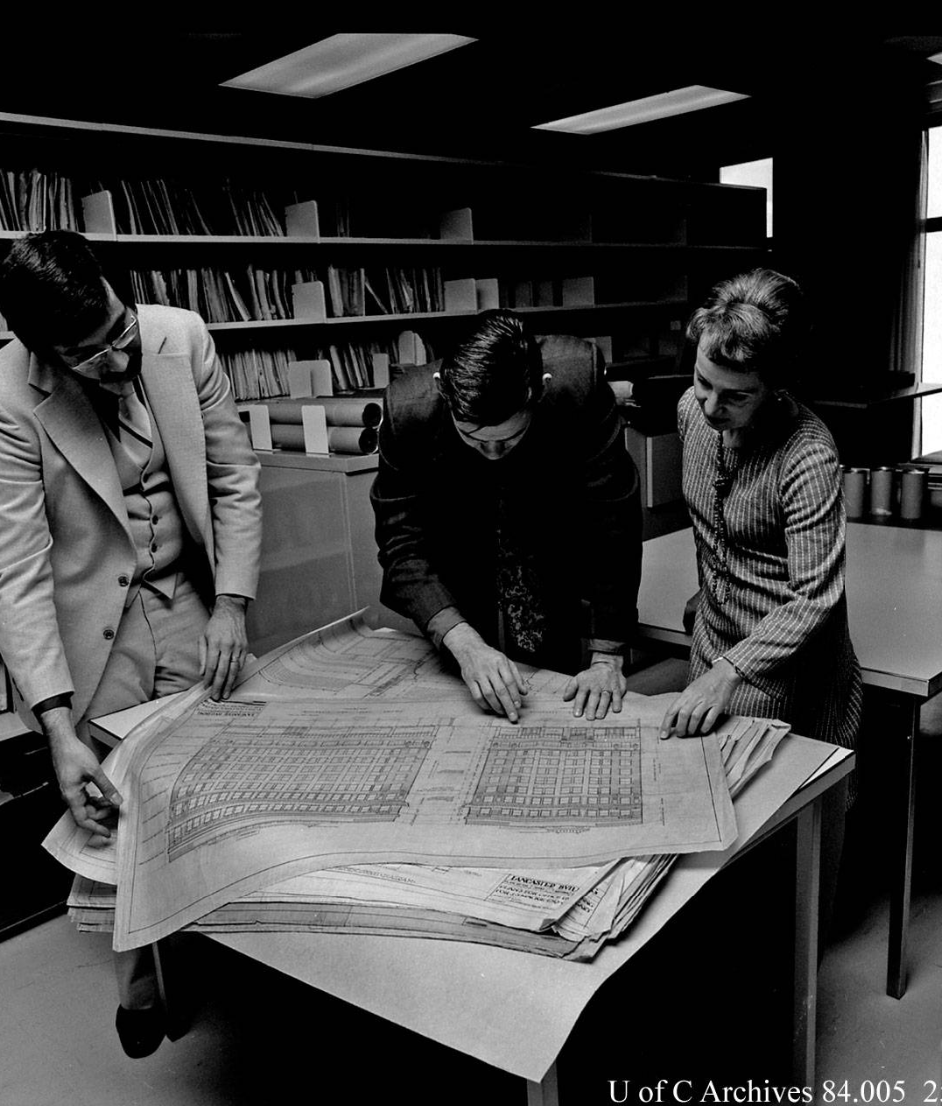 CALGARY MUNICIPAL BUILDING APPROVED IN PLEBISCITE
Question was: "Are you in favour of the City constructing on City land its own City Government Building, to be paid for over 25 years, or are you in favour of the City continuing to rent space in privately owned buildings"?
LRT SERVICE BEGINS IN CALGARY
Recognizing the importance of transit to the city's growth, the university would later establish a chair in transportation systems.
UCALGARY BECOMES THIRD-LARGEST EMPLOYER IN CALGARY
5% of all jobs in Calgary are supported by UCalgary, making it the third-largest employer in the city.
NORTHWEST LRT OPENS
First run on September 4, 1987. The terminus is University Station. Construction involves a land swap agreement in 1985 that includes the Rainbow Bridge, repurposed in 1986 as the campus gate. In its inaugural run, Mayor Ralph Klein takes the controls, and a five-piece Dixieland band plays while dignitaries enjoy the ride.
OLYMPICS TRANSFORMS CALGARY AS A CITY
Calgary hosts the 1988 Winter Olympic Games and is now home to several world-class sports facilities including the Olympic Oval, Canada Olympic Park and Nakiska Mountain Resort, and has earned a reputation as an international destination.
THE POWER OF LEARNING
City of Calgary Electric System names UCalgary the largest user of electricity in the city. The university went on to build a novel cogeneration plant to save millions in annual energy costs and reduce its carbon footprint.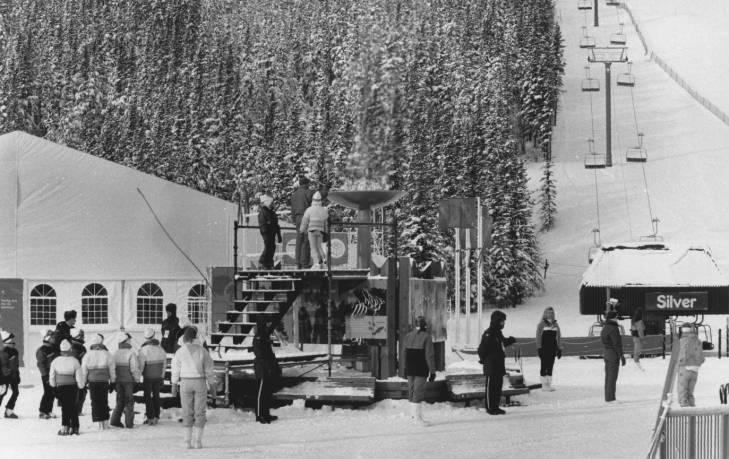 COMMUNITY COLLABORATION FOUND IN URBAN LAB
The Urban Lab, in the Faculty of Environmental Design, works with various levels of civic groups to address issues of common interest and conducts independent research to advance knowledge and practice related to urban design, planning and development.
ROTHNEY OBSERVATORY HELPS KEEP THE SKIES DARK AT NIGHT
Foothills Municipal District propose a bylaw, the first of its kind in Alberta, to help reduce light pollution in the area surrounding the observatory. The bylaw gains support from special services such as HAWKS, the police helicopters and STARS air ambulance for safe night time operations.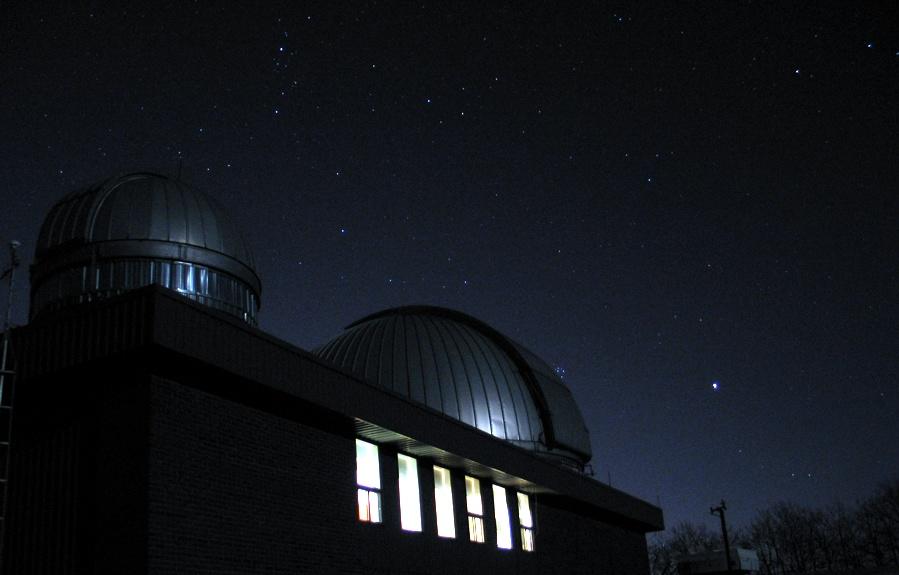 ALUMNUS NAHEED NENSHI ELECTED MAYOR OF CALGARY
During his time at UCalgary, Nenshi was president of the Students' Union and earned a Bachelor of Commerce degree with distinction in 1993.
DAY OF SERVICE INITIATIVE TAKES OFF
Students engage in a single Day of Service throughout the year and throughout Calgary by volunteering with different community groups and non-profits.
UCALGARY ANSWERS THE CALL FOR REAL ESTATE LEADERS
The Haskayne School of Business establishes the real estate studies initiative with the mission to create entrepreneurial and ethical leaders for the real estate industry.
ACWA'S EXPERIMENTAL STREAMS OFFER UNPRECEDENTED RESEARCH OPPORTUNITIES
Project to accelerate development of wastewater treatment technologies to improve ecosystem and human health
The streams have been dressed, the labs are furnished, the water is flowing, and the research opportunities abound. These were just a few of the key takeaways delivered to the 18 representatives who attended the Advancing Canadian Wastewater Assets (ACWA) industry day on Jan. 23 at ACWA's facilities, located at The City of Calgary's Pine Creek Wastewater Treatment Plant.
ACWA's aim is to develop technologies that will remove pharmaceuticals and other contaminants from wastewater, improving ecosystem and human health. It is a place where researchers, practitioners and industry can work together to solve important problems facing cities everywhere.
The $38-million, one-of-a-kind project consists of 12 outdoor experimental streams, a sophisticated wastewater treatment plant, as well as an on-site lab. On campus, the ACWA project includes an aquatic lab for examining the impact of chemicals on organisms, a stable isotope lab for isotopic tracing of contaminants and a microbiology lab to study emerging disease-causing contaminants and develop novel microchip technologies to monitor them.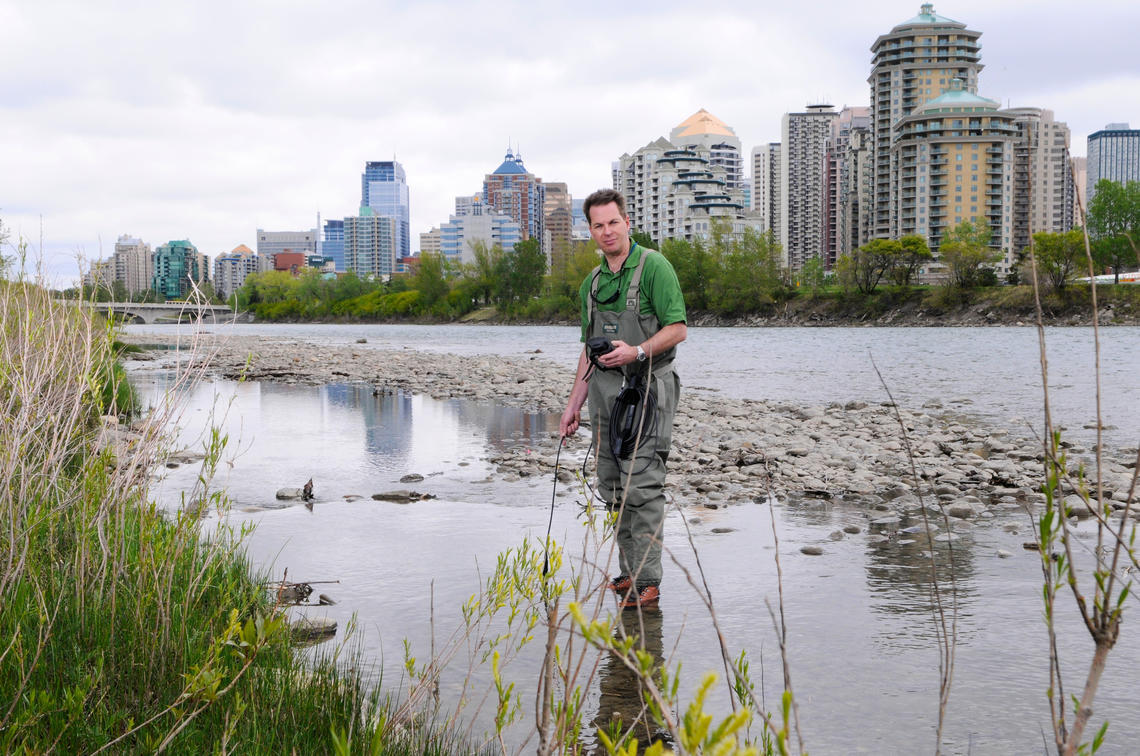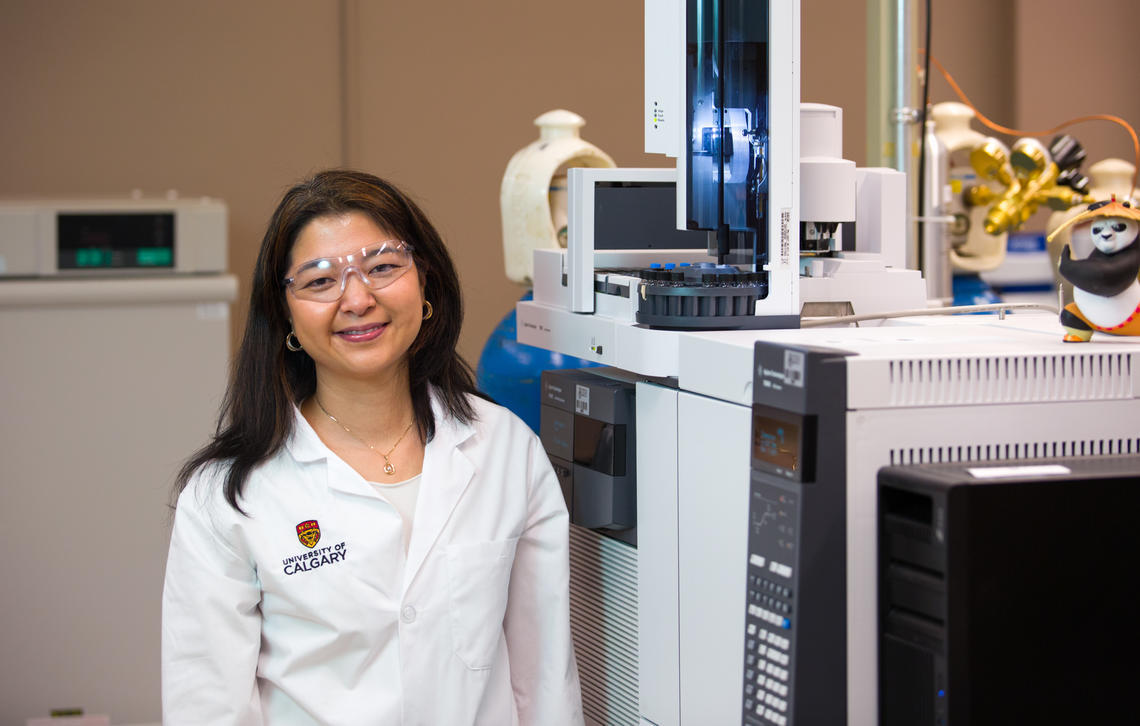 Collaboration opportunities explained at outreach event
Industry experts who attended the outreach event and toured the facility represented nationally and internationally recognized wastewater management and technology companies—from sensor and mass spectrometer manufacturers to software providers.
In addition to their site visit, the business leaders attended presentations by ACWA researchers Matt Vijayan and Andrew Tay, who showcased just a few of the many research themes and collaboration opportunities offered to industry through the project.
"By running my experiments within the context of a real wastewater plant, I hope to contribute novel understanding on how the aquatic biota, as well as humans, may be affected by the chemicals that are discharged into our waterways and help determine what steps need to be taken to remedy the situation," explained Vijayan, a Canadian Research Chair in Environmental Physiology and Toxicology and professor in the Department of Biological Sciences.
Accelerating the innovation curve
Tay, a professor from the Department of Civil Engineering in the Schulich School of Engineering, has spent the last 30 years working in Singapore to improve local wastewater treatment infrastructure.
"The innovative bacteria-eating system I developed could be a game changer for the industry of wastewater management and I look forward to testing my hypothesis as part of the ACWA project," says Tay, who believes his technology could significantly reduce the wastewater infrastructure footprint and treatment time.
In both cases, the researchers insisted that industry partnerships, whether in cash or in kind, would accelerate the innovation curve. MITACSstudentships and government matching research grants were also suggested as avenues for contributing to the research effort.
"Through unique and flexible partnership models, we hope to create win-win opportunities whereby industry partners can gain access to full-scale water research facilities, highly skilled expertise and in-depth analytics," explained Leland Jackson, director of ACWA and a professor in the Department of Biological Sciences in the Faculty of Science. "In return, the ACWA project will be able to leverage increased in-kind and cash support to expand research capacity," he added.
Companies already on board
ACWA has already initiated discussion with companies that participated in the process to supply wastewater treatment equipment to the city's plant, including Trojan Technologies, GE Water and Xylem.
IBM has provided funding—matched by the Faculty of Science—to hire four students to work on designing and building an intelligent operations centre that would gather data, analyze it "on the fly" and present it in visualized format.
Ken Barker, dean of the Faculty of Science, attended the event and also commented on the facility's outstanding potential.
"To attain the university's Eyes High target of being a top five research institution by 2016, we must have ambitious research agendas, teams of innovative thinkers and provide our scientists with the best possible tools," he said. "ACWA is a prime example of all these elements coming together and it's exciting to see industry wanting to leverage this tremendous opportunity."
Funding partners
ACWA involves major partnerships between the University of Calgary and The City of Calgary, through the partners' Urban Alliance program.
Major funding for ACWA was provided by the Canada Foundation for Innovation, the Government of Alberta, Western Economic Diversification, The City of Calgary and the University of Calgary.
Originally posted in UToday, Jan. 27, 2014