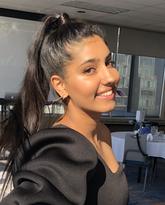 Amneet D,
Seymour Schulich Community Service/Entrepreneurial Entrance Award
Awards and Scholarships
Biography
Amneet is in an engineering and business dual-degree. She gained an interest in engineering and solving seemingly impossible issues after competing in physics competitions. Attending Women in STEM conferences, she knows the value of 30 By 30 and equitable opportunities. She sees a future where she is able to empower minorities through the innovation of inclusive medical technologies, serving unmet needs with well-intentioned and meaningful service work, allowing her to advocate for widening perspectives about ableism.
Amneet graduated from York House School in Vancouver. Her top three achievements during her high school years were earning a coveted internship position at the UBC Biochemistry Foster Lab, a leading lab in Canada, founding a coding club at her all-girls high school to help her peers engage with coding in a positive manner and because there was a general knowledge-gap, and that she was chosen to give a Ted Talk' to over 350 young females and community members on defining intellectual disabilities, damaging language, abolishing prohibitive approaches to designing technology, and her service work through sports.
She chose the University of Calgary as it offered her the ability to get a dual-degree in business and engineering. This degree program allows her to work in a service profession of engineering – serving humanity and our community in a way that maximizes wellbeing while minimizing harm – while also providing her the flexibility to pursue her other interests in business and sustainability. She sees it as the perfect amalgamation of her interests. She feels more confident knowing she will have a greater perspective and tools to tackle present-day and future issues. She also appreciates that she is relatively close to her home in Vancouver, but also has a sense of independence.
The award enables her to bring diverse perspectives to a wider network of individuals and allows engineering to be a platform to help people live better lives. It allows her to earn an education and also gain a sense of independence living away from home. She is truly grateful for the network of individuals she has met through this scholarship community and the increased opportunities. She has felt supported by the community despite the circumstances we started school with and based on the incredibly talented people she has met so far she is hopeful for the future.