The Consulate General of Canada in Denver and the University of Calgary hosted a round table discussion on increasing and enhancing bilateral partnerships during the NAFSA Association of International Educators Conference in Denver on June 2, 2022.
Among the group were representatives from Global Affairs Canada, US State Department,  the Canadian Bureau of International Education and Universities Canada. Senior Trade Commissioner, Kathryn Burkell, provided opening remarks at the session and highlighted the importance of bilateral relationships between Canada and the United States of America.
We're delighted to support these important discussions between Canadian and American universities. We hope that they will lead to even more strategic collaboration and academic partnerships between our institutions in the future.
Kathryn Burkell
Senior Trade Commissioner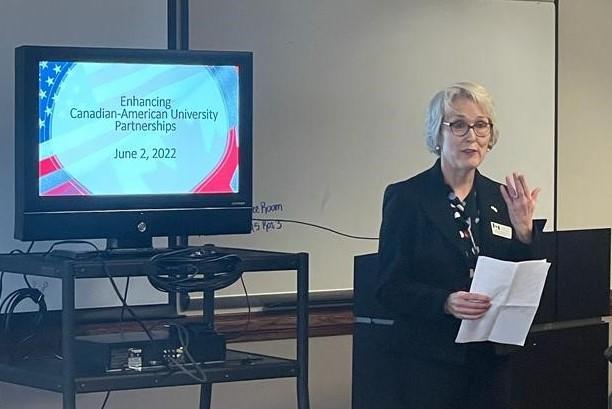 Dr. Janaka Ruwanpura, Vice-Provost and Associate Vice-President Research (International) and Andrea Delgado Morrow, Director, International Relations then facilitated group discussions surrounding the following four areas:
Beyond Global Learning: Academic-Industry and Equity Diversity and Inclusion Global Learning Programs
Strategic Research Alliances and Programs
Supporting Global Development and the Sustainable Development Goals
Exploring Transactional challenges in Global Engagement offices
The discussions have sparked a few working groups that will look to share best practices and look to providing recommendations for the elimination of current barriers and leveraging and/or enhancing funding opportunities for Canada-US partnerships.
"One thing we want to emphasize is that there is a lot of collaborations happening at the grassroot level (ex: researchers-researchers) but there is a need to look to promoting Canada/USA as an international destination for our students. There are many opportunities to collaborate due to proximity but we need to go beyond thinking that our bordering countries are only tourist destinations," says Dr. Ruwanpura.
This was the third time Canadian and US colleagues had the opportunity to connect to discuss improving partnerships between Canada and the US with the kick-off session occurring as part of the Association of International Education Administrators (AIEA) Conference in March and a follow-up virtual session in May.
"We want to thank Dr. Adel El Zaim, Vice President, Research, Creation, Partnership and Internationalization, Université du Québec en Outaouais and former AIEA President for initiating this conversation," says Dr. Ruwanpura.
Throughout the three sessions over one hundred representatives from Canadian and American higher educational institutions attended, highlighting the importance and interest in building upon and identifying new opportunities.
With an increase in interest in building bilateral relationships the University of Calgary is working with the Canadian Bureau for International Education, the Association for International Education Administrators and NAFSA in hopes of having designated conversations surrounding enhancing Canada-US partnerships during their annual conferences.