The University of Calgary has implemented the Stop the Bleed program with the intent of reducing the potential number of fatalities that could occur as the result of a mass casualty incident. The program includes public stop the bleed training, public access bleeding control kits, and public awareness campaigns. For any inquiries, requests for consultation, or requests for training, email stopthebleed@ucalgary.ca.
The Stop the Bleed program is based on the principal that there are three levels of responders:
Immediate responders: The individuals who are present at the scene who can immediately control bleeding with their hands and equipment that may be available
Professional first responders: Responders at the scene who have the appropriate equipment and training
Trauma professionals: Healthcare professionals in hospitals with all of the necessary equipment and skill to provide definitive care
Everyone can save a life. Each level of responder has an important role to play. These tools are for any type of incident that involves uncontrolled bleeding, whether it's an accident in a lab, a natural disaster, or an act of violence.
In the event of an intentional mass casualty incident, the most important message is to Run, Hide, Fight.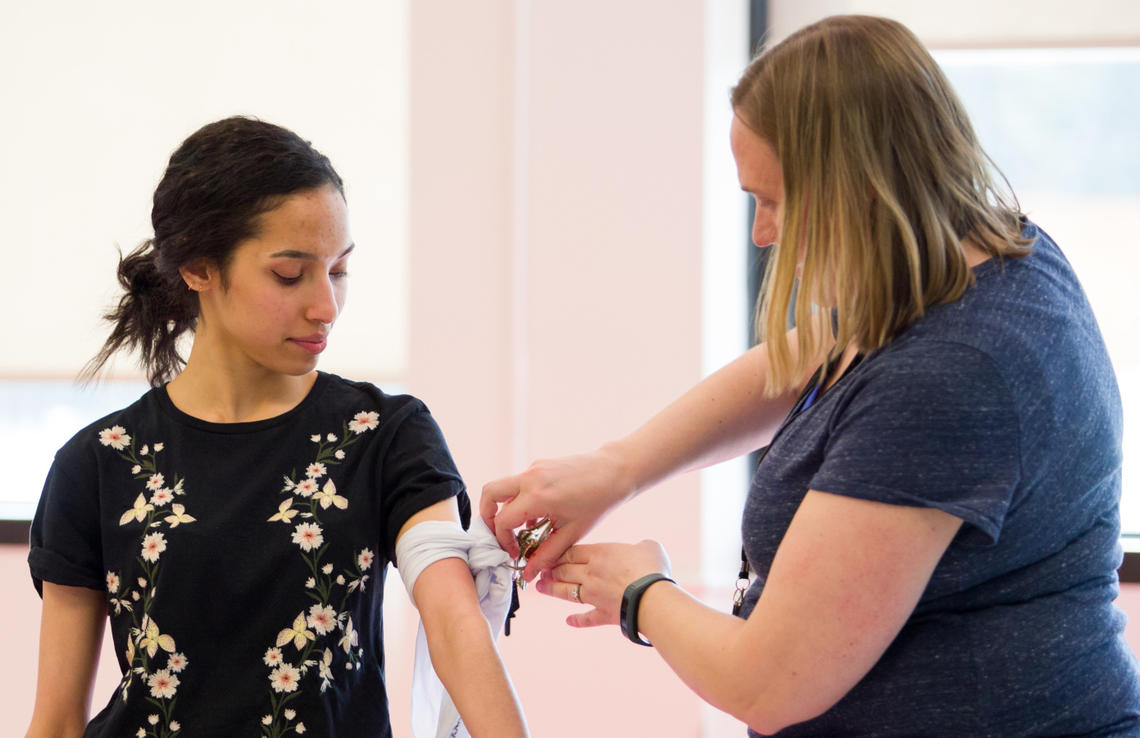 Basic Emergency Trauma Care Courses (Stop the Bleed) are available for any department or University of Calgary affiliated group, including individual staff, students, or faculty members. The training takes two hours for groups who have taken Alberta Post-Secondary Active Shooter Response Education, or two-and-a half hours for groups who have not taken the prerequisite training. Personal Safety Awareness training is a prerequisite to take Stop the Bleed Training.
Participants will learn to effectively use the 80+ Stop the Bleed Kits located across campus, and empower themselves to save a life during an uncontrolled bleeding emergency. Course participants will receive a certificate from the American College of Surgeons. 
This hands-on training session uses theatrical blood and wound simulators and rehearses scenarios that some people may find upsetting — use discretion when choosing to participate and wear appropriate clothing. Training is provided by Campus Security and Student Medical Response (SMR) and will include:
immediate response trauma care
how to perform a rapid trauma survey to recognize life-threatening bleeding and the initial steps you can take to care for bleeding patients
the actions that you can take to help save a life before professional rescuers arrive
explain why it is important to use a tourniquet to control life-threatening bleeding from an arm or leg
demonstrate how to apply a tourniquet to the arm and leg.
Self-Aid and Buddy Aid
demonstrate how to pack a wound with gauze and apply pressure to control bleeding
recovery position and keeping the patient warm.
Public access bleeding control kits can be found anywhere where there is a public access AED on campus. All kits include individual packages to be taken to a wounded person. Each package contains: one C-A-T tourniquet, one emergency trauma dressing, two packing gauze, two pairs of nitrile gloves, one pair of shears, and one permanent marker.
Watch Training Videos
You can familiarize yourself with the basic equipment and skills with the linked videos. These videos are provided as information only and should not be used as a substitute for formal training.