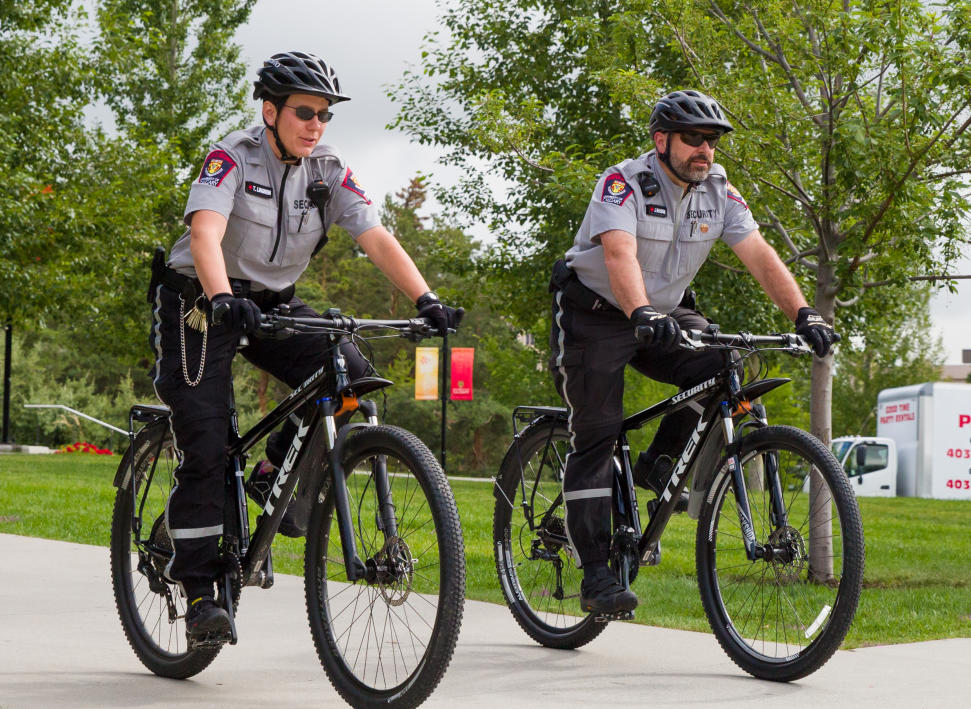 The Campus Security Bike Unit
The Campus Security bike unit has been a tremendous success at the University of Calgary, both as a community security initiative and as a crime prevention tool. Cycling also allows Campus Security to foster community connections by increasing a visible presence on the ground.
Response to emergency situations and crimes in progress is extremely efficient because of the enhanced mobility, access, visibility, and stealth provided by a bike. The bike unit is a cost-effective alternative to traditional vehicle patrol that promotes the department's commitment to healthy and physically fit Security Members.
Bike unit Security Members are equipped with all weather uniforms that enable them to patrol by bike virtually year round, although they primarily ride April to October. Bike unit Security Members ride specially-equipped "Police Package" mountain bikes that are outfitted with a light package, which enables them to ride day and night.
Bike unit Security Members undergo a comprehensive 16-hour training course with certified in-house instructors and receive a Class C certificate through the Law Enforcement Bicycle Association (LEBA) upon successful completion of a written and practical examination. Security Members are required to recertify yearly.
In 2018, UCalgary's dynamic Campus Security bike unit became the first non-police organization to be accepted into the LEBA elite instructor training program. Campus Security Members that complete the LEBA instructor training program are certified to lead LEBA training and recertification for their colleagues on campus.