Reacting to an Active Assailant
The possibility of an active assailant on campus is extremely remote but there are things you should consider for your personal safety.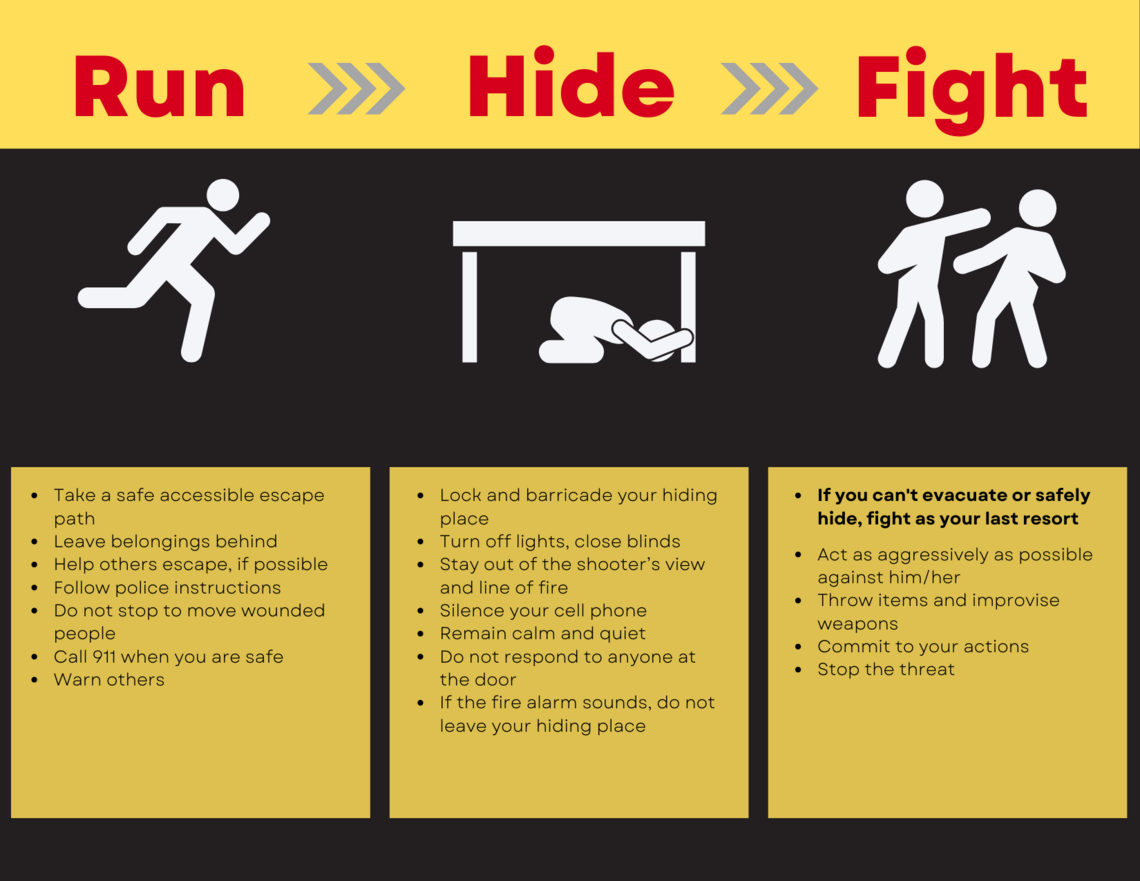 Experts recommend three essential courses of action to help you avoid harm in an active assailant situation. These are the methods demonstrated in the video.
Run: Getting out is by far the best option if you believe you can escape safely. This is why it is a good idea to make mental notes of means of escape wherever you may be on campus. If you hear something that could be gunshots, don't wait – get out.
Hide: Hide if you don't know exactly where the attack is happening or it's too late to escape safely. Get behind a lockable door if you can. Barricade the door, improvise with any object you can to prevent someone from entering. Once you are hidden, silence your phone, turn off the lights and stay quiet. If your spot is secure, be prepared to remain there until the police come to you with the all clear.
Fight - Your last resort. You would only confront an active assailant if you somehow became trapped in a space with no escape. Active assailants typically don't respond to reason so you must assume they intend to harm you. Find an object you can use to strike the active assailant with, be as aggressive as you can – do anything you can to stop them. You will need to decide if you can do this. Remember, it is your decision.
This video is a dramatization with instructions on what to do in a situation where there is an active assailant on campus. It was produced by Alberta's post-secondary schools, in consultation with police officers. The video may be disturbing for some viewers. Viewer discretion is advised. There is also a PowerPoint presentation available.
An active assailant is an individual actively engaged in killing or attempting to kill people in a confined and populated area – in most cases, active assailants use firearms and there is no apparent pattern or method to how they choose their victims. Active assailant situations evolve quickly and there is no way to anticipate their course. Typically, the immediate deployment of police is needed to stop the attack and mitigate harm. These situations can be over within minutes. For this reason, it is important that you are prepared to act quickly to protect yourself.
You can make a difference simply by imagining various scenarios playing out in the places you take classes, study, or work. Where are the exits? Do the doors lock? What would make a good barricade? What would make a good weapon? Ask yourself, "what if…?" This kind of thinking is helpful in preparing for all kinds of emergencies, wherever you may go.
You might be surprised by the actions of the police in an active assailant situation. First, they may not have time to help you when they first arrive, as their top priority will be to find and stop the assailant. Second, the police might not know exactly what the active assailant looks like, so they have to consider you as a possible threat. For that reason, if you encounter police, don't run toward them. Remain calm. Keep your hands visible. Follow instructions.
If someone is committing violence, or about to commit violence at the university, call 911. If you are worried about something you observe or if you have a worried feeling about someone but aren't sure what to do, contact Campus Security at 403.220.5333. They can answer questions and guide you.
Frequently Asked Questions