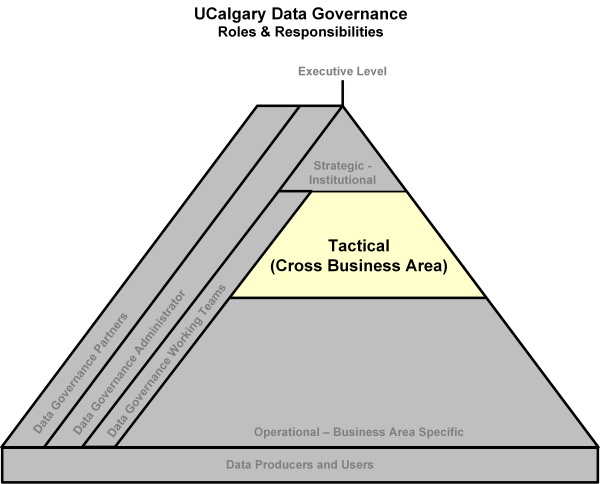 Data Domain Stewards
Data domain stewards provide university-level knowledge and understanding for a specific data area/domain (e.g., student data, financial data, HR data, or alumni development data) that could include multiple business units. They make data available to the institution, thereby playing a key role at the heart of collaboration, supporting institutional research, assessment, and analytics efforts that involve the data subject area. This role is critical to the success of business intelligence and analytics programs. 
Data governance responsibilities:
Critical Data Elements
Identify critical data elements for the data subject area.
Ensure that each critical data element has a clear definition and is still being used - or retiring those that are not - and that adequate documentation is developed, maintained, and communicated appropriately across the data domain.
Review and approve data definitions, compliance and data classifications (i.e., UCLASS).
Define the scope of business data domains and approving changes.
Data Quality
Establish data-quality metrics and requirements, such as defining acceptable values, ranges, and parameters.
Establish processes and procedures for detection and correction of data issues, contributing expertise to understand the root cause and implement corrective measures.
Establish procedures and internal controls affecting the quality of data.
Provide subject matter expertise to guide the discovery, design and development of data solutions focused on improving confidence in data within their domain.
Review quality metrics and assessment of progress toward improvements in data quality.
Prioritize and/or resolve stewardship issues for data elements within the data domain.
Participate as necessary on Data Governance Working Teams to achieve quality data.
Data Lifecycle
Compile retention, archival, and disposal requirements and ensure compliance with institutional policy, regulations, and business regulations.
Data Access, Privacy, Security, Risk Management
Oversee privacy, security, and risk management pertaining to data in the domain.
Define standards and procedures for access to data, including the criteria for authorization.
Define the access request, approval, provisioning/deprovisioning processes to ensure they are appropriate and commensurate with risk.
Establish guidelines and protocols that govern the proliferation of data to ensure that privacy controls are enforced in downstream systems and processes.
Establish information security requirements, including data classification and identification.
Be informed of regulatory and compliance requirements relevant to the domain data in order to evaluate risks to its confidentiality, integrity, or availability.
Establish incident-detection controls.
Evaluate any suspected or actual breaches or vulnerabilities in confidentiality, integrity, or availability and notify the DGA.
Advocacy and Collaboration
Advocate for continuous improvement in the use of data as a result of practicing data governance.
Participate in the collection and development of data documentation and other education / communication materials associated with data in the domain.
Ensure data decisions are communicated to affected business units.
Understand who and how their data is consumed, in and outside the domain.
Work to ensure data consumers have an understanding of the data (in order to use effectively).