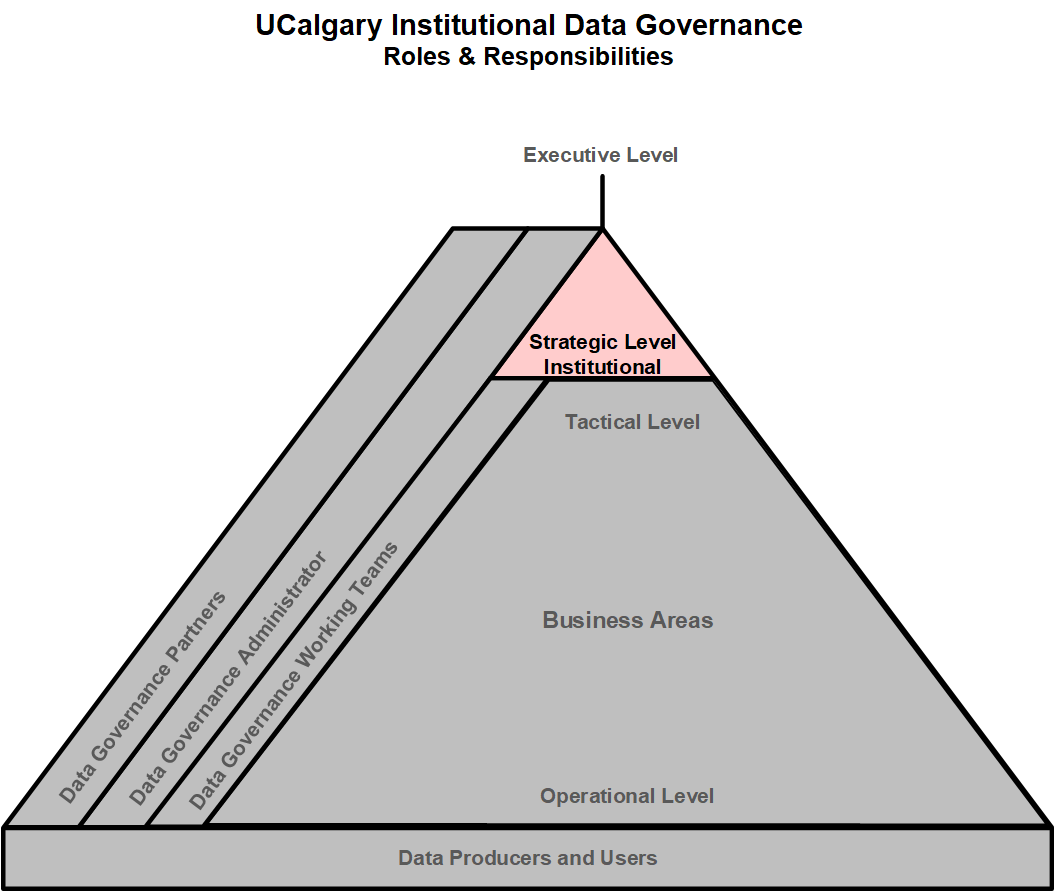 Institutional Data Governance Advisory Group (DGAG)
Members of DGAG are appointed by ELT-Ops / IAMC. They represent the data domains within the portfolios of the trustees. The composition DGAG includes representation from the following business units and can expand at the direction of DGAG, IAMC or the trustees:
Academic - Registrar's Office
Advancement
Facilities
Finance
Human Resources
Research
Office of Institutional Analysis (supportive role)
Information Technologies
Legal Services
Data governance responsibilities:
Set the vision and direction for Institutional Data Governance (IDG) Practice.
Represent UCalgary business units to understand and align data governance activities with university and business unit strategies.
Instill and promote a culture of collaboration to enable the institution to use information with confidence.
Advocate and promote the adoption of the IDG Practice across the university.
Be an advocate for the change and continuous improvement of the IDG Practice.
Push data governance into their areas by actively promoting improved data governance practices.
Work towards eliminating data silos and promote usage of data from authoritative sources.
Review and recommend creation of new data governance policies and/or amendments to existing policies to IAMC.
Review and approve standards, practices and processes to operationalize data governance.
Review and approve IDG core artifacts.
Provide strategic direction and prioritization of data governance initiatives.
Monitor and review Working Team initiatives and status.
Make decisions at a strategic level in a timely manner given the appropriate knowledge and authority to make that decision.
Make decisions to resolve IDG Practice issues that cannot be resolved at the tactical level by information stewards and Data Governance Working Teams, and if needed, escalate issues to IAMC. This responsibility should occur in less than 5% of all cases.
Authorize data governance messaging and dissemination to business units as necessary.
Measure and manage data related risks.
Attend meetings (or send designate), read minutes to stay informed of IDG Practice activities.