Work-Integrated Learning for Neurodiverse Students
In partnership with The Sinneave Family Foundation, this initiative aims to ensure neurodivergent students thrive in work-integrated learning opportunities.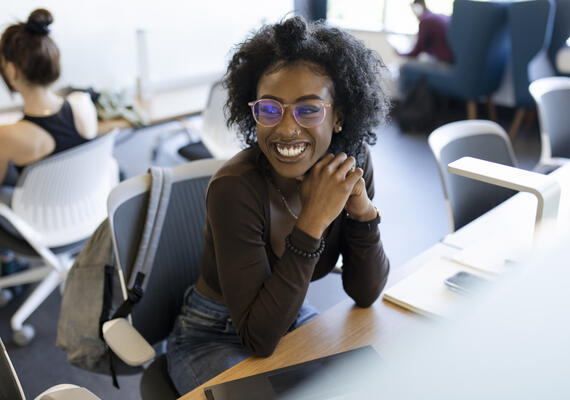 Get involved
Are you neurodivergent? Want to join the work as an ally? We are inviting students, staff, faculty and community to be part of the process. There are opportunities for sharing your experience with neurodiversity and for ongoing involvement.
Neurodiversity reflects the idea that people experience and interact with the world in different ways — including ways of thinking, learning and experiencing their environment.
A student may or may not identify with any number of neurodevelopmental conditions, such as Attention Deficit (Hyperactivity) Disorder (ADHD), autism, dyslexia, or learning differences. 
According to a recent UCalgary survey on experiential learning, 17% of students self-identify as being neurodiverse.
What is work-integrated learning?
Work integrated learning (WIL) is defined as experiential learning activities that occur in a workplace. WIL activities are part of students' degree programs and match students with an industry or community partner for cooperative education placements, internships, consulting projects, clinical placements, field experiences, practicums or partnered capstone courses. Some opportunities are paid, some are not.
WIL is a valuable post-secondary experience for any student, connecting them with industry and community partners, helping them build skills and strengthen their career readiness.
Building a foundation to support neurodiverse students
UCalgary's Experiential Learning Plan, along with our partnership with The Sinneave Family Foundation, builds on other important activities that support equitable pathways for neurodiverse students.
Engage with neurodiverse students and community
Partner with neurodiverse students to understand their experiences in order to inform our work and influence systems change, as well as future trainings and support for service providers. Engage with employers and community partners to understand their needs.
Explore and expand universal-design
Expand accessibility for all by designing (or redesigning) places, programs and services to better meet people's diverse needs when using or partaking in these facets of experiences at UCalgary.
Foster cross-campus learning and connection
Explore with partners how to improve the experience of neurodiverse students, sharing learnings and findings from previous work. Connect faculty, staff and community partners working in WIL to neurodiverse students in meaningful ways.
Facilitate campus-wide change
Engage the UCalgary community and other stakeholders in creating direction, alignment, and action to address systemic change for neurodiverse students accessing WIL. 
About The Sinneave Family Foundation
The Sinneave Family Foundation (Sinneave) works to reduce barriers and facilitate opportunities for autistic youth and adults to live, learn, work and thrive in their communities and to realize their desired futures. Sinneave draws on expertise and experience in innovative program and service development, knowledge sharing and collaborative community activities that generate lasting outcomes.
UCalgary and The Sinneave Family Foundation
Partnering with The Sinneave Family Foundation and learning from their deep expertise, resources and programs will bolster the success and sustainability of work-integrated learning programs and support equitable participation in these programs for neurodiverse students.