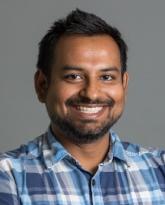 Srijak Bhatnagar
Postdoctoral Fellow
Geomicrobiology Group
Biography
Srijak is a postdoctoral researcher in the Geomicrobiology group. He is part of the Genome Canada LSARP Project, GENICE that involves researchers from across Canada dedicated to studying microbial communities of the Arctic marine environment of Canada and how this may contribute to oil spill preparedness in these cold environments.
As part of GENICE, his focus is on establishing baseline communities of microbes in the marine environment of the Canadian Arctic. Knowledge of the baseline microbial community can enable us to understand the microbial ecology of the ecosystem and its resilience towards a potential oil spill. Furthermore, he is interested in the hydrocarbon metabolizing bacteria in the Arctic water column and sediments, and the suitability of these bacteria to bio-remediate oil spills over the Arctic temperature ranges.
Srijak did his PhD in Microbiology in the lab of Jonathan Eisen at University of California Davis He studied the role of various environmental factors in determining the microbial diversity of an ecosystem. Prior to his PhD, he worked as a Bioinformatics Engineer at UC Davis Genome center, in the lab of Jonathan Eisen working on identifying associated microbial communities of various hosts using marker gene and whole genome shotgun metagenomic sequencing.
Srijak received his MS in Bioinformatics from Georgia Institute of Technology, where he worked on developing metagenomics binning tool using MCMC on k-mer composition in the lab of Joshua Weitz.