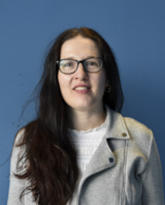 Jayne Rattray
Research Associate
Geomicrobiology Group
Biography
Jayne is a member of the Geomicrobiology Group and is working on different ways to develop, validate and deploy biomarker tools for tracking bacterial endospores in the marine environment. Jayne's research passions are using chromatography and mass spectrometry to analyse microbial lipid biomarkers and use them as tracers for microorganisms. Jayne has a PhD from the University of Utrecht in the Netherlands, an MSc/Ir. from Wageningen University in the Netherlands and a BSc Environmental Chemistry from the University of Plymouth in the UK. She worked in the department of Geological Sciences at Stockholm University prior to joining the Geomicrobiology Group in June 2017.

Publications
Dong, X., Greening, C., Rattray, J.E., Chakraborty, A., Chuvochina, M., Mayumi, D., Dolfing, J., Li., C, Brooks, J.M., Bernard, B.B., Groves, R.A., Lewis, I.A., Hubert, C.R.J. (2019) Metabolic potential of uncultured bacteria and archaea associated with petroleum seepage in deep-sea sediments. Nature Communications. 10, 1816.

Ahmed, E., Parducci, L., Unneberge, P., Ågren, R., Schenk,F., Rattray, J.E., Han, L., Muschitiello, F., Pedersen, M.W., Smittenberg, R.H., Afrifa Yamoaha, K., Slotte, T., Wohlfarth, B. (2018) Archaeal community changes in Late glacial lake sediments: Evidence from ancient DNA. Quaternary Science Reviews. 181, 19-29

Jakobsson, M., Pearce, C., Cronin, T.M., Backmam, J., Anderson, L.G., Barrientos, N., Björk, G., Coxall, H., de Boer, A., Mayer, L.A., Mörth, C.M., Nilsson, J, Rattray, J.E., Stranne, C., Semiletov, I., O'Regan, M. (2017) Post-glacial flooding of the Bering Land Bridge dated to 11 cal ka BP based on new geophysical and sediment records. Climate of the Past 13(8):991-1005. DOI: 10.5194/cp-13-991-2017. https://www.clim-past.net/13/991/2017/

Sjoberg, S., Allard, B., Rattray, J. E., Callac, N., Grawunder, A., Ivarsson, M., Sjoberg, V., Karlsson, S., Skelton, A., Dupraz, C. Rare earth element enriched birnessite in water-bearing fractures, the Ytterby mine, Sweden. (2016) Applied Geochemistry 78 · December. DOI: 10.1016/j.apgeochem.2016.12.021

Bonaglia, S., HylénA., Rattray, J.E., Kononets, M.Y., Ekeroth, N., Roos, P., Thamdrup, B., Brüchert, V., and Hall, P.O.J. (2016) The fate of fixed nitrogen in oligotrophic marine sediments: an in situ study. Biogeosciences. http://www.biogeosciences-discuss.net/bg-2016-344/

Callac N, Oger P, Lesongeur F, Rattray J, Vannier P, Michoud G, Beauverger M, Gayet N, Rouxel O, Jebbar M, Godfroy A. (2016) Pyrococcus kukulkanii sp. nov., a novel hyperthermophilic piezophilic archaeon isolated from a deep-sea hydrothermal vent at the Guaymas Basin. Int J Syst Evol Microbiol. 2016 May 17. doi: 10.1099/ijsem.0.001160

Rattray, J.E., J. L. C. M. van de Vossenberg, A. Jaeschke, E.C. Hopmans, S.G. Wakeham, G. Lavik, M.M.M. Kuypers, M. Strous, M.S.M. Jetten, S. Schouten and J.S. Sinninghe Damsté. (2010) Temperature Control of Ladderane Lipid Chain Length in Anammox Bacteria. Appl. Envi. Microbiol. 76, 5: 1596-1603. http://aem.asm.org/cgi/content/abstract/76/5/1596

Rattray, J.E., J.A.J. Geenevasen, L. van Niftrik, W.I.C. Rijpstra, E.C. Hopmans, M..Strous, S. Schouten, M. Jetten, and J.S. Sinninghe Damsté. (2009) Carbon isotope labelling experiments indicate that ladderane lipids of Anammox bacteria are synthesised by a previously undescribed, novel pathway. FEMS Microbiol Lett. 292: 115-22

Rattray, J.E., M. Strous, H.J.M. Op den Camp, S. Schouten, M.S.M. Jetten, and J.S. Sinninghe Damsté. (2009) A comparative genomics study of gene products potentially encoding ladderane lipid biosynthesis. Biology Direct. 16: 4-8 http://www.biology-direct.com/content/4/1/8

Rattray, J.E., J. L. C. M. van de Vossenberg, E. C. Hopmans, B. Kartal, L. van Niftrik, W. I. C. Rijpstra, M. Strous, M.S.M. Jetten, S. Schouten, and J.S. Sinninghe Damsté. (2008) Ladderane Lipid Distribution in Four Genera of Anammox Bacteria. Arch Microbiol. 190: 51-66

Kartal, B., J. Rattray, L. A. van Niftrik, W. R. van der Star, J. van de Vossenberg, M. C. Schmid, R. I. Webb, S. Schouten, J. A. Fuerst, J. S. Sinninghe Damsté, M. S. M. Jetten, and M. Strous (2007). Candidatus "Anammoxoglobus propionicus" a new propionate oxidizing species of anaerobic ammonium oxidizing bacteria. Syst. Appl. Microbiol. 30: 39-49.