FAQs and Thrive Health User Guides
This resource document includes some frequently asked questions as well as step by step instructions on how to navigate the Thrive Health with and without a ucalgary email address. Take a moment to review before you start.
I have a UCalgary email address
Please click the log in button to proceed.
I do not have a UCalgary email
I have received an email directly from Thrive Health. Click on the get started button in the email from Thrive Health. The email has the subject line "University of Calgary invites you to join Thrive Health." If you cannot find this email, check your junk or spam folders. 
Rapid Testing
All UCalgary students, faculty, staff and others who are unwilling or unable to be vaccinated must participate in a rapid testing program before coming to campus or attending in-person activities. Those who are fully vaccinated and attest to this are exempt from the program.
The Rapid Testing and Vaccine Status Program launches on Sept. 1, 2021. Non-invasive, at-home rapid antigen testing kits will be made available by online appointment at distribution sites on main campus, Foothills campus and Spy Hill campus. Individuals will have to self-administer the test and then photograph and upload the results. 
All participants must be enrolled and have completed and uploaded their first test by Sept. 14, 2021. Ongoing twice-weekly testing is mandated until at least Dec. 31, 2021.
Read the rapid-testing FAQ here. 

Watch a video on how to complete rapid-testing
Vaccination Status
Those who are fully vaccinated with a Health Canada-approved vaccine can choose to disclose their vaccine status online before September 14 to be exempt from rapid testing. The University of Calgary is using a web-based app from a third-party vendor to record and manage vaccine status. 
Starting Sept. 1, UCalgary community members must log into the portal and complete a vaccine declaration to be released from rapid testing requirements. Future proof of vaccination will be required as part of regular program audits.
Providing a false statement is considered serious misconduct under the University's Code of Conduct and the Student Non-Academic Misconduct Policy, and individuals will be subject to discipline for providing a false attestation.
Masks mandatory on campus
To promote a healthy and safe learning, working and living environment in accordance with Alberta Health requirements, non-medical face masks must be worn in all indoor areas on University of Calgary campuses.
Masks may be removed only under the following conditions:
alone at a workstation and separated by at least two metres distance from all other person
seated while consuming food or drink
while participating in:

a physical fitness activity,
performance activity, or
a worship service at a place of worship on campus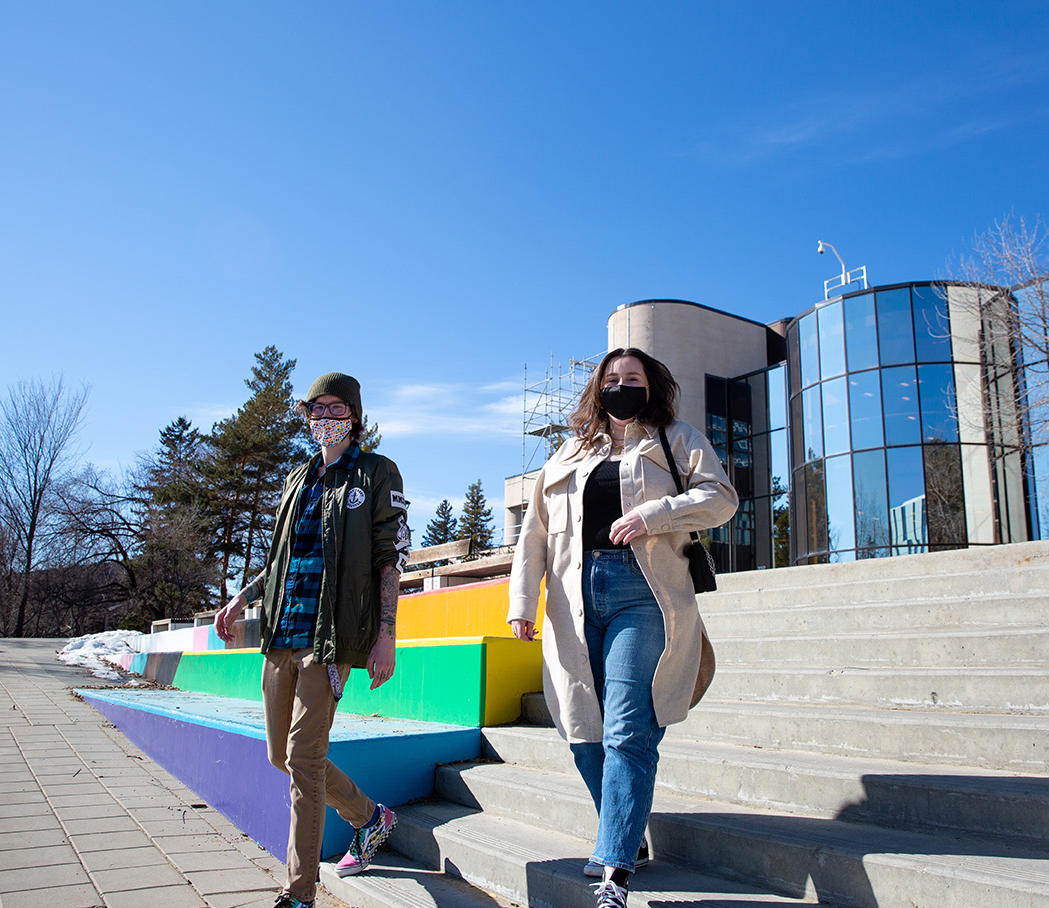 Accessing vaccines on campus
Varsity Pharmacy in MacEwan Student Centre has vaccines available to staff, faculty, students and the general public. Book by calling Varsity Pharmacy at 403.282.0100.
Vaccines are also available through Student Wellness Services by booking an appointment online.
A mobile vaccine clinic, in partnership with 19 to Zero, will also be coming to UCalgary campus. This is part of our ongoing efforts to reduce barriers to accessing COVID-19 vaccines.