Fostering a Safe Campus Community
UCalgary Emergency Desktop Alert is the University of Calgary's emergency desktop notification system for university-managed computers and laptops. UC Emergency Desktop Alert delivers critical notifications that can save lives and prevent injury. Faculty, staff, and students using university-managed computers will see a pop up screen on their desktop in the event of an emergency.
UC Emergency System Testing
When channels on the UC Emergency communication system are tested, a test emergency message will be transmitted from UC Emergency Desktop. The message will appear as a pop-up on unviversity-managed computers. 
The below message will appear when the system is being tested. When the alert appears on your computer, click "Acknowledge" to close. Otherwise, it will disappear after 30 minutes. If you are in a lab, library, or classroom, inform others of the notification and direct them to remove the alert if it appears.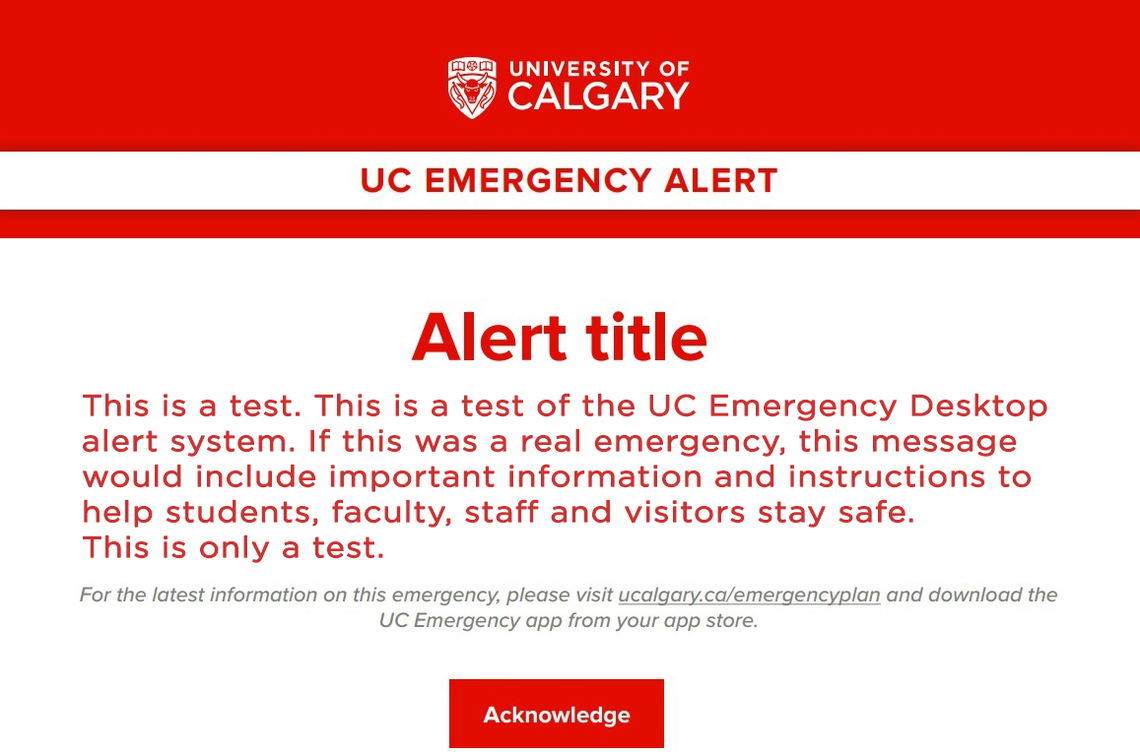 Frequently Asked Questions
If you see a notification from UCalgary Emergency Desktop Alert, follow the emergency instructions on the alert.
This will include details on where to go and what to do, for example evacuate the building. Follow the directions on-screen and leave your computer – directions will not ask you to do something using your computer, other than point you to the Emergency Management website.
The university will never ask for your password by email, phone, or via the UCalgary Emergency Desktop Alert.
UC Emergency Desktop Alert is a separate emergency notification system than the UCalgary Alertus Emergency App. UC Emergency Desktop alerts will appear on university-managed computers while the UC Emergency Mobile app notifies students, faculty, and staff via push notifications on mobile devices.
Both tools are important in providing students, faculty, and staff with the information they need quickly and easily in the event of an emergency on campus. Download UCalgary Alertus Emergency App from your app store today.