Photo By Bryanne Hoar

About this project

Healthy caribou and reindeer (Rangifer tarandus spp.) are vital to communities and indigenous cultures throughout the Arctic. Many northerners continue to depend on caribou and reindeer for food and as a focus for cultural and economic activities. Wild caribou and reindeer are also keystone species in the circumpolar north and are critical for the maintenance of healthy northern ecosystems.

The Rangifer Anatomy Project (RAP) grew out of a need for better resources to enhance Rangifer health monitoring, to promote responsible hunting, and to facilitate knowledge exchange across generations among Rangifer users including northern community members, wildlife managers, scientists, and educators. RAP was initiated at the Faculty of Veterinary Medicine, University of Calgary in December 2007 and has since grown into a much larger collaboration in the Rangifer world.

The images and information that are provided here are a result of hundreds of hours of work of many dedicated individuals - from hunters and elders to scientists and IT specialists. The actual webpage development is the product of the hard work and dedication of a few people, but could never have happened without the acceptance, patience and cooperation of a great many. In particular we would like to thank the communities of Fort Good Hope and Lutsel'ke who welcomed us on their community hunts and tolerated our many unusual requests.






Fort Good Hope Community Members
The core RAP team consists of:
| | | | |
| --- | --- | --- | --- |
| | Susan Kutz Principal Investigator. Associate Professor of Ecosystem and Public Health, Faculty of Veterinary Medicine University of Calgary | | Ryan Brook Post-Doctoral Fellow UCVM 2007-2010, Assistant Professor of Animal and Poultry Science, Indigenous Land Management Institute, University of Saskatchewan (2010-present) |
| | Jason Anderson, Associate Professor of Veterinary Anatomy in the Faculty of Veterinary Medicine, University of Calgary. | | Christoph Muelling Adjunct Professor, Faculty of Veterinary Medicine, University of Calgary. |
| | Peter Flood, Professor Emeritus, Department of Veterinary Biomedical Sciences, University of Saskatchewan. | | Robert McCorkell Senior Instructor, Game Farm and Wildlife, Faculty of Veterinary Medicine, University of Calgary. |
| | Jesse Invik, Website Designer, Veterinary Medicine, University of Calgary. | | Dr. Mani Lejeune, Wildlife Parasitologist, Canadian Cooperative Wildlife Health Centre. |
| | Jayninn Yue, Former summer student and artist, Veterinary Medicine, University of Calgary. | | Alex O'Neill, Volunteer computer puzzle programmer and general computer whiz. |
This is the foundation of a 'living' website which we hope to continuously augment over time providing useful tools and resources for a wide range of users. Please contact us if you have comments or suggestions, or if you have additional images that you would like to share. For comments on content, please contact skutz@ucalgary.ca and for technical comments please contact jinvik@gmail.com
Funding for the project was provided by the Government of Canada International Polar Year program through the CircumArctic Rangifer Monitoring and Assessment Network (CARMA) and by the Nasivvik Centre for Inuit Health through a post- doctoral fellowship awarded to Dr. Ryan Brook, as well as by NSERC PromoScience. Various RAP resources have been used as teaching tools during the NSERC PromoScience, Sahtu Renewable Resources Board (SRRB) and the Government of the Northwest Territories supported program Community based monitoring of Wildlife Health and valuable feedback has been provided from schools, youth and elders in the Sahtu and Baffin regions.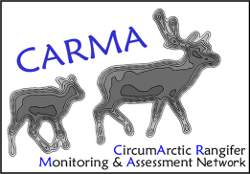 Copyright © 2011 University of Calgary. Web design by Jesse Invik, jinvik@gmail.com