If you have problems viewing this email, click here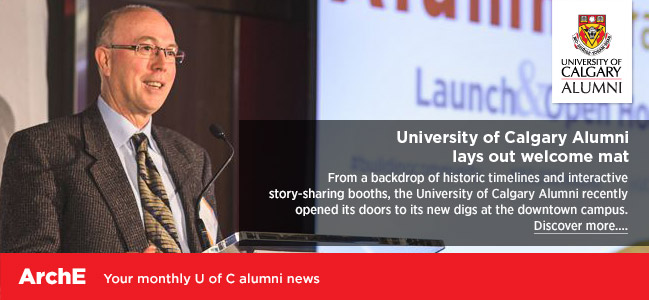 March 2014, Vol 12, No 3

Innovative Program Increases Access to Justice, gives Students Experience in Tax Court

A new clinical program in the Faculty of Law is helping to increase access to justice for low-income Canadians who are involved in proceedings with the Tax Court of Canada.

Alumni News

Camaraderie of Class of 1983 Recognized with Gift

The Class of 1983 has made a gift to the Faculty of Law — a scholarship for a third-year JD student who exemplifies the selfless attitude and class spirit that was so prevalent in the Class of 1983. Learn more...




Women in Banff Raise their Voices to Speak out Against Violence

Professor Jennifer Koshan, LLB'88, takes part in International Women's Day event. Learn more...




Seize the Day! Transforming Your Life through Fitness

Join James Fell, BA'93, MA'96, MBA'99, a syndicated fitness columnist for Chatelaine, the Chicago Tribune and Los Angeles Times on April 9th for a free presentation on his latest book, Lose it Right: A Brutally Honest 3-Stage Program to Help You Get Fit and Lose Weight Without Losing Your Mind. Learn more...




University Research Prof in Nursing Explores Spirituality

"Spirituality plays a big role in the cancer journey of a patient," says Shane Sinclair, PhD'09, who recently led a seminar on how to care for people with cancer at Calgary's Grace Presbyterian Church. Learn more...




CBC's Definitely Not the Opera Comes to Calgary

In its first-ever live show in Alberta, Sook-Yin Lee yuks it up with Andrew Phung, BA'06, and other Calgarians when she asks them to share tales about "Rising to the Challenge." Listen to more...





Feature Campus Activity:

University to host major religious studies conference

The University of Calgary will host an international religious studies conference in May, attracting high-profile keynote speakers and approximately 175 academics from the region. Various seminars and lively dialogues will extend from May 7 – 10, with all keynote speaker events open to the public.




Feature Alumni Activity:

Vancouver Alumni Reception

If you're in the Vancouver area, please join other alumni from the Faculty of Law on April 30, from 6 pm to 9 pm for a mix and mingle.




Feature Partner:

Show your school pride every time.

With every eligible purchase you make with your University of Calgary Alumni Association Platinum Plus MasterCard® credit card account, a contribution is made by MBNA to the University of Calgary to support a variety of student and alumni initiatives.





U of C News

makeCalgary: Healthy

On April 14, this one-day event will focus on how we can build healthier communities, featuring national and international keynote speakers representing public health and urban design, interactive poster displays and a panel discussion. Learn more...




Schulich Software Helps Spot Breast Cancer Earlier

New software that focuses on detecting architectural distortion could lead to earlier diagnosis of breast cancer. Learn more...