Unfortunately with the changing climate, the expectation is that environmental smoke within Calgary due to wildfire activity will continue to occur and potentially increase in frequency. These events generate questions and concerns from our university community. As there are many avenues one can take to raise concerns, the following has been compiled to provide a resource for commonly asked questions.
Wildfire Smoke Events Impacting Air Quality
The university does not have a policy/protocol for air quality impacted by wildfire smoke events. 
The university will follow the advice of local authorities in responding to such events. As such, the university recommends that the Air Quality Health Index (AQHI), published by the Government of Alberta to communicate information about air quality and associated recommendations, be consulted when considering continuation or modification to outdoor activities. 
The university would not send people home due a smoke event unless local authorities recommended doing so.
University of Calgary
Environment Health and Safety
Staff Wellness
Air Quality Health Index (AQHI)?
The AQHI provides a number from 1 to 10 to indicate the level of relative health risk associated with local air quality.  The higher the AQHI number, the greater the health risk and need to take precautions.  Occasionally during extreme pollution events, such as a forest fire smoke event, AQHI levels may reach 10 or 10+, indicating Very High Health Risk. Each level of health risk is associated with a pair of health messages for at risk and general populations. It suggests steps we can take to reduce our pollution exposure.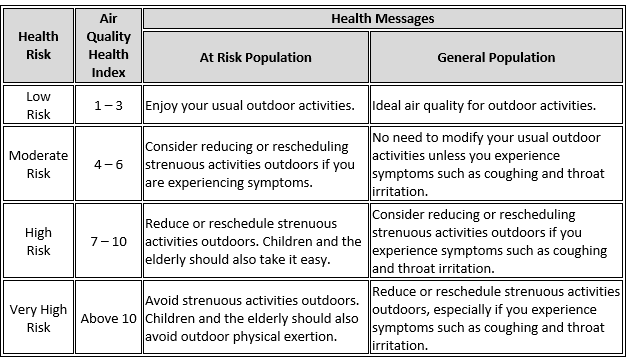 Each individual reacts differently to air pollution. Small increases in air pollution over a short period of time can increase symptoms of pre-existing illness among those at risk. The at-risk population generally includes:
children are more vulnerable to air pollution because they have less-developed respiratory and defence systems, are smaller in size, inhale more air per kilogram of body weight than adults, and they generally spend more time outdoors being physically active
people participating in sports or strenuous work outdoors breathe more deeply and rapidly, allowing more air pollution to enter their lungs
people with lung disease (such as chronic bronchitis, asthma, emphysema, or lung cancer), heart disease (such as angina, a history of heart attacks, congestive heart failure, arrhythmia or irregular heartbeat), and diabetes are more sensitive to air pollution
seniors are at higher risk because of weakening of the heart, lungs and immune system and increased likelihood of health problems such as heart and lung disease.
University Buildings and Smoke Infiltration Minimization
University buildings are managed to minimize infiltration of smoke during wildfire events. Facilities Management adjusts HVAC systems on a building-by-building basis to minimize smoke entering into a building, while maintaining supply air needs for building operations. HVAC systems vary by building and some buildings and/or spaces operate with 100% outdoor supply air, meaning the ability to reduce outdoor air and increase recirculated air is unavailable. 
Due to the anticipation that wildfire smoke events are likely to continue, Facilities Management is reviewing current filters and control strategies to better manage the potential for smoke infiltration.
Buildings with operable windows should remain closed during these events.
Worker Health Difficulties Due to Poor Air Quality From Smoke Events
If a worker is experiencing adverse health effects due to poor air quality, the university recommends the individual meet with their health care provider to determine any underlying conditions. If the health care practitioner determines that some form of modified work is required, the individual should meet with their supervisor to determine if modified work is available. If no alternatives are available, Staff Wellness should be engaged to assist.
There should be no need for indoor workers to wear respirators and they will not be provided.
The university would not send people home due a smoke event unless local authorities recommended doing so.
Outdoor Work/Research Activities During Wildfire Smoke Events
The university recommends that the AQHI be consulted when considering continuation or modification to outdoor activities. Based on the recommendations associated with AQHI levels, supervisors may modify or suspend work for outdoor workers to eliminate or reduce strenuous activities.
If outdoor work or research activities cannot be suspended during wildfire smoke events, an evaluation of the outdoor activities as compared to recommendations related to air quality ratings should be completed and documented on the daily Field Level Hazard Assessment (FLHA). Potential controls for the FLHA for this event could include regular indoor breaks, less strenuous activity, use of respiratory protection, etc. As respiratory protection is legislatively required to be fit tested and training provided, planning for this control should be completed prior to an event.