Mobile vaccination stations coming to UCalgary campus in October
The Calgary Emergency Management Agency (CEMA) vaccination bus is coming to UCalgary on Oct. 19 and Oct. 20. 
Students, staff, or faculty looking to get vaccinated can receive their COVID-19 vaccinations - no appointment needed! 
For more information on the COVID-19 Mobile vaccination locations, click here.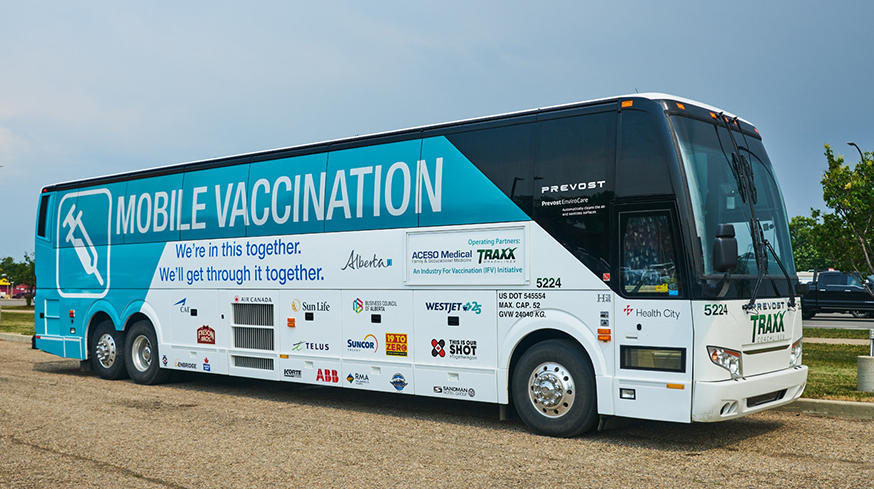 Mobile Vaccination Clinic
No need to book an appointment
Dates and Times
Tuesday, Oct. 19 to Wednesday, Oct. 20 
8 a.m. — 5 p.m.
Taylor Family Digital Library
What do I need to bring?
Please bring one piece of identification that lists your date of birth. 
Alberta Health Care card
Driver's License 
Social Insurance Number 
Birth Certificate 
Passport
Other resources to get your COVID-19 vaccine
UCalgary campus pharmacy
Varsity Pharmacy in MacEwan Student Centre has vaccines available to staff, faculty, students and the general public. Book by calling Varsity Pharmacy at 403.282.0100.
Student Wellness Services
Vaccines are available to UCalgary students through Student Wellness Services by booking an appointment online.
Off-campus options
Alberta Health Services offers vaccination appointments at locations across Calgary and the province. Book an appointment online. 
You can also call your local pharmacy to see if they have any vaccine doses available.