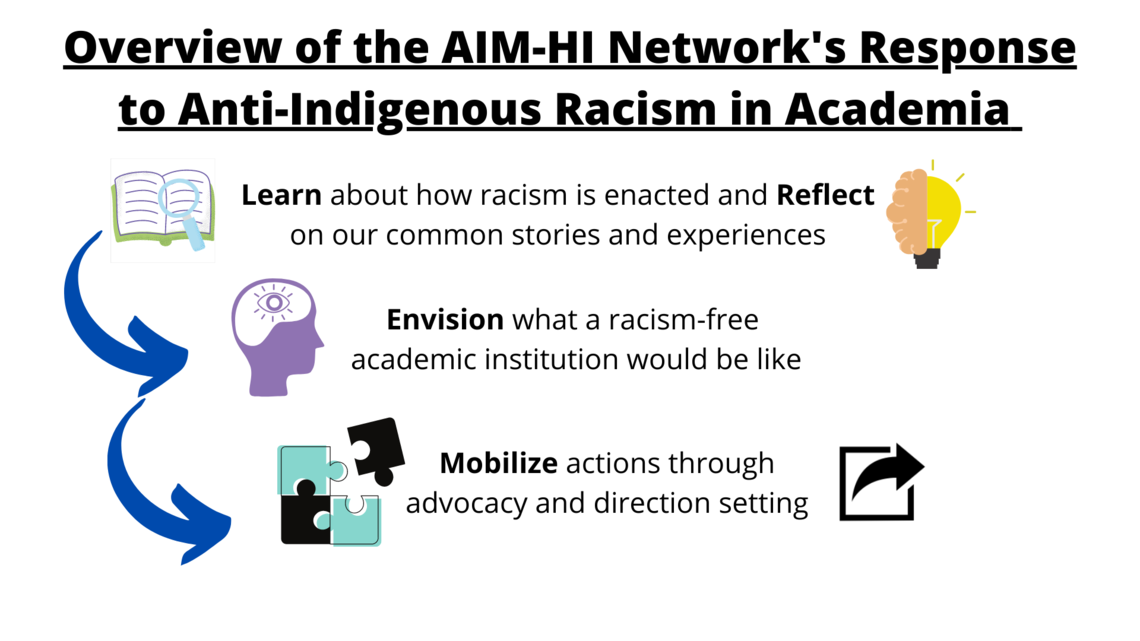 The AIM-HI Network hosted the first event of our Anti-Racism Response, 'Learn' on October 28, 2020. We discussed different forms of racism, and initial ideas around how academic institutions could support a racism-free academic journey. We invite all members of the AIM-HI Network to envision this journey. You are invited to contribute your ideas and perspectives during the month of November. Your responses will inform the next phase of our response, 'Mobilize', which we will present publicly to the network for feedback on December 15th, 2020.
The following are a few questions to prompt reflections:
What is a safe environment for Indigenous graduate/medical students and faculty?
How would you build the academic system from the ground up?
'Envision' Submissions
The following webform can be used to submit in written, visual or recorded form, and/or you can indicate if you would rather share your ideas in-person through a sharing circle.
*Please note that you do not need to provide your name/email unless you wish to be contacted further or if you would like to be credited for your submission
Collection of personal information
Your personal information is collected under the authority of section 33(c) of the Freedom of Information and Protection of Privacy Act. If you have any questions about the collection or use of this information, please visit our Access to Information page.