Belize Primatology
Explore the field of Primatology in an immersive and engaging setting! 
The University of Calgary's Primatology program is widely recognized as the best in Canada and among the best in North America. This exceptional opportunity will take you to Belize: a country known for its verdant jungles, diverse ecosystems, ancient ruins, and warm Caribbean Sea. In the Belizean forest, you will learn the fundamentals of wild primate research design through first-hand observation of Howler monkeys (Alouatta pigra) and be trained in all aspects of conducting fieldwork, in particular, the sampling techniques required to collect behavioural and ecological data. This intensive training will equip you with the ability to carefully plan a relevant and detailed research project proposal that will be submitted at the end of the session in Belize. Over the course of this program, you will gain the necessary skills for successful fieldwork, including teamwork, individual problem solving, flexibility in the face of changing circumstances, field safety, and generally coping with working in another country.
This field school is based out of Monkey River village – a small, traditional Creole village at the mouth of Monkey River – where you will be immersed in a unique cultural experience. Trips to Placencia, the barrier reef, and the Tropical Education Centre and Zoo in central Belize will round off your experience!
Application status
Closed - program full
Application deadline
December 1, 2021
Eligibility requirements
This program is open to students from all majors. See the Eligibility section below for more details.
Info sessions
September 28 at 1:00 - 1:50 pm
Earth Sciences room 614 (ES 614)
Did you miss it? Watch the recorded info session video on this page! (See right side on desktop, or scroll down if on mobile.)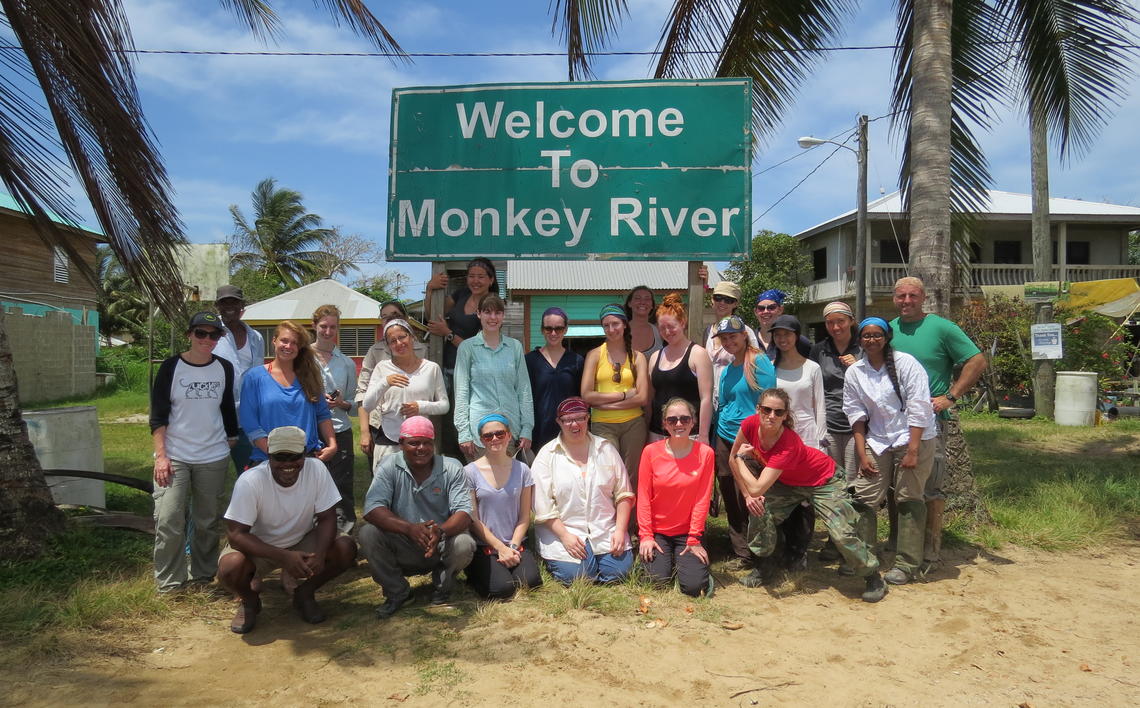 Belize Primatology was a challenging, fun, rewarding, incredible once in a lifetime experience. It was a great introduction to fieldwork. Now I cannot wait to be a primatologist! Every minute of every day in Monkey River was filled with some unique experience unlike anything else. I feel so lucky for this opportunity.
Amanda
Past Program Participant
International travel presents challenges that may not be found when attending classes on campus. There may be a lack of resources, emergency services, hospitals, accessibility issues and/or demands on the physical and the mental self, all of which can challenge individuals when away from their usual support systems and structures. Adequate preparation is essential.
For this reason, it is imperative that you evaluate all aspects of your own physical, psychological, emotional and spiritual condition against the rigors of the particular study abroad program you are selecting. If you are unsure of whether or not this program is a good fit for you and/or if you have any circumstances that could impede your enjoyment of the program, please contact us. Our Study Abroad Team will be happy to assist in finding the best options for you and arrange any supports or accommodations necessary to ensure your success.
Please note if you have or are seeking a certificate from Student Accessibility Services, you should provide this early to your Study Abroad Advisor to ensure that the option that you are seeking can support your needs.