European Innovation Academy Program
Recognized by Google and the Financial Times, the European Innovation Academy (EIA) has become a leader in entrepreneurship education. 
Dates: The program runs from July 14th to August 2nd, 2019 in Cascais, Portugal. 
Open to: Up to 15 University of Calgary undergraduate and graduate students across all faculties will be selected to participate. 
Program details: The European Innovation Academy (EIA) is the world's largest entrepreneurship program for students. The city of Cascais hosts 500 participants from across the globe. Their programming has been recognized by the Financial Times, Google and leading European policymakers as one of 100 digital pioneers in Europe.
EIA is a high-impact international program that supports teams from across the globe transform an idea to a startup in fifteen days. Young innovators form international teams to turn their ideas into real companies within three weeks with the help of an outstanding line-up of mentors, speakers and investors.
Participants follow all of the key milestones, from idea to launch, gaining real-life experience of creating a startup while travelling abroad to experience new cultures and meet people from around the world.
Testimonials: To view testimonials of past participants, please click here. 
2018 EIA Impact Report: To view 2018's EIA Impact Report, please click here. 
Contacts: For more information, please contact hunterhub@ucalgary.ca
Applications for 2019 European Innovation Academy Program have now closed.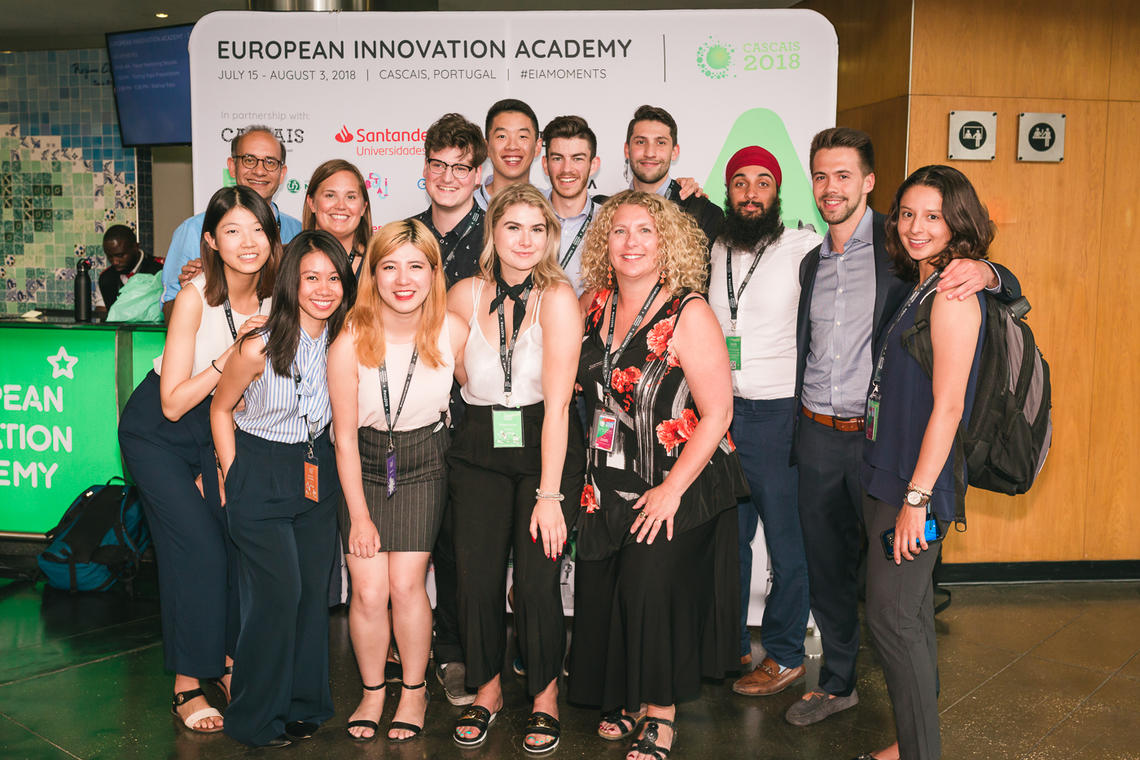 European Innovation Academy
Important Dates
Pre-Departure Dates
Wednesday, February 27th, 2019: Mandatory group registration meeting at the Study Abroad Office at the University of Calgary. (2-3:00 PM)
April TBD: Mandatory safety briefing and pre-departure orientation facilitated by Group Study Programs.
In-Field Dates
July 13-14, 2019: Travel from Calgary to Portugal.
July 14, 2019: Arrive in Lisbon; continue to the hotel in Parede.
July 15, 2019: Meet & Greet and Pre-Program Events.
July 16: Program Launch! (Week 1: Solution Development, Week 2: Marketing Campaign, Week 3: Funding, Pitching, and "Product Sprint")
August 3, 2019: Program Completion and Final Events.
August 5, 2019: Return to Calgary or continue on personal travels.
For a detailed weekly breakdown, please see the EIA Playbook.
Costs
Please see the Student Cost Summary for full details on the portion of costs you are expected to pay. This includes tuition, accommodation, and airfare.
Important information regarding deposit payments: Deposits are non-refundable. Deposits secure your space in the program and allow payments for logistical arrangements to be made in advance.
Important information regarding flight purchase: Air arrangements for the group are made through a designated travel agent for risk and safety purposes. For this reason, participants may not anticipate using points to purchase flights. All participants are required to travel with the group. You will be required to depart with the group on the same day, but may wish to continue to travel at the end of the program at your own risk and expense.
Available Funding
International Study Travel Grant: Students studying abroad may be eligible for the University of Calgary's International Study Travel Grant. For more information on eligibility, application details and deadlines, please click here.
Shell Experiential Energy Learning: This program is eligible for the Shell Experiential Energy Learning (SEEL) Program Activities Fund. For more information and application instructions, click here.
Please click here for more information on funding.
Accommodation
Participants will be staying at the Chic Flats and Suites in Parede. Sharing rooms is to be expected; exact arrangements will be determined after recruitment is complete and the program full.
Eligibility
University of Calgary undergraduate and graduate students who are at least six months from graduation (graduating no earlier than December 2019) and are interested in exploring entrepreneurship are eligible to apply. Preference will be given to those who have completed courses or training in entrepreneurship, entrepreneurial thinking, or innovation and who have been involved in the launch of a startup venture.
Students in good academic standing from all faculties will be considered.
Applications for 2019 European Innovation Academy Program have now closed.
Frequently Asked Questions
Q: Is there anything I should be thinking about before I apply?
A: Students may wonder, "Am I suited for a group study program?" This type of travel may mean being with people most of the time, being patient and accepting of different ideas and values, being prompt and flexible and accepting the direction of your program leadership – all for the good of your program and your fellow participants. You are vital to the success of your program.
Q: When is the last date to apply?
A: Applications must be submitted through the Study Abroad website by midnight on Friday, February 15, 2019
Q: What happens after I submit my application?
A: Your application will be sent to the Hunter Hub for Entrepreneurial Thinking for review by the European Innovation Academy Summer Program Selection Committee. Eligible applicants will be interviewed. Decisions (positive and negative) are typically processed within one week of the interview date.
Within one week of acceptance, you will need to book an appointment with the group study team, at which time you will pay your program deposit and sign your registration forms.
Please note, your confirmation of program acceptance is determined once you have paid your program fee and submitted in your signed forms.
Q: Do I need to provide anything after my trip is complete?
A: EIA participants are required to provide a brief report of their experience no later than six weeks after the travel is completed. This helps the Hunter Hub to continue to support students in extra-curricular learning experiences. You may be called upon for an interview or speaking requests for future information sessions. These interviews and speaking requests are not mandatory, but participation is appreciated.
Q: How are applicants selected?
A: All participants must be in good academic standing and must be returning to the University of Calgary as a registered student for the Fall 2019 term.
Also, participants will be selected based on the following criteria:
• Current or previous academic experience in entrepreneurial thinking, entrepreneurship, or innovation.
• Leadership or engagement in student clubs or initiatives relating to entrepreneurial thinking, entrepreneurship or innovation.
• Experience with a startup venture.
• Consideration for applicant's stage in their degree program will be given, with preference given to those in their final year of study.
Q: Will there be a waitlist?
A: A wait list may be available depending on the number of eligible applicants.
Q: What happens to waitlisted applicants?
A: Should space become available after recruitment is complete, waitlisted applicants may be offered a space in the program.
Q: Can graduate students apply?
A: Yes. European Innovation Academy Summer program is open to undergraduate and graduate students who are graduating no earlier than December 2019.
Q: Can open studies students apply?
A: No.
Q: Can visiting students apply?
A: Unfortunately, not.