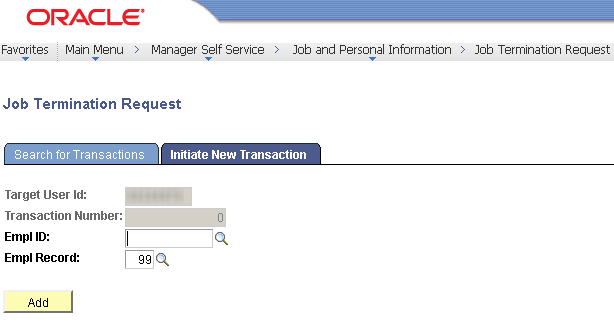 There are different types of terminations and the process to administer the termination depends on the type. Each type of termination and the process to administer the termination are reviewed next. In each case an online Termination form may or may not be required. See the Termination Decision Matrix for a summary of when a form is required.
Whether an employee is transferring or leaving the university, both the manager and employee should complete an offboarding checklist prior to the employee's departure. These checklists provide each a summary of the actions that need to be considered when an employee transfers or leaves the university. The checklists are intended as a tool for both the manager and employee. Completed checklists should be kept by the manager and do not need to be sent to Human Resources.
Types of Termination
A resignation is a voluntary termination and is initiated when an employee submits a resignation letter to their manager. Whether the appointment is regular or temporary, if the resignation is at the employee's discretion it is voluntary and a Job Termination Request form should be submitted as part of the termination process.
For appointments with a predetermined end date, a Job Termination Request form is not required when the appointment is ending on that expected end date.
Casual or Student Hourly jobs will automatically terminate after six months of timesheet inactivity. However if a department wishes to terminate a casual job record before the six month auto term process is run, they can submit a Job Termination Request form to terminate the casual job record. A Job Termination request form is not required, unless a department is terminating a job prior to six months of timesheet activity.
Managers are accountable to ensure employees are terminated in a timely manner. To minimize any financial or reputational risks, the termination form must be submitted at least four business days prior to the last day worked. Submitting an Access Removal Form is another critical step to help protect the university's information security. The access removal form can be completed in advance of the employee's termination date.
In addition to the online termination request form, managers and employees should complete their applicable offboarding checklists, even when the employee is transferring somewhere else in the university.
When a contract approaches its expected end-date and will not be extended beyond that date the termination is automatically processed effective that date. No online termination form is required for this type of termination, but an offboarding checklist should still be completed by both the manager and the employee.
When a regular appointment is being terminated at the discretion of the department or when a temporary appointment is being terminated prior to its expected end-date and at the discretion of the department it is considered involuntary and must be processed via a manual termination process. Departments are expected to contact their HR Services team for support with involuntary terminations.