Termination
Management and Professional Staff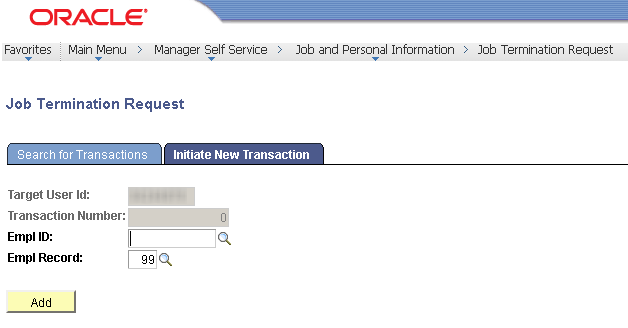 There are different types of terminations and the process to administer the termination depends on the type. Each type of termination and the process to administer the termination are reviewed next. In each case an online Termination form may or may not be required. See the Termination Decision Matrix for a summary of when a form is required.
Whether an employee is transferring or leaving the university, both the manager and employee should complete an offboarding checklist prior to the employee's departure. These checklists provide each a summary of the actions that need to be considered when an employee transfers or leaves the university. The checklists are intended as a tool for both the manager and employee. Completed checklists should be kept by the manager and do not need to be sent to Human Resources.
Types of Terminations
A resignation is a voluntary termination and is initiated when an employee submits a resignation letter to their manager. Whether the appointment is regular or temporary, if the resignation is at the employee's discretion, it is voluntary and a Job Termination Request form should be submitted as part of the termination process.
For appointments with a predetermined end date, a Job Termination Request form is not required when the appointment is ending on that expected end date.
In addition to the online termination request form, managers and employees should complete their applicable offboarding checklists, even when the employee is transferring somewhere else in the univesity.
When a contract approaches its expected end-date and will not be extended beyond that date the termination is automatically processed effective that date. No online termination form is required for this type of termination, but an offboarding checklist should still be completed by both the manager and the employee.
When a regular appointment is being terminated at the discretion of the department or when a temporary appointment is being terminated prior to its expected end-date and at the discretion of the department it is considered involuntary and must be processed via a manual termination process. Departments are expected to contact their HR Services team for support with involuntary terminations.
This offboarding checklist outlines the steps a manager should follow to support the exit/transfer of a staff member.
Working with the staff member as well as any designated contacts in your department, follow the steps outlined below to ensure the offboarding process for your staff member runs smoothly. Not all steps will apply to all staff members — complete only if applicable.
This checklist should be used for voluntary terminations only. Contact your HR Advisor for assistance with an involuntary termination.
In order to help us mitigate organizational risks, we ask managers to allow a lead time of four (4) business days prior to the last date of a resigning staff member to transact the termination, if the circumstances allow.
Preparing for the Exit/Transfer
As soon as you are aware of a staff member's resignation / retirement, send the departing staff member a link to their Offboarding Checklist and ensure they work to complete the tasks on their checklist.
Staff members should provide a written resignation/retirement/transfer letter to their Reports to Manager which includes their last anticipated day of work. A copy of this letter should be forwarded to Human Resources or scanned and emailed to benefits@ucalgary.ca.
There are important distinctions between the types of resignations listed above:
Resignation - employee is leaving the university
Transfer - employee transferring to another role within the university
Retirement - employee is leaving the university and is eligible to draw a pension benefit; letter should be provided to manager approx. 4 months prior to chosen retirement date
A letter is not required for temporary employees (including Fixed Term) whose appointments are ending on their expected end date.
The Job Termination Request should be submitted except in the following situations:
Staff member is transferring within the university
Temporary/Term employees (including Fixed Term) whose appointments are ending on their expected end date
For more information on the termination process, including how to access the Job Termination Request form, see the appropriate links below:
Connect with the Employee
The following activities are typically completed just prior to the staff member's departure.
Administrative Preparation
Update Delegation
If the staff member was a delegate on one or more projects, you must remove the staff member as a project delegate on-line through the Portal at My work > Access & delegation > Finance/project delegation or by submitting a Team Authorization Form (TAF).
Prior to their last day, remove any temporary delegation for Finance or Human Resource transactions effective their last day.
For Employees Retiring
If the retiring employee has a minimum of two (2) years of service, there are university funds available to support a retirement party/gift.
For information on accessing these funds, email totalrewards@ucalgary.ca.