Move-in 2021
We are excited to be welcoming you to Residence at the University of Calgary.
Fall move-in week: Aug. 28 - Sept 6
Move-in
Move-in 2021 will begin on Saturday, August 28, 2021.
Please find information below on how to move-in for the upcoming fall term. If you have any questions please reach out to the Campus Service Centre. Please refer to the move-in process below based on your building, move-in date, and form of arrival to residence.
The residence agreement is available for students to sign by logging into your application through the Resident Portal. The agreement must be signed prior to your move-in date.
You can check out the residence agreement and community standards on our website, prior to signing in to your Resident Portal.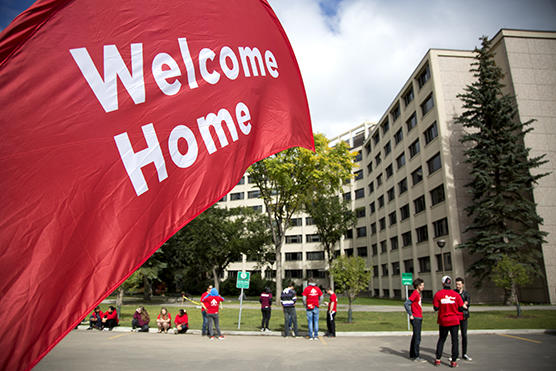 Arriving from Outside of Canada
If you are arriving from outside of Canada you may need to quarantine. Make sure you know and understand all rules and regulations about arriving to Canada. We do require all international students to fill out an international quarantine housing request form through the Resident Portal. 
Make sure to visit our website for all the up to date information about quarantine rules and residence.
With move-in fast approaching, you'll need to start thinking about your meal plan options. Meal plans must be selected by August 22.
First year students:
You will need to select your meal plan through your resident portal.
First year undergraduate residents will be required to purchase one of two meal plans 
7-day unlimited: unlimited entry to The Landing, seven days a week
5-day unlimited: unlimited entry to The Landing, Mon. to Fri.
Upper-year students:
Can purchase any of the 7- and 5-day plans, 120 or 250 entries to The Landing. These plans are great if you don't have time to cook or need extra food support in the case of self-isolation. Login to the Resident Portal to select a meal plan.
Visit the Unicard website for more information about meal plans, which food outlets accept the Unicard, and more.
Uni Dollars
Uni Dollars can be used for convenient purchases at all food vendors on campus accepting the Unicard, and can also be used for printing, photocopying and purchases at the Bookstore. For more information, please visit the Unicard website
You may add Uni Dollars to complement your meal plan through your Resident Portal on the Meal Plan step. Any Uni Dollars you add here will be added to your residence fees for the Fall 2021 term.
Tenant insurance - you'll need it
Just a reminder that all residents are required to have their own tenant insurance while living in residence. Residents must show/email proof to the Residence Services office prior to moving in.
Tenant insurance should cover fire, flood, damage and theft of personal items. It will also cover residents who are found liable for a fire, flood or other large damage to a residence hall.
Insurance can be purchased from any number of vendors, or through you or your family's pre-existing insurance coverage. Residents needing insurance can also submit an Insurance Request form on our website.
Refer to the building Information document for the specific details required by the insurance company.
Residence move-in is one of the largest events at the University of Calgary each year. This year we will welcome over 1,400 students over two days to their new home on Saturday, August 28 and Sunday, August 29, 2021.  Volunteers make students' move-in day welcoming and an event to remember.
If you would like to help or know anyone that would like to volunteer with residence move-in, please visit our website for more information.
Fall 2021 Residence Parking Permits - Residence Parking Permits will be sold online or in person starting on Monday, August 16, 2021 at 8 a.m.
For more information please visit the Parking Services website.
UPass Now on My Fare
The UCalgary UPass allows full-time undergraduate and graduate students to have unlimited access to Calgary Transit services.
UPass for Fall 2021 is back in a new format! Skip the long lines on-campus and download your UPass between Aug.16 - 31 for a chance to win some cool prizes! More info
Residence Student Leadership Council
The Residence Student Leadership Council (RSLC) is a volunteer leadership group in residence with the goal to promote leadership, empowerment, and advocacy for students in residence. This goal will be achieved through ongoing collaboration with residence students on initiatives, changes, and decisions impacting their residential life. The group will be comprised of up to 10 volunteers selected through an application process. 
If you are interested in the position, please apply here by August 31, 2021.
Residence Appeal Board
Residence Appeal Board members are students who volunteer for a one-year term as part of an adjudication panel that helps decide certain appeals in Residence. Supervised by the Coordinator, Residence Conduct, this volunteer position helps to support a fair, representative, and accessible appeals process for residents who have been found responsible for violating a Residence policy.
More info
Residence Orientation Week Events
The Residence Life team can't wait to welcome all residents to our buildings this fall. We have been hard at work ensuring that your residence experience is fun and engaging, starting in the very first week! 
Get excited for Residence Welcome Week 2021 by reading about a couple of the events being offered in the first week - more details and more events will be sent to all residents later in August. 
Welcome Campfire & Pet Therapy
Monday August 30th (7:30pm - 9:00pm)
Courtyard between Aurora, Kananaskis, Rundle Hall 
Join us and a group of PALS certified dogs outside to enjoy a relaxing outdoor campfire. Come with your student leaders, community, and new friends to enjoy some s'mores and dog cuddles. 
Outdoor Movie & Food Trucks  
Wednesday September 1st (7:00pm & 9:30pm)
Courtyard between Aurora, Kananaskis, Rundle Hall 
Ever imagined a 30ft tall movie screen on campus, alongside delicious food trucks, exclusively for residence students? Join us on September 1st for a double feature movie event (attend one, or both!). 
Labour Day Classic Stampeders Football Game 
Monday September 6th (2:00pm)
McMahon Stadium 
The Stampeders are partnering with UCalgary Residence to send Residence students to the Stampeders game against the Edmonton Elks (our biggest rival!). Cheer on our local CFL football team in your own backyard - more details to come! 
Welcome Home BBQ
Monday, September 6th (4:00pm - 8:00pm)
The Landing
Enjoy a free BBQ dinner with your new floor/building mates.
Residence fees for south residence (Kananaskis, Rundle, Aurora, Yamnuska, Olympus, Glacier, Cascade, and International House) are due the same day as tuition during the academic school year, September 24, 2021 and January 28, 2022.
Residence fees for north residence (Crowsnest and Varsity Courts) are due the first business day of each month, excluding September where fees are due September 7, 2021. 
Non-residence room and non-meal plan fees, are due within 7 days of the charge going on account (keys, lockouts, cleaning fees...)
For information on how to make payments, visit our website. 
Parents Residence Information Zoom Session
All parents of residents are invited to a parent information zoom session. Senior university administrators will present what to expect during your student's first year on campus. There will also be time for you to answer any questions you might have about move-in or your student's time in residence.
Tuesday, August 17 at 6 pm MDT
Parents & guardians can register here
Your Unicard provides you access to The Landing, library and printing services.
Avoid the line - submit your photo online.
Submit your Unicard photo online before classes begin and avoid the wait in September. With just one click, your Unicard will be ready for you on your first day on campus. If you upload your photo before Aug. 15, you might get to pick up a laptop or other great prizes with your Unicard.  
Just - Smile. Click. Submit. Don't delay, upload today!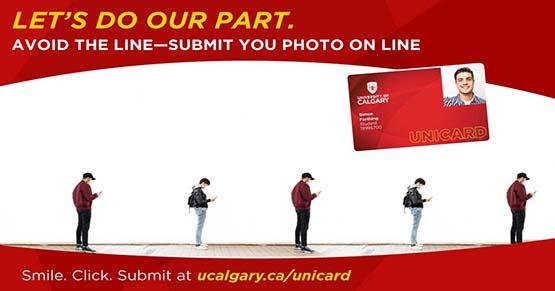 Everything you need in a Bookstore
The Bookstore is open for in person and online purchases—get everything you need, books, load up on back-to-school supplies or purchase Dinos swag.
Order at ucalgary.ca/bookstore.
What to bring/not to bring
Not sure what to bring to your new home at Residence at the University of Calgary. Make sure to check out our website for help with your packing list.
If you don't want to worry about packing your bedding, pillows or towels, make sure to check out our website on how to order these items and have them here for your arrival. Orders must be in by August 20. 
If you have any questions about residence or move-in please contact the Campus Service Centre at anytime.
We're excited to welcome you home!