Move-in 2020
We are excited to be welcoming you to Residence at the University of Calgary.
Fall move-in week: Aug. 30 - Sept. 7
We look forward to welcoming you to your new home.
Due to COVID-19, move-in will look different than previous years.
With the new normal—several restrictions will be in place. We assure you that your health and safety is our number one priority and we have been planning this summer to ensure a smooth move-in process.
Please ensure you read all the information below, it is full of helpful information to make sure your move-in goes off without a hitch.
Campus non-medical mask protocol
For the safety of our campus community, UCalgary students, faculty, staff, as well as visitors to campus, will be required to wear non-medical masks in indoor public spaces at all Calgary campuses. More info
Students living in residence buildings will be required to wear non-medical masks when they step out of their unit/apartment—all common areas, elevators, lobbies, hallways and laundry rooms etc.
Physical distancing and directional signage
Please ensure you are following all signage in residence and on campus. These extra measures are in place to help maintain the health and safety of everyone on campus. The importance of owning your own behaviour is key in protecting yourself and others in the community.
August 10 - Move-in appointment timeslots open for selection
August 17 - Residence Parking Permits on sale
August 24 - Information for parents and families available online
August 30 - Now What Guide? available for residents online
August 30 - Proof of Insurance DUE
August 30 - Sept 7 - Residence Move-in Week
September 8 - Classes begin
September 25 - Tuition and Residence fees due
Residence move-in 2020 will take place from August 30 - September 7, 2020.
Residents will be required to sign up for a move-in appointment. The appointments will limit the number of residents that move into a building at one time to help with social distancing. 
Select a Move-in Date and Time
You will log into your Resident Portal, select "Book an Appointment" to see dates and times that are available, then select the date/time you wish to move-in, starting August 10 at 3 pm.
Move-in times are between 11 a.m. and 7 p.m. daily, August 30 to September 7. Move-in times are staggered based on buildings to ensure a limited number of residents are moving in at one time.  
If something changes and you need to adjust your move-in date/time, you will be able to adjust these up to 24 hours prior to your arrival date. 
If you have a flight that is arriving outside of these hours, please email our office to set up an after hours check-in. 
Move-in Day Steps
Make sure your Residence Agreement is signed prior to your arrival to campus. Computers will not be available for residents to use to sign their agreement on their move-in date. If you are having trouble signing your agreement prior to your arrival, please contact our office as soon as possible
On your move-in day, you will arrive to Parking Lot 3, located in front of International House (169 University Gate NW), at the start of your move-in time. Please do not arrive more than 10 minutes prior or 10 minutes after your move-in start time, as there is limited parking. If you arrive to campus more than 10 minutes prior to your start time, please wait in another parking lot or at McMahon Stadium until your move-in time. If you arrive to campus 10 minutes after your move-in start time.
When you arrive to Parking Lot 3, you will inform our staff that you are here by following the instructions that will be emailed to you prior to your arrival.

If you are arriving on Sunday, September 6 or Monday, September 7, you will head into International House (formerly Hotel Alma) to the front desk to pick up your keys. 

When our staff is ready with your move-in package, they will come to your car where you will show your photo ID. They will then give you your residence keys, unloading permit and move-in information. If you submitted your selfie for your Unicard or have a parking pass, you will also receive these items at this time.
Proceed to your building to unload your personal items. We ask that you take a maximum of one hour to unload your belongings.
When you have unloaded your belongings, you will need to move your vehicle to Lot 49 for south residence or Lot 12 for Crowsnest Hall.
Other Move-in Information
Each resident is allowed to have up to two people help with the move-in
Masks must be worn at all times while moving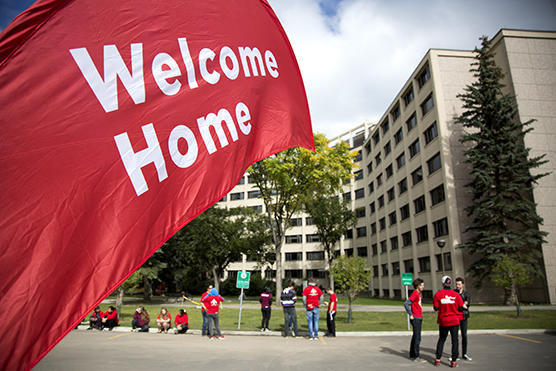 Arriving from Outside of Canada
Alberta Health Services (AHS) has made it a legal requirement during COVID-19 for anyone travelling from outside Canada to self-isolate for 14 days immediately upon arrival in the country. For further details, please visit the AHS website.
If you are will be arriving from outside of Canada, you will be required to self-isolate with us or show us proof that you isolated prior to moving in with us. If you are currently living in Canada, you will need to contact our office to show proof of residency (current lease or mail with your current address). 
Residence Services has put together a self-isolation plan where you could live comfortably during this self-isolation period conveniently right on campus. 
With move-in fast approaching, you'll need to start thinking about your meal plan options. Meal plans must be selected by Monday, Aug. 20.
First year students:
You will need to purchase your meal plan through your resident portal.
This year, due to due to COVID-19 and the change in living arrangements, you will have the option to purchase one of three plans: 
7-day unlimited: unlimited entry to The Landing, seven days a week

5-day unlimited: unlimited entry to The Landing, Mon. to Fri.

250 swipes: one swipe is valid for one entry into the Landing (not available for residents of IH-5, IH-6 and IH-7)
Upper-year students:
You can purchase any of the 7- and 5-day plans, 120 or 250 entries to The Landing. These plans are great if you don't have time to cook or need extra food support in the case of self-isolation. Having a plan means not spending money to have food delivered to you—giving you peace of mind and saving you time. Login to the Resident Portal to select a meal plan.
Residents living in International House floors 5, 6 or 7 are required to purchase a 7- or 5-day plan.
The Unicard website has more information about meal plans, which food outlets accept the Unicard, and more.
Tenant insurance - you'll need it
Just a reminder that all residents are required to have their own tenant insurance while living in residence. Residents must show/email proof to the Residence Services office prior to moving in.
Tenant insurance should cover fire, flood, damage and theft of personal items. It will also cover residents who are found liable for a fire, flood or other large damage to a residence hall.
Insurance can be purchased from any number of vendors, or through you or your family's pre-existing insurance coverage.Students needing insurance can also submit a Insurance Request form on our website.
Refer to the building Information document for the specific details required by the insurance company.
What to bring/not to bring
Not sure what to bring to your new home at Residence at the University of Calgary. Make sure to check out our website to help you on our packing list.
If you don't want to worry about packing your bedding, pillows or towels, make sure to check out our website on how to order these items and have them here for your arrival. Orders must be in by August 20. 
Fall 2020 Residence Parking Permits - Residence Parking Permits will be sold online or in person starting on Monday, August 17, 2020 at 8 a.m. for the Fall term (Sept 1, 2020 – Dec 31, 2020).
For more information please visit the Parking Services website.
Public transit
As the UPass program is not available this fall, to assist students with their transportation during this time, arrangements have been made to purchase Calgary Transit Adult Ticket books at a discounted price. 
Book of 10 single use tickets = $21 (40% savings from retail price)
Students will be required to present their Unicard, or proof of active student status. 

Purchases limited to 5 books of 10 tickets per month.
To purchase tickets, visit, ucalgary.ca/upass.
Residence Student Leadership Council
RSLC is a volunteer leadership group in residence with the goal to promote leadership, empowerment, and advocacy for students in residence. This will be achieved through ongoing collaboration with residence students on initiatives, changes, and decisions impacting their residential life.
More info
Residence Appeal Board
Residence Appeal Board members are students who volunteer for a one-year term as part of an adjudication panel that helps decide certain appeals in Residence. Supervised by the Coordinator, Residence Conduct, this volunteer position helps to support a fair, representative, and accessible appeals process for residents who have been found responsible for violating a Residence policy.
More info
Residence fees for south residence (Kananaskis, Rundle, Aurora, Yamnuska, Olympus, Glacier, Cascade, and International House) are due the same day as tuition during the academic school year. Residence fees for north residence (Crowsnest and Varsity Courts) are due the first business day of each month. Non-residence room and non-meal plan fees, are due within 7 days of the charge going on account (keys, lockouts, cleaning fees...)
For information on how to make payments, visit our website. 
We understand that resident plans for the fall term might still change due to Covid-19. For this reason, we are allowing residents that currently have a booking for the Fall / Academic term to cancel their booking with no penalty, as long as it is canceled prior to their planned check-in date.
To cancel the fall booking please fill out the fall cancellation form. When cancelling the booking, residents can request to have their advance payment refunded, transferred to tuition or left on residence account for future use. 
Your Unicard is provides you access to The Landing, library and printing services.
Let's do our part. Avoid the line - submit your photo online.
Submit your Unicard photo online before Aug. 20 and your Unicard card will be ready to be picked up with your room key.
This will help us all do our part—ensure your safety by eliminating lines. 
Just - Smile. Click. Submit. Don't delay, upload today!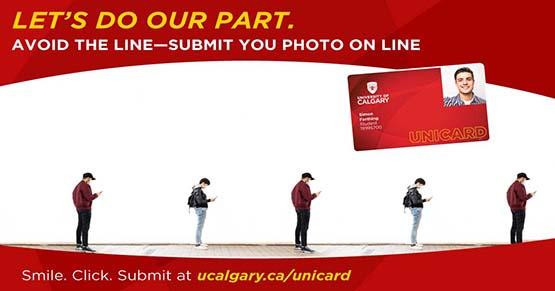 Everything you need at the Bookstore
The Bookstore is open for online purchases—get everything you need, books, load up on back-to-school supplies or purchase Dinos swag.
Order at ucalgary.ca/bookstore.
Get it delivered or pick up outside south entrance of the Bookstore.