If you have problems viewing this email, click here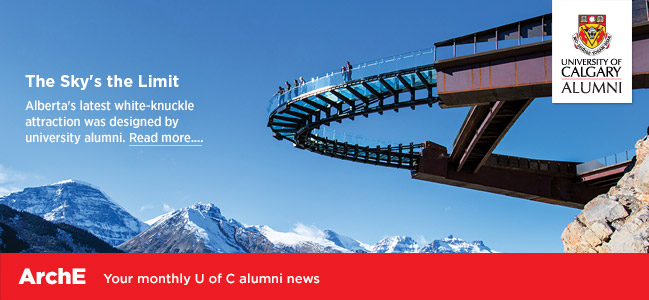 May 2014, Vol 13, No 5

'Judge Shadowing' Initiative Brings Law to Life

The Faculty of Law's judge shadowing program gives first-year law students a behind-the-scenes look at a typical day for a judge at the Calgary Courts Centre. Three students who participated in the program, report back.

Alumni News

Arlene Blake Seeking Junior Solicitor

Faculty of Law alumna Arlene Blake, JD'05, is seeking a Junior Solicitor for MacPhail Harding law office in Calgary. Learn more...




2014 Lecture of a Lifetime Inspires with Lessons from the Heart

Gayla Rogers, BSW'74/MSW'78, urged university and community members to get involved in something bigger than themselves. Learn more...




Higher Education in the Arctic

University of Calgary geographer, Brian Moorman, MSc '90, would almost go to the ends of the Earth to teach about shifting permafrost and glaciers. Well, 5,000 km anyhow. In Svalbard, on Norway's Spitsbergen Island, Moorman caught up with a band of international students, including one of his own. Learn more...




Did you receive U Magazine?

The summer edition of U Mag will soon appear and we'd love you to take it wherever you go. The most mobile mode is to read it online. Whatever your reading preference, let us know here. Learn more...




Stairway to Heaven — Not Yet!

In late April, 97-year-old professor emeritus Richard Guy, slogged up 805 stairs at the Calgary Tower's annual fundraiser for the Alberta Wilderness Association. Twice! Learn more...






Feature Campus Activity:

Finding Our Common Humanity

As part of an international religious studies conference being held at the university next week, will be a very special evening address at MacHall on May 7, from 7 - 10 p.m. Join activist Chris Stedman as he reveals his personal journey towards inclusion and social justice.




Feature Perk Partner:

Do I need life insurance if I have no dependents?

We typically associate life insurance with having a spouse or children who rely on us financially. It is the safety net we put in place should the unthinkable happen and we are no longer there to earn an income. Even if you have no dependents, life insurance can play an important role. Learn more about life insurance through Canada Life...





U of C News

Athletes of the Year

Missed the recent 47th Annual Night of the Dino awards? Celebrate swimming sensations, football legends, coaches and volunteers in this toast to the university's top sports stars. Learn more...




Prof. Anne Katzenberg Named VP of AAPA

The world's leading organization for physical anthropologists named one of U of C's own profs as the new vice-president of American Association of Physical Anthropologists. Learn more...




Tune into Chopped Canada

The university's own executive chef, Craig D'Cruze, will don his toque at 8 p.m. on May 8th when he competes in Food Network Canada's TV series, Chopped Canada. Details on a viewing party will be announced next week. Learn more...




'Fess Up — Are You a CyberSlacker?

Asst. professor Thomas O'Neill and other university co-authors have created a "cyberslacker profile," that links certain personality profiles to those employees most likely to surf the Internet on company time. Is this you? Learn more...