If you have problems viewing this email, click here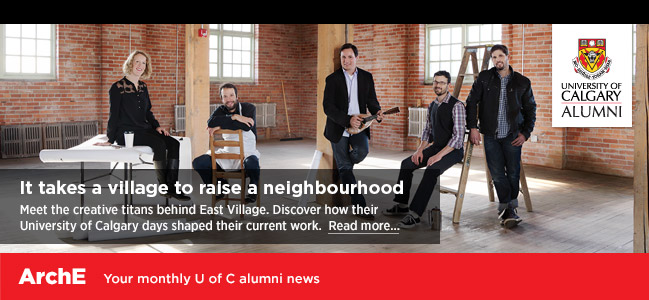 March 2014, Vol 12, No 3

Hon. Peter MacKay on Modernizing our Justice System

The Honourable Peter MacKay, PC, QC, MP for Central Nova and Minister of Justice and Attorney General of Canada visited the Faculty of Law on February 28 to give a public lecture on how law students can help shape our justice system.

Alumni News

Alumni and Artists Take the Podium

Besides saluting this year's gold medal recipients of the Cultural Leaders Legacy Artist Awards was a lively chat with three University of Calgary alumni. Learn more...




Zoom in on an Entrepreneurial Life

Can't get enough of Brett Wilson's Life Lessons? Watch this frank report delivered by the ex-Dragon himself, who recently spoke on campus. Learn more...




Did you receive U Magazine?

If you haven't received the winter edition of U Mag, or wish to read it only online, please update your reading preferences here. Learn more...




A Conductor's Unconventional View

Meet Thunder Bay Symphony Orchestra associate conductor, Daniel Bartholomew-Poyser, BEd'01, who reveals his favourite musicians, ideas of happiness, stranded island fantasies and so forth. Learn more...




Beyond Campus Borders

Discover what critical issues face the university's community-engaged research teams. Learn more...





Feature Campus Activity:

Bad Company! Proxy Firms and the State of Shareholder Democracy

March 27

In light of recent regulatory developments, join Bryce Tingle, N. Murray Edwards Chair in Business Law, for a presentation and panel discussion on proxy firms and their role in the corporate governance of Canadian businesses.




Feature Law Alumni Activity:

Annual Law Reception

Celebrate Our Stars!

Join us on March 12 as we celebrate our amazing students, generous donors and our successes over the past year.





U of C News

International Day at the University of Calgary Qatar

See how students and faculty members from 40 countries celebrated this event in Qatar. Watch slide show...




Researchers Uncover Massive Dinosaur Find

A gargantuan pachyrhinosaur skull was recently uncovered in the Alberta Badlands by University of Calgary paleontologists. Learn more...




Innovator joins Schulich School of Engineering as Petroleum Research Chair

Farouq Ali, regarded as one of the world's top petroleum engineers, believes the University of Calgary could become home to the finest petroleum engineering school on the planet. Learn more...




What a Difference an Hour Can Make

Curious about the practice of mindfulness and how it can be used to reduce stress in your life? Attend a Tuesday session, led by Derek Luk, from now until April 15. Learn more...




Faculty of Nursing Gets a Foreign Boost

Dr. Lorraine Venturato joins the Faculty of Nursing as its second research chair. Learn more...