If you have problems viewing this email, click here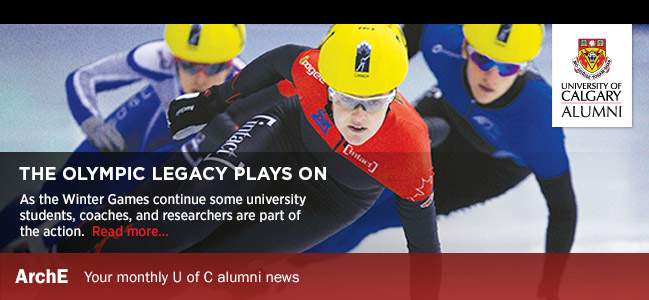 February 2014, Vol 12, No 2

University Lawyer's Work Protects Girls Around the World

On January 30, Jennifer Koshan, (LLB '88), talked about her work with the Equality Effect's 160 Girls Project to the Faculty of Law's Assentio Mentium members.

Alumni News

Life Lessons on Grad Day 2014

From inspirational panelists to a session with one of Canada's top entrepreneurs, W.Brett Wilson, the day was momentous. Learn more...




Speedskater Achieves Olympic Success after Heart Procedure

Speedskater Justin Warsylewicz won't be competing at Sochi, but that's not going to stop him from going. Learn more...




Steve Tober's Unconventional Career Path

Ever wonder how to marry passion for academia and wanderlust? Here's what one university alum did. Learn more...




U Magazine Winter Edition Arrives This Month

From post-flood initiatives to building East Village one brick at a time – we also check in with six international students and catch up with associate symphony conductor Daniel Bartholomew-Poyser and an award-winning researcher for documentaries, Dr. Jay Wortman. If you're not receiving U Magazine, let us know.




What's on your #ucalgarybucketlist?

If you see a series of pop-ups across the campus, it's this year's Class Ambassadors asking undergrads what they want to do before they get their diploma. Learn more...




The Vitamin D Debate

Confused by how much Vitamin D is too much? Be part of a study that's examining how Vitamin D impacts bone health. The university needs 300 volunteers. Learn more...





Feature Campus Activity:

Pop by the "Sochi Lounge" (Room 54) at the Oval to watch the Olympics, any day during the Games, Feb 7 to 23. Want to get in on some skating action yourself on the world's fastest ice? Skate for free from noon until 4 p.m. on Feb. 17, when the Oval toasts Family Day.




Feature Perk Partner:

Continuing Education

Continuing Education is pleased to offer a 10% discount for all University of Calgary alumni and associate alumni members on select courses.





U of C News

University of Calgary Moves Up in the World

The University of Calgary has climbed three spots to 13th position among young universities around the world, according to the 2013/2014 Quacquarelli Symonds Limited (QS) Top 50 Under 50 World University Rankings released Jan. 29. For the third time in a row, the University of Calgary remains the top-ranked young university in Canada. Learn more...




Dinos Looking for Hall of Fame Nominations

Want to nominate an outstanding athlete, coach or team to – what's bound to be – the illustrious Hall of Fame Class of 2014? Better get your nomination in by Feb. 28! Learn more...




New Master's Degree – First of its Kind in Canada

Joining the ranks of Harvard, Stanford and the University of Michigan is the University of Calgary's newest degree – a combined master in business administration and master in public policy. Learn more...




Can Exercise Help the Depressed Brains of Teens?

About 15 per cent of teenagers will suffer a major depressive episode, reports Dr. Frank MacMaster, PhD, adding it's a major risk factor for suicide. Precisely why his research – that's examining the effect that aerobic activity has on depressed teens – is so very critical. Learn more...