If you have problems viewing this email, click here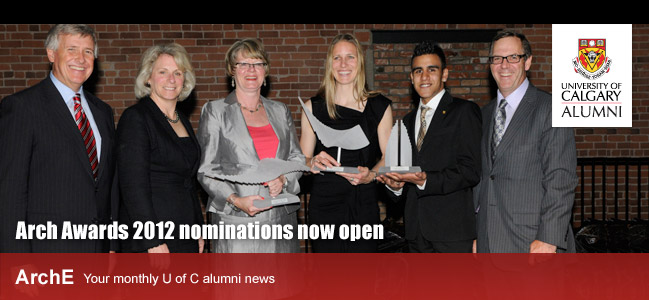 January 2012, Vol 11, No 1

Nominate an outstanding graduate today

Do you know an outstanding University of Calgary graduate or future graduate who's doing great things? Nominate them for a 2012 Arch Award until Feb. 29, 2012—it's easy with our revised nomination process.

Alumni News

Alumni Association supports the Class of 2012

Three future graduates were named 2012 Class Ambassadors as part of Graduating This Year, a program organized by the Alumni Relations office. Learn more...




Faculty of Law thanks alumni, donors and friends

The law school's new dean, Ian Holloway, Q.C., was introduced to Calgary's legal community at the school's largest-ever annual reception, which was held at the downtown campus in late 2011. Learn more...




Stay in touch in 2012

Share your latest news and we'll share it in ArchE, send a Class Note to U Magazine and tell us your latest news, send along ideas for upcoming alumni stories. Stay in touch in 2012.





U of C News

Looking back on 2011

We captured some of our favorite moments from 2011 in pictures. See the slideshow...




Researchers isolate biofilms

Controversial tailings ponds are a significant risk to the environment and University of Calgary researchers have isolated biofilms that can detoxify recycled water over time. Learn more...




$1 million for breast cancer research

Three researchers in the Faculty of Medicine will be awarded grants to advance their work into treating breast cancer. Learn more...